"Thank you for allowing my Family and I to book our trip with you. We had a Great time at Disneyland. October is the best time to go, we even attended the Mickey Mouse Halloween Party and that was a whole lot of fun. My Grand kids and Nieces enjoyed themselves very much. We will definitely will be going back and booking our trip with you.
Thanks Again,
Belinda D."
"Thank you, we had a great time at Disney's Halloween Time! Thank you for the incredible Customer Service. We will definitely use you for future travel.
-Sheila S."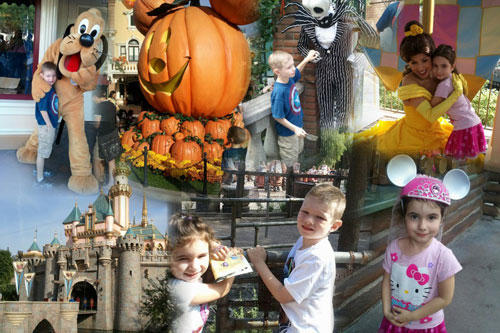 "We had a great time, the Halloween Party at Disney was well worth it. We would do it again for sure. The hotel was nice. Thanks so much for all of your help it worked out perfect!!!
Tammy S."
"First of all it was great to be able to get away on a vacation. After a year of health issues for my wife (Breast Cancer and Heart Failure at the same time) we were in dire need of some down time that allowed us to take ourselves and our daughter someplace other than a hospital or doctors office finally.
The hotel experience was a breeze and I think that you folks should know that when you book a Disney Property Hotel (Which is what we did through you folks for the Paradise Pier Hotel) the DisneyLand Tickets can be picked up right at the Hotels front desk as you check-in making it even better since you do not have to go wait in some extra line at the "Guest Services" window at the Park Entrance – and that was a great thing since Disney was really busy for the Halloween Holidays- Thanks a ton for that little extra time savings.
In all we have a tremendously fun time and loved the Halloween theme at Disney. As they say it was Magical..and the happiest place on earth.
Thanks for the great price and the great trip we loved it.
-The Bolinders"
In honor of Disney's Halloween Time starting today we wanted to share these Happy Halloween Time Disneyland Vacation experiences. We are so glad these families got to experience the holiday magic last year and are so exited for all of the families that are going this year! If you haven't booked your
Disney's Halloween Time vacation
yet, call our agents at 855-GET-AWAY or book online today!

Check out these other great articles:
Disney's Halloween Time 2013
Happy Halloween Vacation Reports
SeaWorld San Diego's Halloween Spooktacular 2013
Firsthand Get Away Today Customer Service Experiences