Anaheim Springhill Suites Maingate is perfect all around!
"I am so glad we decided to go with this hotel. Everything worked out great from check-in to check-out. We arrived a little early and our room was ready so we got to drop off our bags and head to Disneyland! Our room was very close to the elevator which was a plus after a long day at the parks. Parking was free and plentiful! Location to Disney is very close but for our family, we chose to use the ART for transportation to and from the parks. Rooms are clean, spacious and comfortable. Free breakfast was awesome and the area where you eat is so clean and welcoming. Staff was always very helpful and friendly. We would definitely stay here again on our next Disney vacation!"
- Jolynn U.
Castle Inn & Suites is an easy walk, quiet and has a friendly staff.
"I loved the rooms, they were plenty big enough and I had large families with small kids on both sides and didn't hear them at all. Very easy walk to Disney and the mall around the corner. Beds were comfy, check in was a breeze and the staff was friendly. The pool area is small, but I didn't let that influence my hotel rating because I do not go to Disneyland to swim. :)"
- Renea P.
The Clarion Hotel has a friendly staff and is a great value.
"I chose this hotel because of the great price. I wasn't expecting much, to be honest. A friend of mine had stayed there as well and said it was good for the price. It definitely needs updated, our hair dryer was broken, some of the outlets didn't work well. But the room was very clean and comfortable. There was a cafe with a breakfast buffet as well as a bar that opened in the evening. I wish it had longer hours, but when it was open they had a great happy hour with $5 drinks and $5 appetizers and tacos. The staff was super friendly, and the food and drinks were good. It's a great way to avoid paying the high prices at the park before you head out. There's also a little gift shop that surprisingly held a lot of stuff, but if you forget something (like toothpaste) you can call housekeeping and they'll bring it up at no charge. Also, you can take a shuttle to the park for a low cost, but it's only about a 10 minute walk. Overall our experience was great, and we would stay here again."
- Margie M.
We love the Castle Inn & Suites!
"This hotel was extremely clean and had a great working A/C. We didn't mind the walk, it felt very safe. Pool is nice and the hot tub is great as well! The theme is great and the staff was extremely kind! Can't wait to stay again!"
- Heidi S.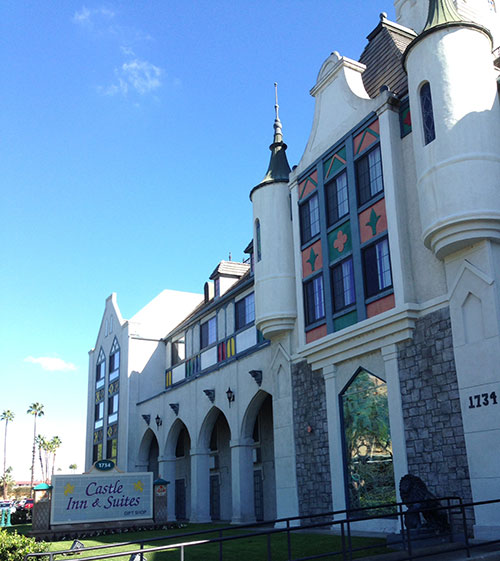 We love it when our guests tell us how it is... good or bad! Our guest feedback helps us improve our customer service and our guests' vacation experiences. We work closely with our hotel and attraction partners to make sure that your vacation is the best ever - and that's only possible with your help!
If you've been on vacation with us recently, let us know how it was. You can send us an email with the details (we love pictures!), filling out the return survey when you get home, leave a review on our Facebook page, or tell others about the hotel you stayed at by leaving a comment and rating on our hotel pages on our site. We want you to tell us how it is!
And if you haven't booked a vacation with us, let us show you how much we care about your vacation! You can book any of our Disneyland vacations online or over the phone with our Disney Experts at 855-GET-AWAY. You can read real guest reviews on each of our hotel pages, call and chat with our agents about their favorite hotels, or both! We can't wait to help you plan your perfect vacation.

Read more about Get Away Today and our guests' vacations: