"We stayed 5 nights here and had a great experience overall. The parking fee was well advertised and I felt was reasonable for the valet service provided and convenience. The rooms were clean, the staff friendly, and the hot tub was wonderful (especially after a long day at Disneyland)... I would definitely stay here again."
- Jessica H. on the Del Sol Inn Anaheim Resort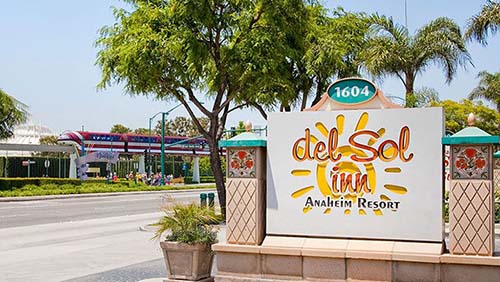 Photo courtesy of Del Sol Inn
"Everything about this hotel was amazing, from the cleanliness to the amazing customer service. I love that it was literally right across the street from LEGOLAND, I was able to walk down the street with my kids. My stay was just really good. I will definitely be staying here again in the future."
- Vannessa R. on the The Cassara Carlsbad, Tapestry Collection by Hilton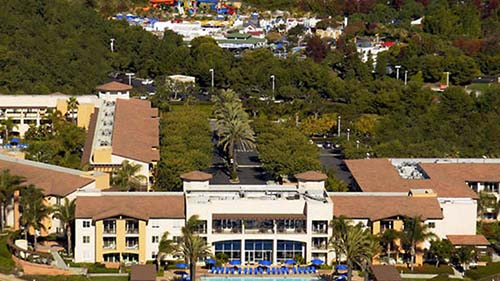 Photo courtesy of The Cassara Carlsbad, Tapestry Collection by Hilton
"Great play to stay. Everything was clean and well maintained. Breakfast was good and had a good selection to choose from. Staff was very knowledgeable and extremely helpful."
- Alisha L. on the Staybridge Suites by Holiday Inn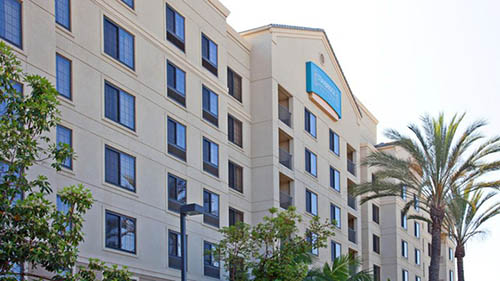 Photo courtesy of the Staybridge Suites by Holiday Inn
"We stayed here for three nights and enjoyed our stay. The grounds are absolutely gorgeous and make you feel like you're in a tropical oasis. Our room was comfortable and had everything we could need... Beds were fairly comfortable. The pool area and beach were very nice! They provide beach chairs and umbrellas, but you have to get out to the beach early to snag a chair. Was a very relaxing resort and family friendly... The boat cruise that is complimentary was fun. Take advantage of that. Overall really enjoyef our stay here."
- Jenny C. on the Catamaran Resort Hotel & Spa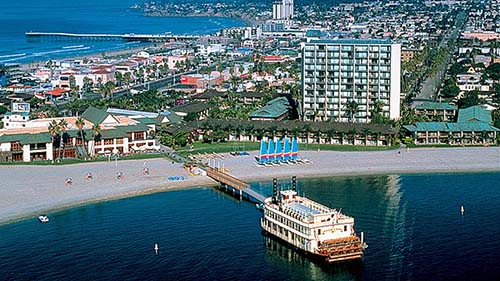 Photo courtesy of the Catamaran Resort Hotel & Spa
"This is my 2nd time staying here. Once when my kids were little and then again recently (in Jan 2018). Now my kids are grown. This place is perfect for a Disney trip. The room was a good size for the 3 of us. We all had room to change, took turns in the bathroom, etc. We really only used the room for sleeping but they were clean. The little refrigerator was nice. We brought our own bottled water to take to the park so it was nice that we were able to keep it cold. The beds were full size beds and we fit just fine. We always bring our own pillows so I can't comment on that. The shuttle is amazing! It showed up on time, every time. We got 3 adult, 3 day passes for about $14/each. We came and went as we pleased. And the shuttle stop was right at the entrance of Disneyland, you can't beat that!
We came back to the hotel 2 of the days for dinner and to rest a little bit. It was nice to put our feet up for an hour or so. We went down and ate at the restaurant before we'd go back to the park to close it out. It was less expensive than the park and less crowded, plus free drink refills and they gave us drinks to go. With our package we got free breakfast each morning. It is limited to 2 items (not the buffet). But we aren't big breakfast eaters anyway so that didn't bother us at all. I think I saw for $5 more you can do the buffet. The staff here is super friendly. Parking was easy and we felt safe. We could also see the fireworks from our room which got us even more excited to start our "Disney til We Drop" girls trip!! We are already working on booking our next trip and will definitely stay here again."
- Brittney M. on the Holiday Inn Anaheim Resort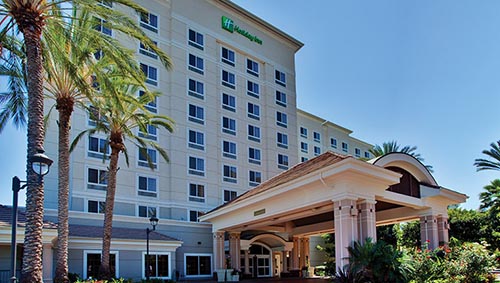 Photo courtesy of the Holiday Inn Anaheim Resort
What's your favorite hotel to stay at when you go to Disneyland? Let us know in the comments below and make sure to leave a review on that hotel's page.
If you're ready to book your Disneyland vacation, let Get Away Today help. Our discount Disneyland tickets and reduced hotel rates will help you save, while our great customer service will make it an experience. You can book online now or give our agents a call at 855-GET-AWAY.

Check out more hotel reviews: