Jennifer Dunyon, VP of Communications, was recently invited to the Disneyland Resort to share some of the best Spring Break Specials. Her information is so popular that she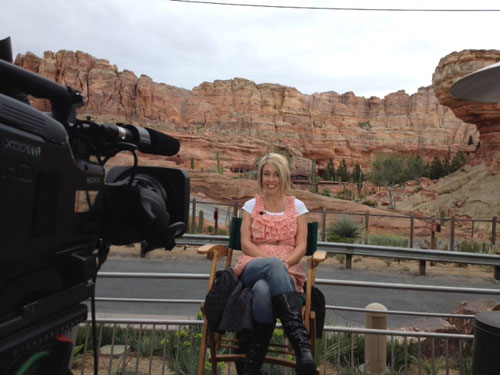 appeared on TV shows throughout Utah, Arizona, California, Nevada, Washington and Colorado. Good Things Utah, a top daytime show in Northern Utah, didn't want their viewers to miss out, so she appeared there today as well. If you missed it, you can read about it here, and watch the spot below:

Spring Break is just around the corner, but you can still take advantage of last minute vacation deals to the seasons most popular destinations.

Disneyland Resort Vacations- Don't wait any longer, this destination fills up the quickest as it's the most popular. Get Away Today is known as the "Disney Experts," so call or book online immediately. When you book with Get Away Today, you'll save the most with Extra Night Free Specials, Free Breakfasts and Free Parking and our exclusive Disneyland Resort tickets that are discounted, include an early morning entry, and a $10 ESPN Zone Downtown Disney Gift Card.

Jen also shared our exclusive 5 Days for the Price of 3 Disneyland Resort Ticket special and our $100 off the Hotels of the Disneyland Resort special that are available to book this weekend!

Also, new to the Disneyland Resort this year are exclusive Limited Time Magic Experiences that are popping up and disappearing year-round at the Disneyland Resort. Special celebrations, entertainment and more will be taking place throughout the year, so there will always be something new to experience.

Opening March 12 in Disneyland Park is the all-new Fantasy Faire, which is an enchanting extension of Fantasyland. Here you'll be able to mix and mingle with all of your favorite Disney Princesses. Enjoy the Royal Theatre and stroll through the village.

Jen also covered some other incredibly popular Spring Break destinations.

Beach Getaways:

San Diego Vacations- If San Diego is known for one thing, it would be for gorgeous beaches! Choose from 70 miles of pristine coastline. Stay on the popular Mission Bay or Hotel Circle and save with our exclusive extra night free specials and reduced rates.

Carlsbad Vacations- "Voted one of the top family beaches in the US" packages for 2 nights at the amazing Sheraton Resort is only $712 for a family of 4. Also, the gorgeous Cassara Carlsbad, Tapestry Collection by Hilton is offering an exclusive 4th Night Free with Get Away Today!

Huntington Beach Vacations- "Surf City USA"- Choose from two beautiful resorts located right on the beach. The Hyatt and Hilton are amazing! Packages for 2 nights for 2 adults start at $528 and include an excursion to Catalina Island for the day. The Hyatt is also offering a 4th Night Free during Spring Break!

For other popular travel destinations, check out our brand new website getawaytoday.com! We specialize in all of your favorite travel destinations. Also, like Get Away Today on Facebook for daily Spring Break Last Minute Deals.



We hope this got you thinking about some fun with your family. Be sure to book your Spring Break vacation if you haven't yet!





Check out these great blog articles:

Save $100 on the Hotels of the Disneyland Resort
Disneyland Tickets: 5 Days for the Price of 3
Spring Break Travel Tips as seen on USA Today
What's New at the Disneyland Resort 2013