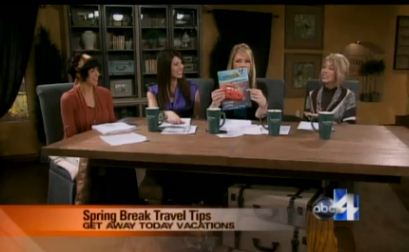 At Get Away Today, we are known for being travel experts, which is why Good Things Utah invited Jennifer Dunyon, our VP of Communications, to talk to their viewers about Spring Break.
Jennifer shared the best deals for the Disneyland Resort, San Diego, Carlsbad, and Huntington Beach - all among our most popular destinations! If you didn't get a chance to watch it, you can check it out now:
As Jen mentioned, Spring Break deals are filling up quickly. Be sure to book your family's Spring Break vacation today!

Check out these other great blog articles:
Best Disney Vacation Deals for 2013
What's New at the Disneyland Resort for 2013
Top California Vacation Ideas
Get Away Today Visits Anaheim and Huntington Beach
Top 10 Things to do in San Diego