The Wizarding World of Harry Potter at Universal Studios Hollywood is officially open! Muggles are flocking from all over the world to experience the magic and wonder of the place. One thing that makes the park so special is the amazing attention to details. True immersion takes place, because you actually feel like you are transported to the magical streets of Hogsmeade. Even the food is crafted in the spirit of the wizarding world. Today's post is a copycat recipe from one of the iconic desserts served at Honeydukes - Pumpkin Cakes! I hope you enjoy the tasty combination of pumpkin and spices with the sweet zesty citrus glaze. It is a smashing success.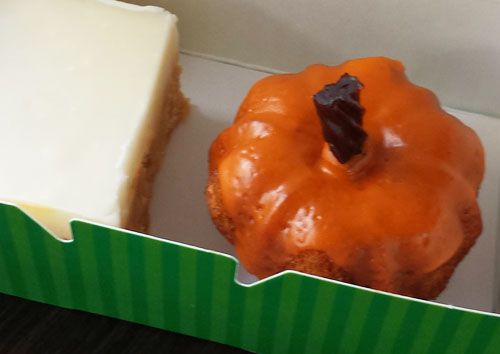 Harry Potter Pumpkin Cake
This post is to help demonstrate how to make the Harry Potter copycat pumpkin cakes! If you already have a favorite pumpkin cake recipe, you can use your own recipe for the cake and style it in the form of the tiny pumpkins. If you don't have a go-to pumpkin recipe, then the one I use from Taste of Home is my favorite. It is always moist, is not too sweet, and the spices pack a nice punch. It's a crowd pleaser for sure!
Harry Potter Pumpkin Cake Ingredients
1 1/2 cups sugar
1 cup canola oil
3 eggs
3 cups flour
2 tsp baking soda
1 tsp ground cinnamon
1 tsp nutmeg
1/2 tsp salt
1/4 tsp ground cloves
1 can (15-oz) solid-pack pumpkin
Pumpkin Cake Orange Glaze
4 cups powdered sugar
1 orange
zest of one orange
1/4 tsp vanilla extract
Yellow and red food coloring
Preheat the oven to 350 degrees.
Add the sugar and oil to your mixing bowl and beat them together until it's nice and fluffy. Then add the eggs, one at a time, mixing well between each addition.
Add a cup of the flour, baking soda, salt, and the spices. Sprinkle them around so that the whole clump doesn't land in one spot. The spices are what makes this cake so tasty! It smells divine when you are baking it.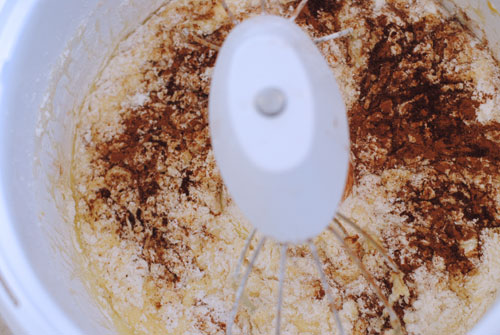 Next, add the pumpkin. Give the batter another mix, and add the remaining two cups of flour.
Pay attention here. This part is important. You do not want the cakes to stick to the pan. I had a little trouble with this on my first go around. So, make sure to coat the baking pan liberally with cooking spray and then sprinkle flour onto the surface of each little fluted cavity so there is a thin layer of flour coating. Tap the pan and shake it around to get the flour to go where you want it to go! You will be so glad you did. It makes the coming out of the pan process a breeze. Or, if you have your magic wand handy, you could always cast a non-stick spell!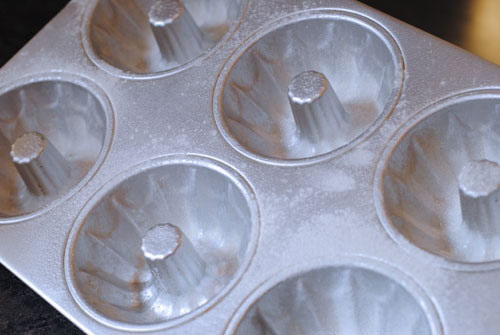 Scoop the batter into each little bunt cake cavity. I found the perfect amount of batter for my size of bunt cake pan was three tablespoons in each cake.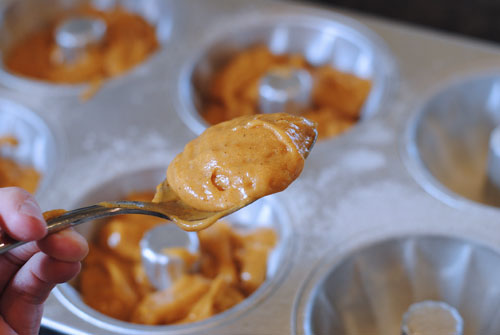 Bake the cakes for 15 minutes, or until they are a light golden brown and the cakes fluff up against your hand when you press gently onto the tops. You can feel it when cake is ready.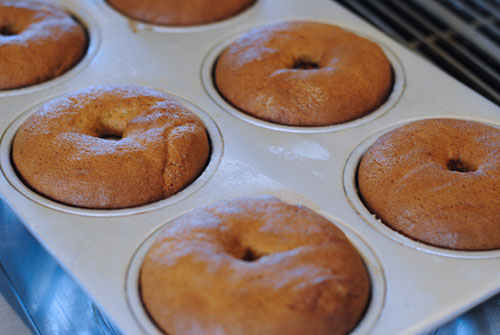 Flip the pan upside down onto a cooling rack and wait about five minutes before you remove the cakes from the pan. If you have a hard time getting the cakes loose, tap the pan with a spoon or fork to get some vibrations going. They will shake out if you coated them well with flour.
While the cakes are cooling, make the glaze. It is the best part! Place the powdered sugar into a mixing bowl. Add 1/4 tsp of vanilla extract. Slice an orange in half and squeeze the juice into the sugar. I don't mind if some of the pulp gets into the glaze, but if you are picky about pulp you can strain it through a filter first. There isn't an exact measurement to how much juice to add. You want enough to make the glaze slightly runny, but not so runny that it soaks into the cake and runs off the sides too much. It is more thin than regular frosting, but not like syrup. I used most of the juice from my small orange. Grate the sides of the orange peel and add it to the mix. The orange zest gives the glaze an extra level of flavor. Mix it all together with a spoon so that it is smooth.
If you want your glaze nice and orange like the ones at the Wizarding World of Harry Potter, add 3 drops of red food coloring and 5 drops of yellow food coloring to your glaze. It will make it nice and pretty.
.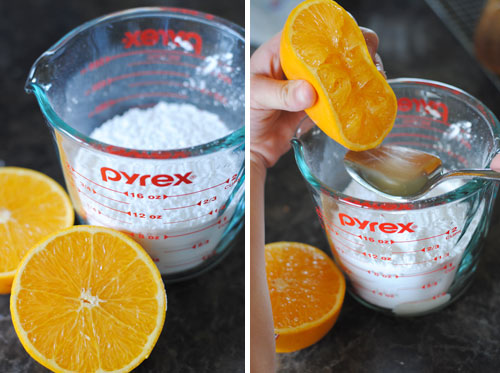 When the cakes are cool, place one cake upside down and add a thin layer of glaze onto its top. Then place another little bundt cake onto it so that the two cakes together form a pumpkin shape.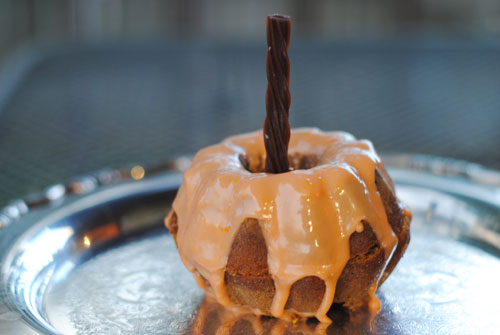 Add a chocolate licorice stem to the center to finish the look! I cut each piece of licorice in half with my kitchen scissors. My kids wanted to add a whole bunch of stems to the center of their pumpkins, so make sure to cut plenty.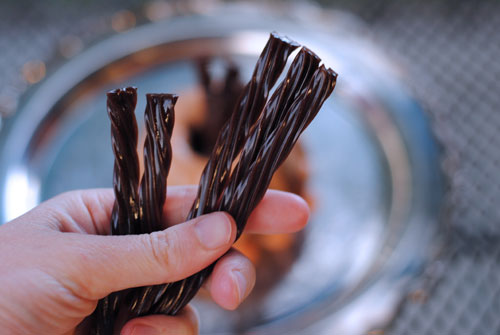 We typcially eat pumpkin treats in the fall, but I'd like to carry over the trend from the Wizarding World of Harry Potter that pumpkin is an all-season food. Combine this light moist cake with a glass of chilled milk and it is a perfect springtime breakfast or a summer night snack! It is always time for a little bit of magic.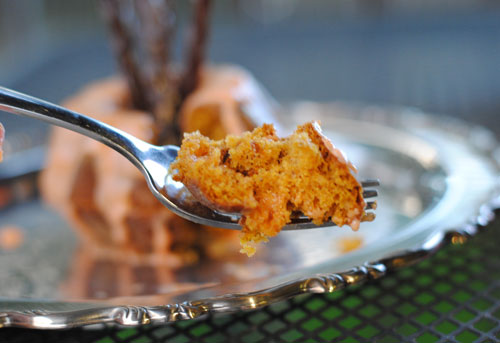 Compare your Harry Potter Copy Cat Pumpkin Cakes to the ones at Honeydukes by getting your tickets to The Wizarding World of Harry Potter at
Universal Studios Hollywood
! Universal is a perfect addition to any Southern California vacation. Book online or call any of our vacation wizards at 855-GET-AWAY.