The day we have all been waiting for has finally been announced! The Wizarding World of Harry Potter will officially open at Universal Studios Hollywood on
April 7, 2016.
Although it will be similar to the Wizarding World of Harry Potter at Islands of Adventure in Orlando, the Hollywood version will have its own charm... and charms. The sights, sounds, smells and tastes of the  world created by JK Rowling will come to life and you'll be immersed in the magic. Here is what you can expect at this magical addition to Universal Studios Hollywood: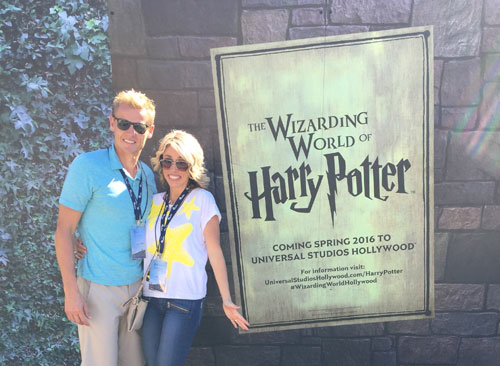 Rides:
Harry Potter and the Forbidden Journey:
Housed in the iconic Hogwarts school, this is the main attraction at the Wizarding World of Harry Potter. It will be similar to Orlando's version, however Hollywood's attraction will be completely in 3D-HD for an incredibly realistic and immersive adventure.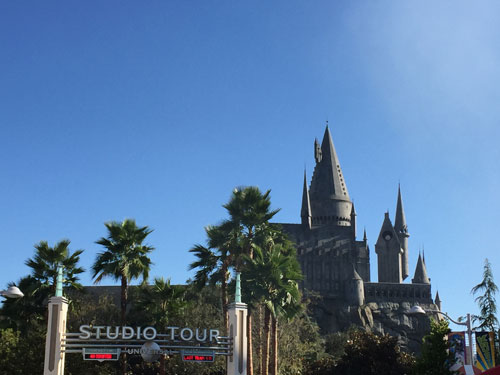 Flight of the Hippogriff:
This is the first family roller coaster at Universal Studios Hollywood, as well as the first outdoor roller coaster at the park. You'll spiral through the grounds of Hogwarts, including the pumpkin patch and fly by Hagrid's.hut.
Attractions and Entertainment:
Ollivanders:
One of the most personal and interactive experiences at the Wizarding World of Harry Potter is a visit to the famous wand shop where the wands choose the wizards. If you're lucky enough, a wand may choose YOU! Custom wands, replicas of Harry Potter celebrity wands, and other valuables are available for purchase.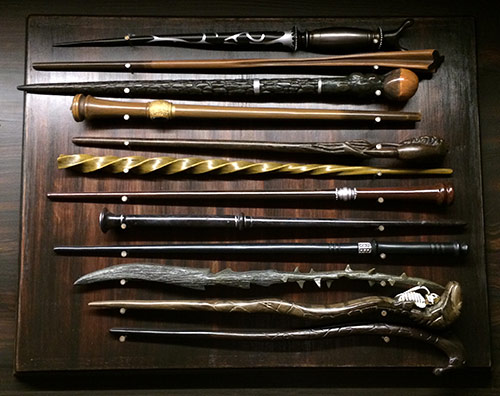 Frog Choir:
Hogwarts students and their croaking frogs can be found performing throughout the grounds.
Triwizard Spirit Ralley:
Students from the three best witch and wizard schools are represented as they prepare for the coveted title of Triwizard Tournament Champion. Which team will you be cheering for as they show off their skills?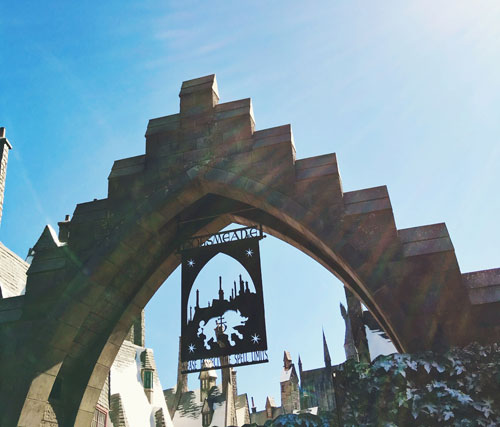 Food and Drinks:
The Three Broomsticks:
Feast on fish 'n chips, turkey legs, shepherd's pie, butterbeer, pumpkin juice and more at Hogsmeade's most popular (and only) restaurant.
Snack Carts:
If you didn't get your fill of butterbeer and pumpkin juice at the Three Broomsticks, you can grab some from the carts. These beverages are as delicious as they sound in the books.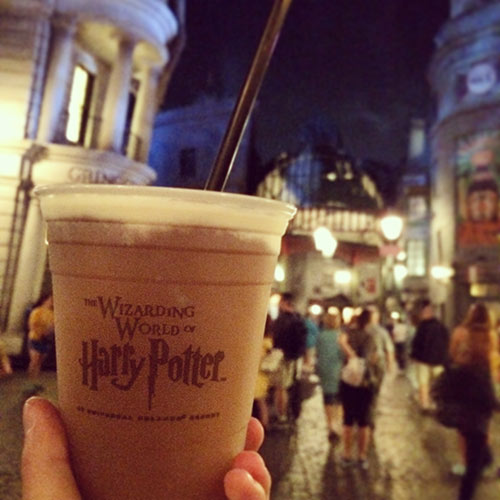 Honeydukes:
The most magical of all candy shops will be selling all of the chocolate frogs, Bertie Bott's Every Flavour Beans, and exploding bonbons you can imagine.
Shops:
Owl Post:
You can send a letter with a Hogsmeade postmark, buy special stationary and owl themed merchandise. What a hoot!
Filch's Emporium of Confiscated Goods:
Hogwarts clothing, replicas of movie props and contraband items like Marauder's Maps can all be found at this unique shop.
Zonko's Joke Shop:
It's not even funny how many unique jokes, treats and toys you can buy at Zonko's.
Gladrags Wizardwear:
Look the part with clothing, accessories, jewelry and more purchased from Gladrags.
Wiseacre's Wizarding Equipment: Everything a young witch or wizard could need like crystal balls, binoculars, and hour glasses, are available for purchase.
Dervish and Banges:
Quidditch fans will want to get all of their gear at this shop.
You can virtually explore the
Wizarding World of Harry Potter
on their website until it opens. If it doesn't get you in the mood to book your Universal Studios Hollywood vacation, nothing will.
Don't miss the opportunity to be among the first muggles to be invited to experience the Wizarding World of Harry Potter! Now that there is an official opening date, you can begin your 2016 vacation plans! Book your
Universal Studios Hollywood vacation
online or call our vacation experts at 855-GET-AWAY.

Check out these other great articles:
Best Butterbeer and Golden Snitch Donut Recipes
Free Harry Potter Spells Printable Game and Wand Tutorial
Harry Potter: 3 Honeydukes Inspired Recipes