UPDATED JANUARY 2019 There are few things in this world more magical than the holiday season and spending time with loved ones at the Disneyland Resort. When you combine the two, the results are beyond words. This year will be no exception with returning seasonal classics and the addition of soon-to-be favorite festivities coming to the Resort November 12 – January 6. Although peeking is generally discouraged around the holidays, we figure there is no harm in giving a sneak peak of what you can expect to find this year at Holidays at the Disneyland Resort.

• First and foremost, both Disneyland and Disney California Adventure Parks, as well as the Hotels of the Disneyland Resort and Downtown Disney District will be dressed for the season. Trees will be trimmed and ornaments will adorn the entire Resort. Last year our office was lucky enough to see Cars Land decked for the occasion—it was awesome!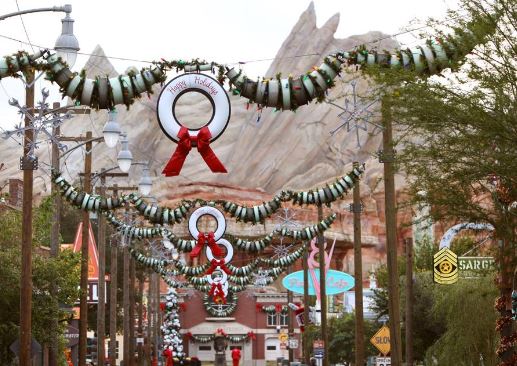 Image Credit: ©Disney

• Haunted Mansion Holiday is a classic in its own right. Jack Skellington and his crew take over the original attraction with a Nightmare Before Christmas twist.

• "it's a small world" Holiday celebrates Christmas traditions from cultures around the globe with a "Jingle Bells" mash-up. The outside of the attraction is a gorgeous spectacle with a holiday light makeover.

• The crowning jewel of Holidays at the Disneyland Resort is Sleeping Beauty's Winter Castle which glistens in the night sky with thousands of twinkling lights.



Photo credit: ©Disney

• "Believe…in Holiday Magic" is a fireworks spectacular unlike any other. It combines the music and magic of the season with incredible effects ending with an enchanting snow fall over Main Street U.S.A.

• "Winter Dreams" is an all-new holiday version of World of Color, the award-winning nighttime show taking place on Paradise Bay in Disney California Adventure Park. New Disney Characters as well as beloved classics will be featured in this winter season celebration.

• Santa makes an appearance in A Christmas Fantasy Parade which also features life sized Toy Soldiers, Gingerbread Men and so much more.

There are so many other treats and surprises in store for your family at the Disneyland Resort during the official holiday season. A vacation is sure to be a gift that your family will remember and treasure forever! We love the idea of surprising your family with a vacation and have compiled some fun ideas on ways to do it at www.getawaytoday.com/vacationsurprise, so be sure to check them out.

However you decide to give a vacation to your family, you'll want to book soon. Because the holidays are such a popular time to visit Disneyland (when you go, you'll understand why), the best hotel specials sell out quickly. You'll want to book now to get the best deal. To make it even easier, you can lock-in your low price with our interest free layaway plans now for just $175 down and make your final payment five days before travel. It's the most affordable way to pay for your vacation. Book online or talk to any of our vacation specialists by calling 855-GET-AWAY.





Check out these other great blog articles:

New: World of Color - Winter Dreams Comes to Disney California Adventure
Holidays at the Disneyland Resort Light Up the Night: Video
Holidays at the Disneyland Resort 2012: Video
Haunted Mansion Holiday: The Making of Video