Updated July 29, 2020: Life as we know it has changed dramatically over the last few months due to COVID-19. The travel industry has been deeply affected, and while things have been difficult, many new industry standards are being developed. Theme parks, airlines and hotels are making changes for the better and we're sharing them all with you below.

How the Travel Industry is Making Travel Safe
Family vacations are such an important part of life. And like you, we are anxious to get back to travel. But, the biggest concerns all revolve around how we can do so safely. Can I leave my state? Should I drive, or do I feel safe flying? How do I know if my hotel is clean? What will Disneyland and other theme parks be like when they reopen?
These are all valid questions and concerns. We have been so impressed with the plans that our partners in the travel industry have come up with to make sure you feel safe when you resume travel. Everyone from theme parks, hotels and transportation have come up with new policies and procedures to improve cleanliness and safety for both their employees and guests.
We've put together a full guide on everything that we know about these changes. Because new additions are happening frequently, this article will be updated on a regular basis. Below you'll find what theme parks, hotels and airlines are doing to keep guests safe while traveling. We'll update specifics as they are released by individual companies and hope you'll find the information eases your mind.
Staying Safe at Theme Parks
It's no question that the theme parks will look different when they reopen. The good news is that the theme parks are reopening with new health and safety measures. Most Florida theme parks have been successfully reopened since the beginning of June! We're starting to get a look at what reopening plans for theme parks look like and we are optimistic that they'll go smoothly. You can find out more about when the theme parks will be reopening on our Disneyland temporary closure article that is being regularly updated.
The International Association of Amusement Parks and Attractions (IAAPA) trade organization recently put together guidelines for reopening theme parks. Universal, SeaWorld, Six Flags and Cedar Fair theme parks all contributed to the plan, which includes a pretty comprehensive list of ideas that the individual theme parks can choose to implement. Ideas include employee safety and training, social distancing guidelines, sanitation policies and more. While each theme park will come up with their own individual plan, we are hopeful about what has been presented so far. And, we've broken down what each theme park has released so far. These are designed to be an at-a-glance overall understanding, and we provide links to more details for any areas you're interested in.
Walt Disney World Resort Reopening Plans + New Health and Safety Procedures
Walt Disney World Resort presented their reopening plans on May 27, 2020 and reopened Magic Kingdom and Disney's Animal Kingdom on July 11, 2020. Disney's Hollywood Studios and Epcot reopened on Juy 15, 2020. Here are a few of the changes that Jim McPhee, SVP of Operations for Walt Disney World Resort, presented:
Capacity will be limited and reservations will be required to enter the parks. Information will be released as to how the reservation system will work.
Face coverings will be required for both Cast Members and guests.
The parks will have extra sanitation and limited touchpoints.
Social Distance Squads will be friendly and remind of social distancing.
Play areas, meet-n-greets and other high-touch points will be temporarily paused.
Parades, shows and other high gathering locations will be temporarily suspended.
Find Walt Disney World Resort's reopening plans in full here.
Universal Orlando Resort Covid-19 Health and Safety Procedures
Universal Orlando Resort recently presented plans to reopen their theme parks safely to guests and it was approved on May 22, 2020. Universal City Walk began opening on May 14, 2020 and so far has gone very well. As of June 5, 2020, all three theme parks of Universal Orlando Resort are open to the general public. Universal Studios Florida, Universal's Islands of Adventure and Universal's Volcano Bay has reopened with the following enhanced safety features in place:
Employees will be required to wear masks and go through health screenings when they report to work

Social distancing will be enforced by eliminating Single Rider Queues, closing play areas, placing social distancing markers throughout the park for queues, using virtual queues and other measures

Guests will be required to wear masks and have their temperature checked before entering the parks (masks will not be required at Volcano Bay)

Mobile ordering is available at all dining locations and cashless transactions are preferred at all dining and merchandise locations

Meet and greets after performances are being temporarily canceled
You can find all of the details of Universal Orlando Resort's reopening plan and new safety measures here.
LEGOLAND Resort Florida Health and Safety Procedures for Covid-19
LEGOLAND Resort Florida recently reopened to the public on June 1, 2020. With this new announcement comes a number of new safety and health measures:
Enhanced cleaning of all high-touch points including tables, chairs, service counters, LEGO bricks, ride restraints, door handles and more

Increased hygiene stations and hand sanitizer dispensers throughout the park

Social distancing will be encouraged with special markers in queues, reduced riders on attractions, and spaces between tables in dining spaces

Temperature checks are required for both employees and guests before entering the park

Masks are encouraged, but not required for guests, and disposable masks will be available to guests who do not have their own
You can find out more details of LEGOLAND Florida Resort's measures here.
SeaWorld Orlando Plan for Reopening
On May 27, 2020, SeaWorld Orlando presented a plan to reopen to the public on June 11, 2020, which was succesful. This plan includes a number of new and enhanced safety procedures which are being implemented:
Face coverings will be required for both employees and park guests. Face coverings will be available for those who do not have them.

Both guests and employees will need to submit to temperature checks before entering the park.
Park entrance, shopping and dining will all have as much contactless points as possible, including removing finger scans and self-serve buffets.
Hand sanitizer will be available for riders at both boarding and exiting attractions.
Physical distancing and extra cleaning measures will be in effect.
You can find out more about SeaWorld Orlando's updates on their site.
General Disney Parks Covid-19 Health and Safety Procedures
Additionally, a limited number of stores and restaurants at Disney Springs at Walt Disney World Resort in Florida successfully reopened to the public on May 20, 2020. Disney owned and operated stores and restaurants reopened at Disney Springs on May 27, 2020.
On June 24, 2020, the State of California announced that they will be releasing statewide guidelines for theme parks sometime after July 4, 2020. Because of that announcement, the Disneyland Resort has postponed their opening date with no opening date announced. We expect that they'll release a new opening date once the guidelines are released.
Downtown Disney started a phased reopening on July 9, 2020. The Hotels of the Disneyland Resort have decided to delay their opening until further notice. The Disneyland Hotel will not open when Disney's Paradise Pier Hotel or Disney's Grand Californian Hotel & Spa. Disney has released some information about what those parks may look like when they reopen.
On May 5, 2020, Disney Parks Chief Medical Officer, Dr. Pamela Hymel, released a statement that highlighted some of the safety measures Disney is currently exploring for reopening their US theme parks. These plan options for their parks include:
Phased reopenings

Physical distancing

Capacity measures

Cleanliness and sanitation

Screening and prevention support

Cast Member training
On June 18, 2020, Disney rolled out a darling campaign highlighting the Incredibles and the new safety measures for the Disney Parks.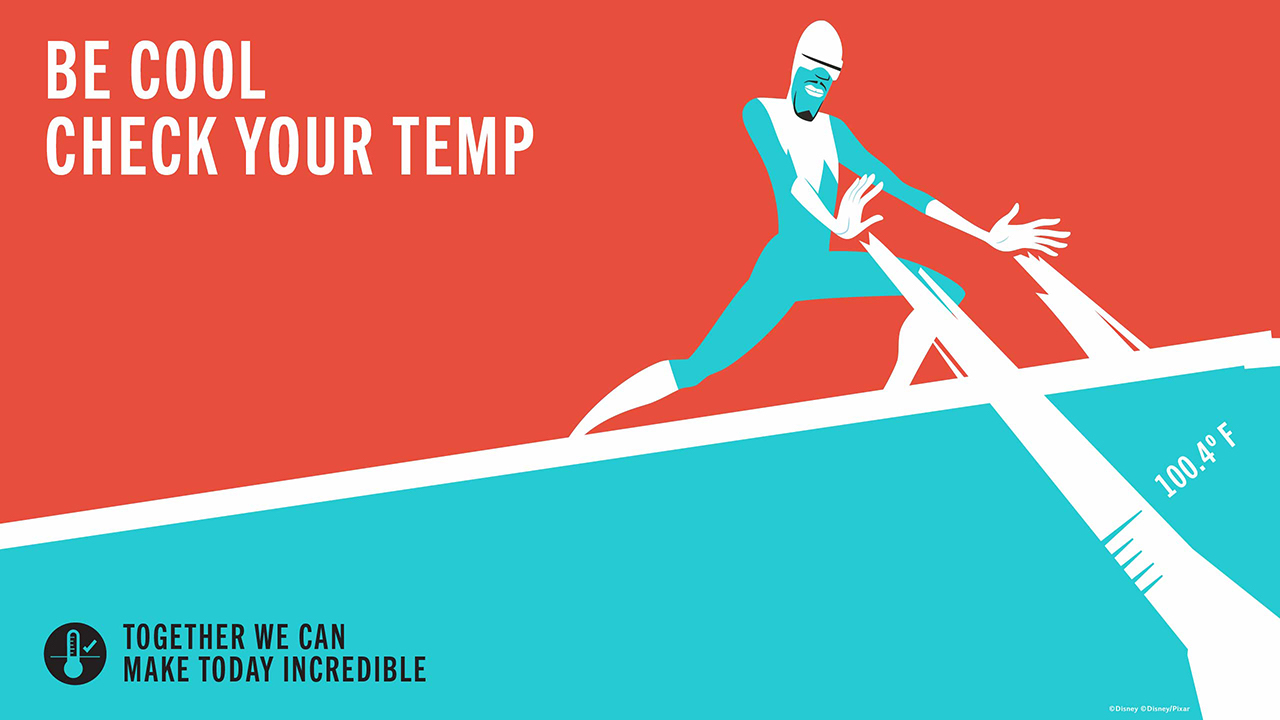 Photo Courtesy of Disney Parks Blog
We expect many of the above safety measures to be part of the guidelines required by the state as well. As always, we are confident that Disney will always do what is in the best interest of their Guests and Cast Members.
Staying Safe in Hotels With Enhanced Covid-19 Procedures
Where you choose to stay has a big impact on your vacation - and it may be one of the areas that you're most concerned about when traveling. How do you know if your hotel is really clean? We have been amazed by the new policies released by some of our favorite hotel chains. We've compiled all of the new cleaning and safety enhancements that these hotels have added to their traditional cleaning and health procedures. Keep in mind that many other boutique hotels will be doing similar things as well. However, we thought it would be helpful to get an idea of what the major brands are doing.
Disney Resort Hotels
On June 10, 2020, Disney presented their new guidelines for all US based hotels and Disney Vacation Club Resorts including the hotels of Walt Disney World Resort and Disneyland Resort. These efforts include:
Online check-in at select locations
Redesigned Bell Services
Increased cleaning of high-touch public spaces including elevators, escalators, handrails, etc.
Placing hand sanitizer throughout the properties
Encouraging social distancing in restaurants, pools
Enhanced cleaning in guest rooms
You can learn more about Disney's hotel plans here.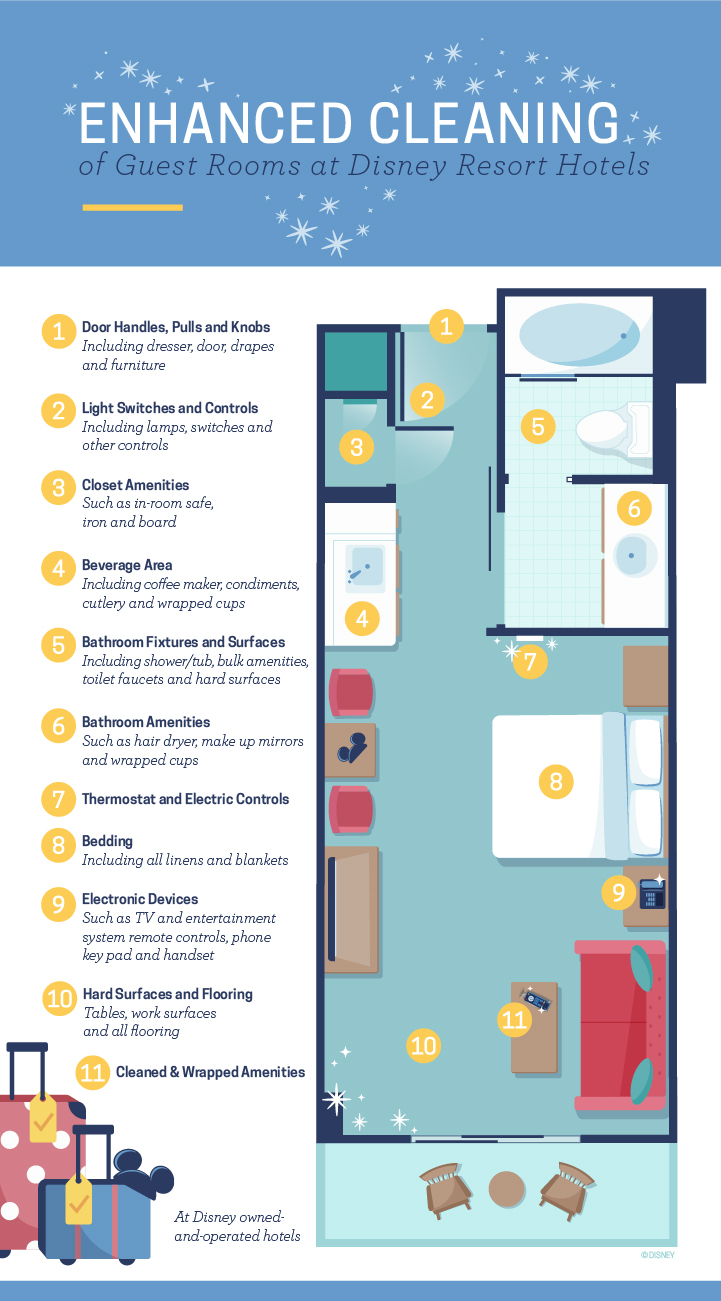 Image courtesy of Disney Parks Blog
Marriott's Commitment to Clean
All Marriott-Bonvoy hotel brands will now implement the following:
Increased frequency of cleaning public spaces

Providing hand sanitizer throughout hotel

Placing signage encouraging social distancing in public spaces

Placing partitions at check-in

Using hospital-grade disinfectants in all guest rooms

Placing disinfecting wipes in each room for guest use

Enhanced cleaning technologies including electrostatic sprayers to sanitize surfaces throughout the hotel
Hilton CleanStay with Lysol Protection
All Hilton hotel brands will now implement the following:
Using hospital-grade cleaning supplies and upgraded cleaning protocols

Extra disinfection of high-touch areas in guest rooms

Sealing guest rooms after cleaning for next guest

Increased cleaning frequency of public areas and fitness centers

Reduced paper amenities

Providing hand sanitizer and disinfecting wipes to guests

Providing training and Personal Protective Equipment to team members
IHG (Holiday Inn) Updated Health/Cleanliness Policy
All IHG hotel brands have implemented the following enhanced Covid-19 cleaning procedures:
Increased frequency of cleaning public areas and high-touch points in guest rooms

Training on cleaning products and protocols which are effective against viruses

Continually reviewing food and beverage service to be in line with current food safety recommendations.
Hyatt's Global Care & Cleanliness Commitment:
All Hyatt hotel brands worldwide now include:
Increased frequency of cleaning with hospital-grade disinfectants on all high-touch surfaces in guest rooms and public areas

Providing hand sanitizer throughout property

Employing a Hygiene Manager at each property by September 2020
We hope that reviewing these new policies gives you the peace of mind you need for planning a future hotel stay. You can see what each hotel's policy is on our website.
Safe Travel on Airlines Amid Covid-19
While many travelers may be most comfortable with drive-to destinations for a while, the airlines have really stepped up their game to make sure you feel safe traveling by air. We've highlighted some of the most popular airlines among our guests so you can be familiar with the measures they're taking to protect flyers.
Delta Airlines Health and Safety Procedures
Delta has always prided itself on safety, and now they have taken even larger strides to keep their employees and passengers safe during the pandemic. You can find full health updates on Delta's site, but here is an overview of what you can expect:
Masks are required for both employees and customers, and extra masks and wellness kits will be available for flyers who need them

Kiosks and check-in counters are frequently sanitized throughout the day, or you can check-in online to avoid them

Hand sanitizer stations have been added throughout the airport

Plexiglass shields are being added to all Delta counters that are staffed

Baggage stations are being frequently sanitized

Floor decals are being added to queue areas to encourage social distancing

All middle seats are being blocked and aircraft capacity is being limited to 60% to allow for easier social distancing

Flexible cancellation and rescheduling of flights
JetBlue Airlines Safety Procedures
JetBlue is known for its world-class customer service while providing a safe and comfortable flying experience. JetBlue has added a number of extra precautions to keep passengers safe. You can find a full review of these health updates on JetBlue's site, but here is a general overview:
Temperature checks for pilots and inflight crew members

Providing paid sick leave for employees

Providing disinfectant kits for use

Requiring face coverings for all crew members while boarding, in-flight, and when physical distancing cannot be maintained

Providing hand sanitizer throughout terminals and disinfectant wipes to customers onboard upon request

Requiring face coverings for all customers during check-in, boarding and in-flight

Blocking middle seats on larger aircraft and aisle seats on smaller aircraft for those not traveling together

Providing touchless check-in and boarding experiences using the JetBlue mobile app and self-boarding gates for many of their flights
Southwest Airlines Safety Procedures
Southwest Airlines always offers flexible reschedules and free checked bags, which makes them a popular airline for Get Away Today guests. During this time, they are taking extra measures to keep passengers healthy and safe. Here is a quick overview of what they're doing, and a link to their Southwest Promise:
Enhanced cleaning and sanitation procedures

New physical distancing practices

Limiting the number of passengers on the plane

Hand sanitizer will be available at the airport and wipes will be available onboard for customers

Requiring face coverings for all customers during check-in, boarding and in-flight

Plexiglass is installed at ticketing, gate counters and baggage service offices

All customer-facing employees are required to wear face coverings when in the presence of customers

Cleaning ticket counters, gates and baggage areas multiple times a day
Keeping Yourself Healthy While Traveling
In addition to all of these new industry standards, there is so much that you can do to keep yourself and others safe and healthy while traveling. Here are a few ideas that can help you feel healthy while on your vacation and elsewhere:
Make sure you're familiar with each destination's requirements, which may include wearing a face mask or covering

Wash your hands regularly

Bring hand sanitizer with you when you don't have access to soap and water

Pay attention to all signage encouraging social distancing

Get enough rest

Drink plenty of water

Eat nutritious foods

Don't visit the parks if you or anyone in your party is feeling sick

Make sure to seek proper medical attention whenever necessary
Feeling Safe While Booking New Travel During and After the Pandemic
It's our goal at Get Away Today to keep you informed so that you can focus on making vacation memories. We're here for you always. Whether you need help before, during, or even after your vacation, we are your best friend when it comes to travel. You can reach out Monday through Friday from 9am - 5pm at 855-GET-AWAY or any time on our social media channels if you'd like a free quote or need help with an existing vacation. We strive to make planning your vacation as easy as possible.