Our video on how to use mobile ordering at Disneyland will walk you through the entire process. We'll show you just how easy it is to use this awesome free service now available at the Disneyland Resort.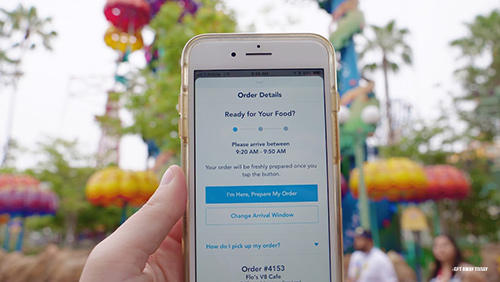 One of the newest ways to save time at Disneyland is with mobile ordering. It's the best thing since sliced bread... which can now be ordered via mobile ordering! We like to consider mobile ordering like a FastPass for your food. We love this service so much that we made a video to show you how to use mobile ordering at Disneyland.
How to Use Mobile Ordering at Disneyland
As a quick recap, here are five easy steps on how to use mobile ordering at Disneyland.
1. Download the free official Disneyland app before your vacation. Add a credit card to the app. By loading your credit card to the app before you travel, you will be able to easily make in app purchases in the park. Both MaxPass and mobile ordering require a credit card, and having one on file makes your transactions so quick.
2. While you're in the parks or even on your way, go to "Order Food" in the lower right hand corner of the app. You can review all restaurants and menus where mobile ordering is available.
3. Review the available restaurants by park and select a pick-up time frame. Place your order for your desired restaurant and pick-up time. You can make any food preferences or dietary needs while placing your order.
4. Go to the restaurant where you placed your order during your pick-up time. You'll hit "Check-in" on the app and the restaurant will begin making your order.
5. You'll get an alert when your food is ready. Go to the "Mobile Order" Pick-up window and get your order. This process normally takes a fraction of the time of standing in the regular line to place your order.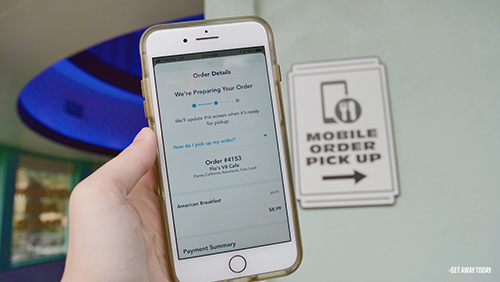 We also wanted to share a few other tips for using mobile ordering.
Be aware that not all menu items may be available. For example, when we went to the Jolly Holiday Bakery, the raspberry Mickey macarons were not available on the app but were being served that day. Their Matterhorn macaroons, sandwiches and tons of other items were available both on the app and in-resturant. So don't automatically assume that your selected restaurant is out of a food item - it may just be an item you will need to order separately when you arrive.
Check your phone when you get to a restaurant. When we walked into Flo's V8 Café, an alert popped up letting me know mobile ordering was available. Instead of waiting in a long line, I found a table with an awesome view of Radiator Springs Racers, sat down, placed my order and had my food in minutes.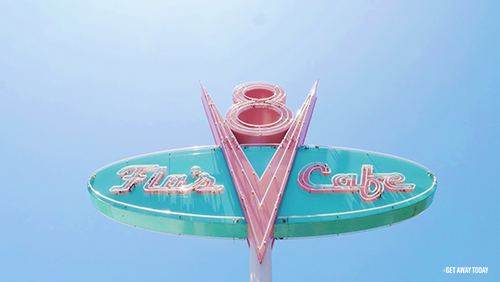 And if we missed anything, you can read more about how to use mobile ordering in our in-depth blog post here. Have you used mobile ordering at Disneyland? Let us know in the comments below.
Don't forget you can save the most on your Disneyland vacation by booking with Get Away Today. We offer both the best price and best service, which means you'll be on your way to a magical - and delicious! - vacation in no time. You can browse all of our Disneyland packages and discount Disneyland tickets online or by giving our travel experts a call at 855-GET-AWAY. We can't wait to help you plan your next trip to the Happiest Place on Earth!

Check out more Disneyland tips and tricks: