Have you ever been to Hawaii? There is so much to explore since Hawaii is comprised of eight major islands. Each of those islands is known for various unique traits and any one of them is a good choice for a tropical, island vacation feel. Today we are going to tell you a little about the island of
Kauai
, the hotels on Kauai we recommend and some of the things to do on Kauai to make it a memorable trip.

Kauai Hotels
There are a number of wonderful options when it comes to choosing from Kauai Hotels. There are beachfront hotels, condos overlooking the ocean and so much more. One of our expert travel agents took the time to create a break down of highly recommended Kauai hotels. We have them divided into value, moderate, deluxe and premium options to choose from. Whether you are visiting Kauai for hiking, sightseeing, beach days or shave ice, you have come to the right place for information!
Value Kauai Hotels and Resorts
Aston Islander on the Beach is located on the east side of Kauai in Kapaa. This hotel has a good beach for sunbathing and watching the waves, but no swimming. All rooms at Aston Islander on the Beach feature a private lanai for true island style living. Choose from views of the water or the lush gardens. Keep in mind a minimum five-night stay is required at this hotel. Amenities include a pool and hot tub, outdoor BBQ dining areas, an on-site restaurant and poolside bar. For an additional fee, you can enjoy Wi-Fi, bike rentals, beverage vouchers and airport transportation.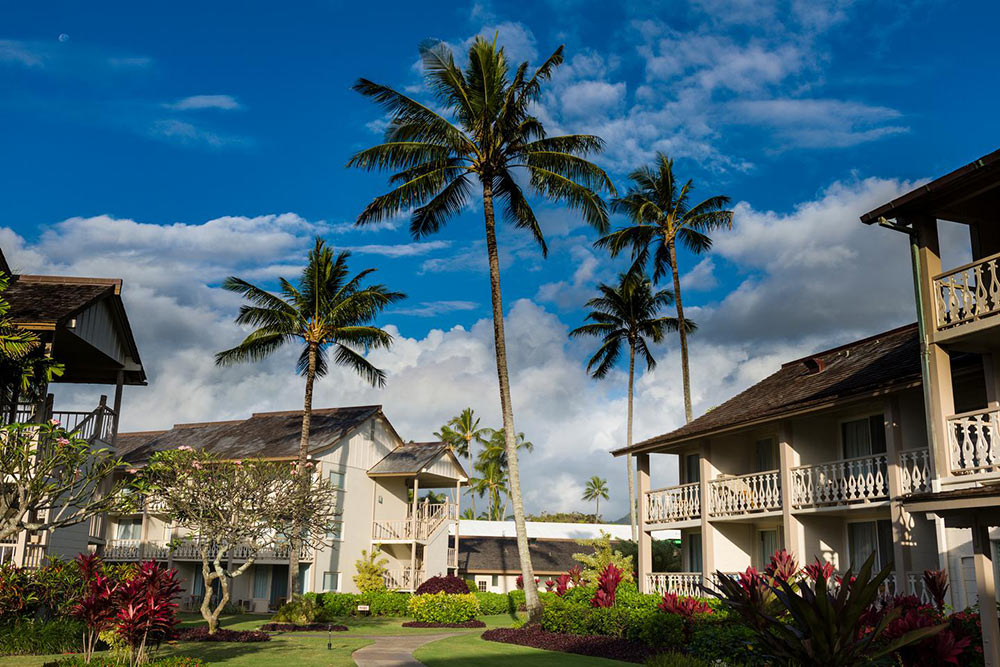 Photo courtesy of Aston Islander on the Beach
Wailua Bay View Condos is also located on the east side of Kauai in Kapaa. This boutique condo property has beach access, but it's not for swimming. Every Wailua Bay View condo has a beachfront lanai so you can enjoy the view just steps away from your bed every day. It features a pool as well on the property and is near the 12 mile Kauai Path biking trail. This hotel is close to shopping, restaurants and bars for local entertainment. As of January 2019, Wailua Bay View is a non-smoking resort.
Castle Poipu Shores Condos are located on the south side of Kauai Island in Poipu. It is a five-minute walk from Brennecke Beach, and is just seven minutes from Poipu Beach Park. Many of the condos at Castle Poipu Shores are steps away from the water, and the property's swimming pool is situated above the rocky beach to overlook the ocean. The entire beachfront at Castle Poipu shores is rocky, so don't expect a sandy spot for sunbathing or castle building. The sound of the water crashing against the rocks is sure to be a soothing backdrop to your stay at the condos, though!
Moderate Kauai Hotels and Resorts
Waipouli Beach Resort Condos can be found on Kauai's east side in Kapaa. There are a number of rental options at Waipouli Beach Resort, and these condos have great beach access as well as a pool. In addition to these water features, the resort also boasts a salt water lazy river, water slides, hot tubs and a sandy beach area that is friendly for kids of all ages. There is also on-site dining, trails and a spa. It is conveniently located near Kauai Village Shopping Center and the Coconut Market Place. All rooms include a full sized kitchen, washer and dryer and up to two bedrooms. Kids stay free through December 2020.
Aston at Poipu Kai Condos is adjacent to Shipwreck Beach on the south side of Kauai in Poipu. These condos require just a two-night minimum stay, so if you are island hopping, this is a great choice for a couple of days on Kauai. While Aston at Poipu Kai is not on the beach, it does boast six swimming pools. Condo options include anything from one to four bedrooms for a tropical home away from home.
Courtyard Marriott Hotel is close to shopping and restaurants on the east side of Kauai in Kapaa. With palm trees, mountain and waterfront views, its location on Coconut Beach cannot be beat. The rooms in the Courtyard Marriott feature mini fridges as well as private lanais for indoor-outdoor living. Coconut Beach provides fun and relaxation with sand, sun, fire pits and hammocks.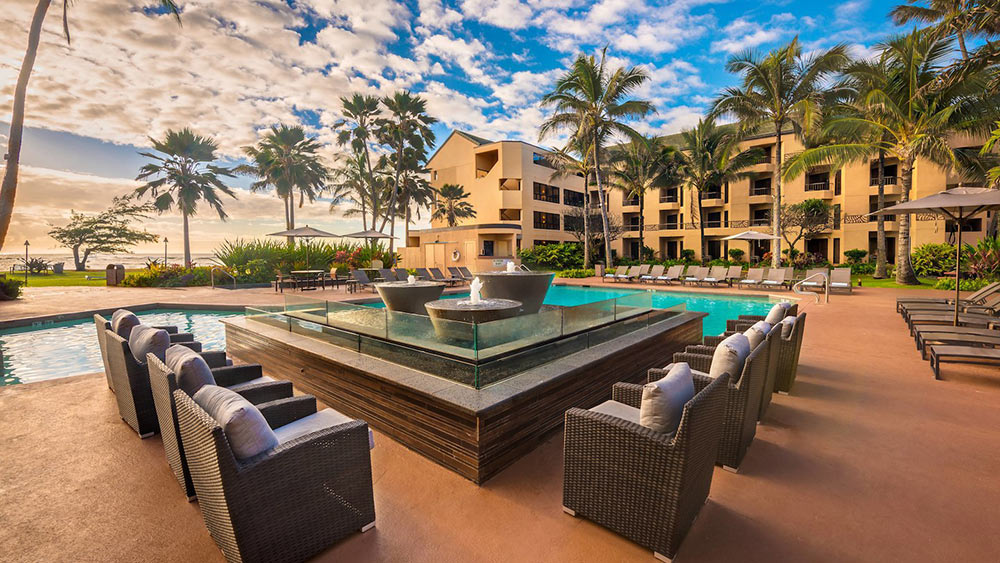 Photo courtesy of Courtyard Marriott Hotel
Hilton Garden Inn Wailua Bay Hotel is on the east side of Kauai, in Kapaa. It is next to Lyndgate Beach Park, providing beach access and a playground. It's an ideal location for families traveling to Kauai! Your resort reservation includes a two-hour reservation for two people to bike the property and look for sea turtles and seals. This hotel also offers an onsite restaurant and bar so you don't have to go far for a bite to eat.
Castle Kiahuna Plantation Condos are located on the south side of Kauai in Poipu. They are situated across from Poipu Shopping Center.
Wyndham Shearwater Condos are situated on a high ledge overlooking to ocean, on the north side of Kauai in Princeville. Stunning views and resort-style amenities make this island paradise a great choice for your next Kauai trip. The two-bedroom suites can sleep up to six guests, and include a kitchen to make meal prep a breeze. Also included in the suites are a washer and dryer so you can get laundry done before you head home, making reentry into the real world that much easier.
Deluxe Kauai Hotels and Resorts
Kiahuna Plantation Condos are in the Poipu/Koloa region on the south side of Kauai. Some of the condos do have beachfront access, while others are a little further inland. No matter where you are staying, you will be able to walk to Hale o ia Beach. The Kiahuna Plantation condos have the feel of historic Hawaii, set on 35 beautifully landscaped acres. Amenities include a pool, athletic club, bar, and suites with one to bedrooms. Kitchens and private lanais are also included in the condos.
Kauai Marriott Hotel is in Lihue on the east side of Kauai. It has beach access and a beautiful pool. Depending on your room type, you'll have views of the meticulously well-kept gardens, the pool or the ocean. You can choose standard rooms with King or Queen beds or a one-bedroom suite with a separate living area. Amenities at the Kauai Marriott Hotel include air conditioning, an in-room mini fridge and cable TV. Wi-Fi is an additional fee.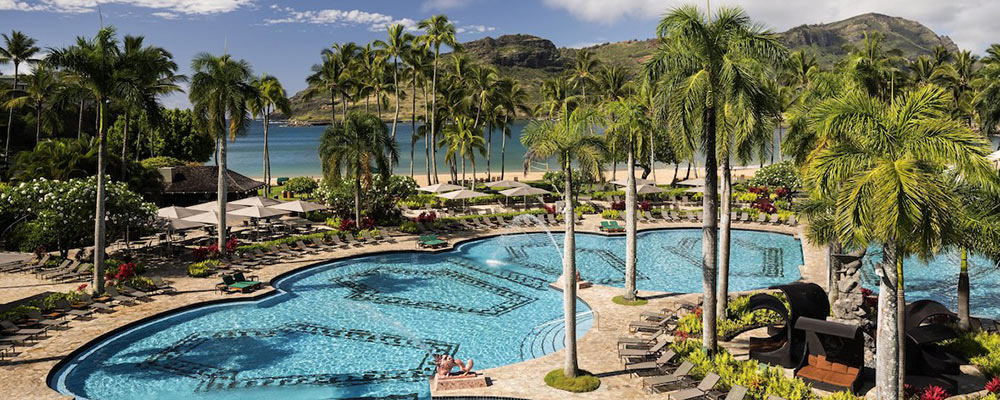 Photo courtesy of Kauai Marriott Hotel
The Point at Poipu is on the south side of Kauai and sits back from the beach a bit. It offers two bedroom suites, with the option of Queen or Twin sized beds. The Point at Poipu offers on-site services such as massages, a fitness center, heated pool and complimentary Wi-Fi in the lobby
Koloa Landing Villas are also on the south side in Poipu and are across from a rocky beach. These condos are close to Poipu Beach, which is ideal for finding sea turtles. Deluxe studios in Koloa Landing Villas are about twice the size of a traditional hotel room, giving you plenty of room and comfort. Kitchenettes in the villas mean meal prep is a breeze, and a furnished lanai lets you enjoy outdoor living.
Premium Kauai Hotels and Resorts
Princeville Resort Hotel on the north side of Kauai overlooks Hanalei Bay. With a choice between standard rooms and suites, you're sure to find the accommodations that fit your travel needs. For added convenience, you can book connecting rooms at the Princeville Resort. Amenities include an outdoor swimming pool, spa, fitness center, golfing and more.
The Westin Princeville Ocean Villas overlooks Hanalei Bay as well. It offers studio, one bedroom and two bedroom options. Many boast stunning views as the Westin Villas are set on a cliff surrounded by lush vegetation. The Westin Princeville Ocean Villas offer amenities such as on-site yoga, four heated swimming pools, a kids club, on-site dining and more.
Ko'a Kea Hotel & Resort sits on Poipu Beach on the south side of Kauai. Almost all guest rooms offer at least a partial ocean view, so you never have to be too far from the Pacific. Choose between King size and Double size beds, and enjoy private lanais, dual-head showers and a pair of complimentary flip-flops to take home. Amenities at Ko'a Kea Hotel & Resort include a spa, a pool with an outdoor bar, on-site restaurant, fitness studio and rentals for biking, snorkeling, paddle boarding and more.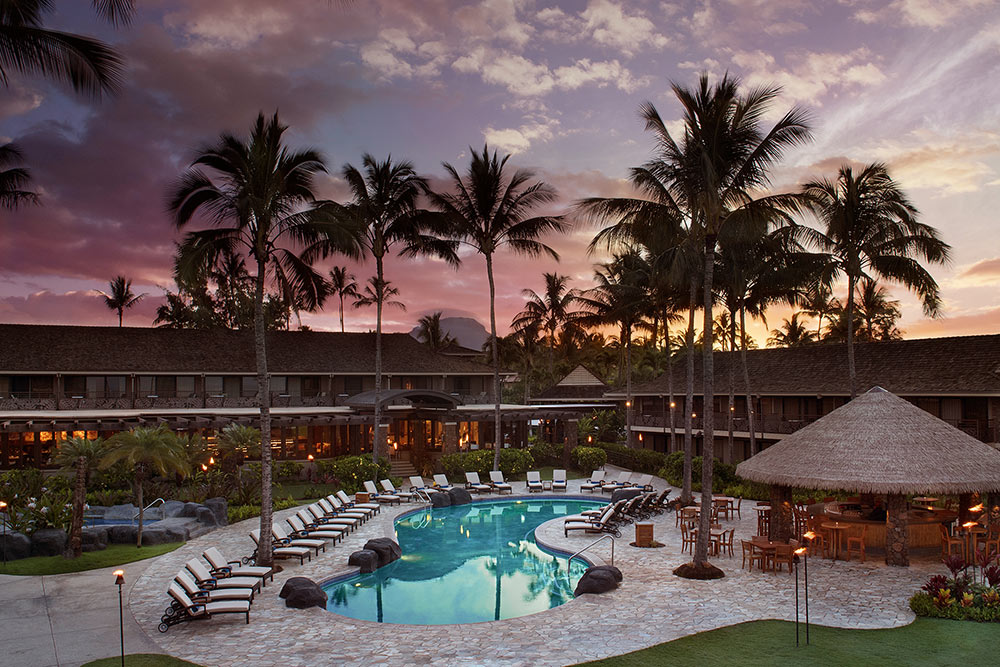 Photo courtesy of Ko'a Kea Hotel & Resort
Marriott's Waiohai Beach Club Condos is also on Poipu Beach and offers standard rooms as well as two bedroom villas. Standard rooms include a mini fridge for convenient food storage, and villas include a full kitchen for more dining flexibility. The Marriott's Waiohai Beach Club Villas also feature a washer and dryer so you can ensure you don't bring any beach sand home with you when you leave Kauai. Onsite amenities include complimentary Wi-Fi, three outdoor pools, dining options and a fitness center.
Things To Do in Kauai
Now that you have a huge list of hotels on Kauai to choose from, what should you do on Kauai? Like we mentioned before, this is the island to visit for scenic beaches, warm waters, good food, hikes and more. In today's article, we've broken down activities based on their location on Kauai, so you can get a general idea of where to go.
Hands down, the number one recommendation we can give is to take a helicopter tour of Kauai. It is the best way to see all the diversity of Kauai's natural beauty. Also, some tours may take you to areas of the island where parts of the original 1993 version of Jurassic Park was filmed.
Things To Do in Kauai: North Side
Kauai is also known for its wonderful hiking opportunities. For adults, we recommend the Alakai Swamp Trail, which is about nine miles of hiking with many elevation changes. It may not be the best for young hikers, but for avid hikers, it's a beautiful choice.
Queen's Bath is an excellent water spot at low tide because the "pool" will be more kid-friendly. You can explore tide pools here, enjoy the waves crashing against the rocks, cliff jump and more at Queen's Bath.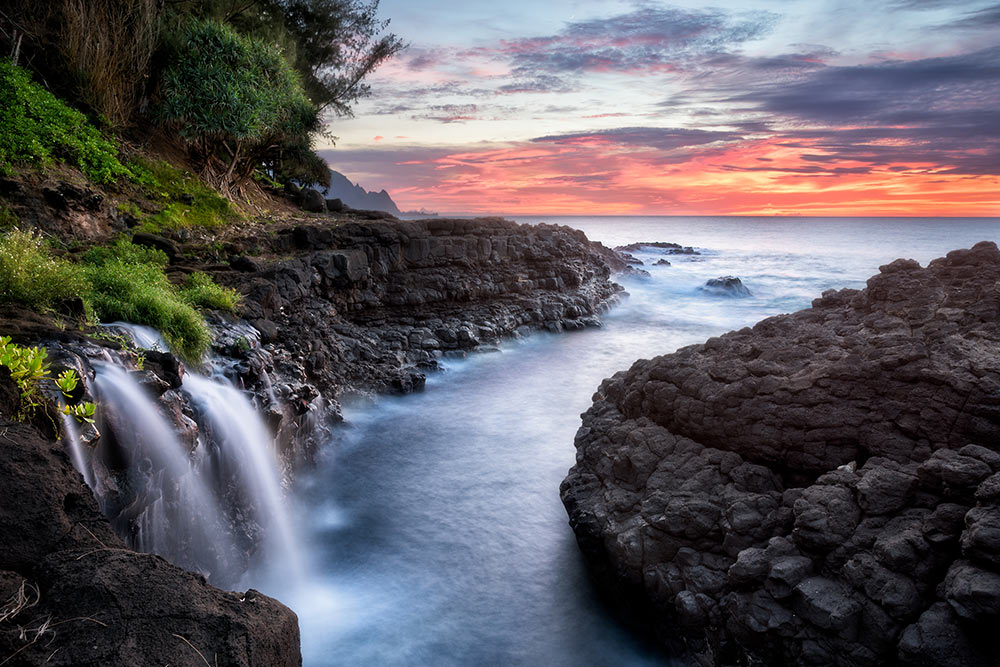 Just southwest of Princeville is Hanalei Bay, which is ideal for young kids. The waves are small enough you can enjoy boogie boarding and wading. It is the largest bay on the north shore of Kauai and has a two-mile stretch of beach. It is surrounded by mountains, giving you the best of both worlds- land and sea.
Ke'e Beach is located on the farthest northern point of Kauai and since it has a reef offering protection from large waves, it is an ideal beach for swimming and snorkeling. Ke'e Beach is also known as one of the most scenic beach spots on Kauai.
Things To Do in Kauai: East Side
For hiking on the east side of Kauai, check out Ho'opi'i Falls. It is less than one hour to the east of Princeville and is family friendly. Ho'opi'i Falls is a short hike with a series of cascading waterfalls and swimming areas and served as a backdrop for scenes in the original Jurassic Park film.
Wailua Falls is one of the most well-known falls on the island of Kauai. These falls are located in Wailua River State Park and no hiking is required to reach this destination.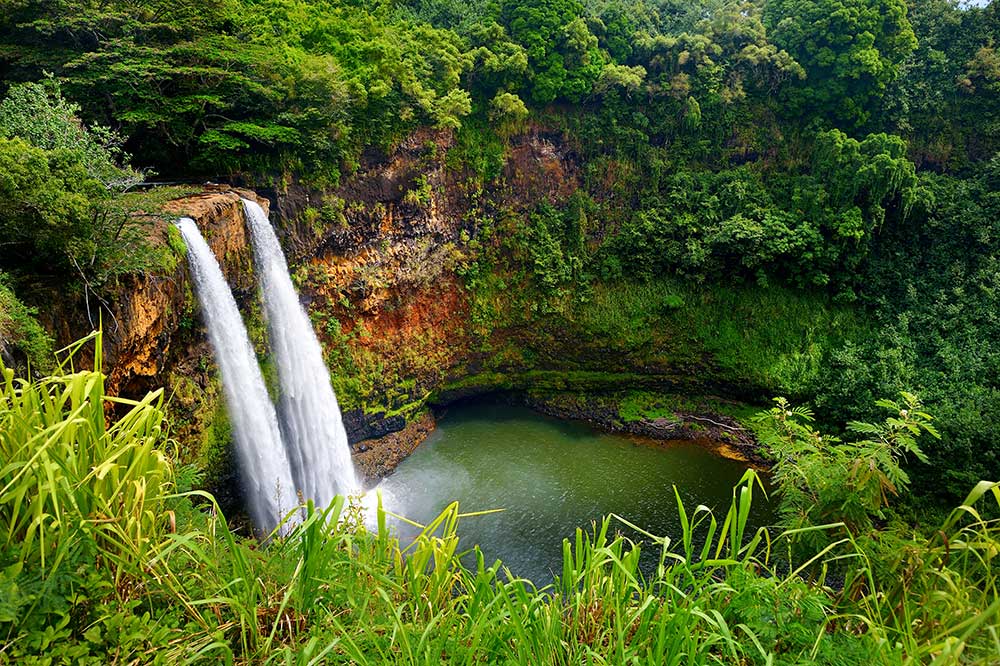 The Hindu Monastery is located under a volcano and guests can visit to take in the surreal, tropical beauty and to meditate between the hours of 9 am and noon. Guests can download a self-guided tour, or once every week guests can catch a guided tour of the monastery. This two-hour tour is free, but donations are accepted.
As for places to eat on the east side of Kauai, we recommend Street Burger, Scorpacciata Neapolitan Pizza, Wailua Shave Ice and Tege Tege Shave Ice.
Things To Do in Kauai: South Side
Near Eleele, on the south side of Kauai, you'll find Capt. Andy's Na Pali Raft Expeditions. Choose a dinner and sunset voyage to cap off a day on this lush island. Watch the sunset over the ocean as you dine and relax on a yacht.
Shipwreck Beach is located in Poipu and is warm enough for swimming, and is an ideal location for spotting massive sea turtles.
When you're ready to eat, the following spots come highly recommended from our travel agents and guests: Puka Dog, Kauai Juice Co. and Pizzetta in Koloa. Living Foods Gourmet Market and Cafe is also a convenient option for groceries in Poipu.
Things To Do in Kauai: West Side
Kekaha Beach is down a bumpy dirt road but the payoff is worth it! Kekaha Beach is stunning, much like all other Kauai beaches. Being on the west coast, north of Waimea, Kekaha Beach is one of the best spots from which you can view the sun setting over the Pacific. Additionally, if you need to get away from rain elsewhere on Kauai, it's a safe bet you can do so here.
Waimea Canyon is known as the Grand Canyon of the Pacific, so you can imagine what it has to offer. The canyon stretches about ten miles and has a couple of lookout points from which you can view the multicolored layers of the island.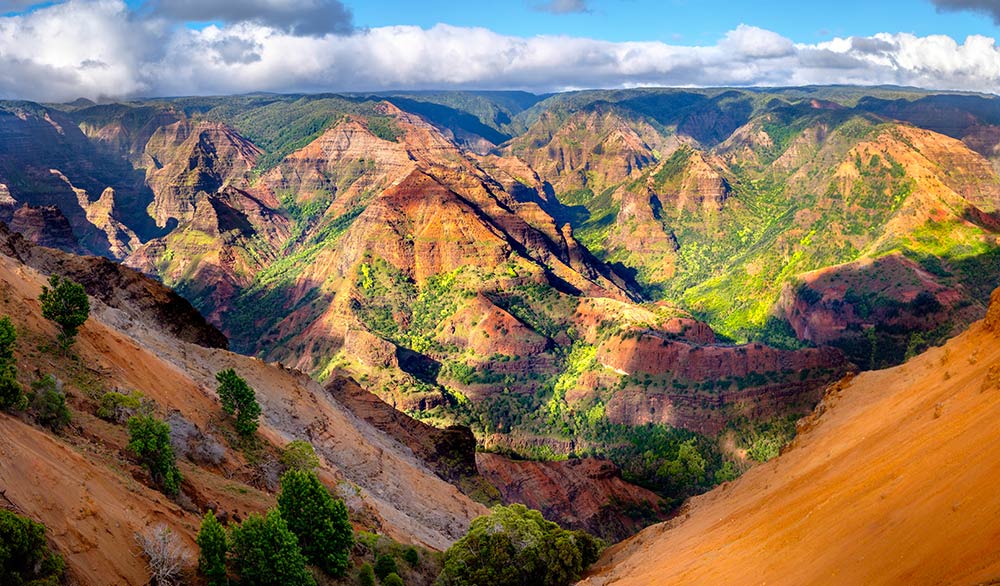 After you've worked up an appetite exploring the beauty on the west side of Kauai, stop Coconut Corner on HI-50 for refreshing pineapple smoothies. Perfect for a treat after hiking in Waimea Canyon. For something a little more substantial, stop by Porky's for a sausage, hot dog or grilled cheese sandwich towering with toppings.
Book Kauai Hotels with Get Away Today
We know there is a LOT of information here about Kauai; if you have any questions don't hesitate to give us a call at 855-GET-AWAY! We would love to help you find the best deals for Kauai, and plan an itinerary for your trip. You can see all our vacation packages online, whether you want to head to Kauai, Disneyland or beyond.