"I had never dreamed that you could finance a vacation on layaway. Using your service allowed us to finance our vacation in a way that worked with our budget. The process was seamless from start to finish. The website was easy to use as was the final documents and instructions when we left for our Disneyland vacation.
I have recommended your website to tons of people and will definitely use it in the future.
Thank you!
Erica B. and family"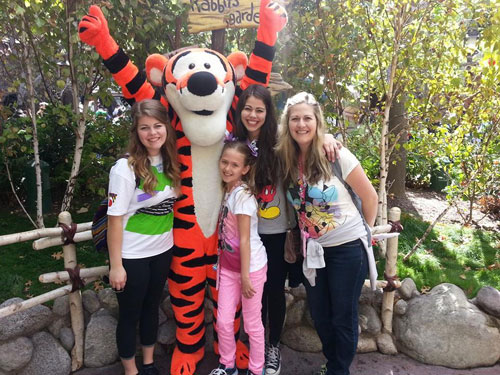 "Thank you so much for such a great trip! We loved the hotel! We heard while checking in that there was an additional charge for parking to the people in line ahead of us. We were expecting the same thing but, everything was included! The people ahead had booked through another company. We'll always look at Get Away Today first. Oh.....I love that you layaway!! What a great option for families!
Thank you again!
Tiffany M."
"To start, I must say I was a bit skeptical, I didn't think it would be so simple planning my hotel stay and ordering all of my park tickets right from one location. The website was extremely simple to use. I chose to pay for everything at one time, though Get Away Today allows you the option to choose a payment plan if so needed.
Upon arrival I provided the hotel voucher and we were promptly checked in. You can also leave important messages for the hotel as well. We had let Get Away Today know that we would be a late arrival and they notified the hotel.
Our first day was a road trip out to San Diego…SeaWorld of course…Just about a 2 hour drive from Anaheim, taking traffic into consideration. When we arrived, I simply gave the ticket agent my voucher and I was provided my park tickets. 9 a.m. – 6 p.m., a glorious day of Killer Whales, Dolphins, Sea Lions, Polar Bears, Penguins, and Walruses!
Day two took us to Knott's Berry Farm…The ticket experience was quite the same as SeaWorld. 10 a.m. – 8 p.m., a day filled with extreme rides & yummy funnel cakes!
Days 3-5 took us to Disneyland & California Adventure. Saturday & Sunday 8 a.m. to midnight, yes, you heard me right 16 hours each day in the happiest place on earth! Monday 9 a.m. to 8 p.m., California Adventure. Oh yeah, the Cast Members, or employees I should say, here are awesome, they truly go above and beyond to ensure you have the greatest experience in the happiest place on earth.
That about sums up our vacation and our experience using Get Away Today. I wouldn't plan my vacation any other way! It'll be Get Away Today to "Infinity And Beyond"!
James B."
"Our vacation was perfect and stress free since we booked with you. The layaway plan made the trip. Somehow you need to get the word out to everyone about it. I think there would be a lot more people getting to take great vacations if more people knew about it.
-Sue F."
We love helping vacation dreams become reality and our interest-free layaway plans are just one way we do that. We also negotiate the lowest price on hotels and attractions, offer exclusive freebies and perks, and we take care of your family every step of the way. Book your next vacation online or call our vacation experts at 855-GET-AWAY.

Check out what other families are saying about their vacations:

Get Away Today Helps Make Birthday Wishes Come True
Vacations With No Surprises
Great Get Away Today Vacations