Easily one of our favorite days of the year is when Disney comes to visit our office. And this year, not only did our wonderful contacts, David and Jessica, join us, but they brought a very special friend with them - Mickey Mouse! The famous mouse himself came to our office to celebrate our 25 year anniversary! Mickey took pictures with everyone and was an absolute blast to have around the office. Here is a quick glimpse of all of the fun we had with some great pictures and quick video: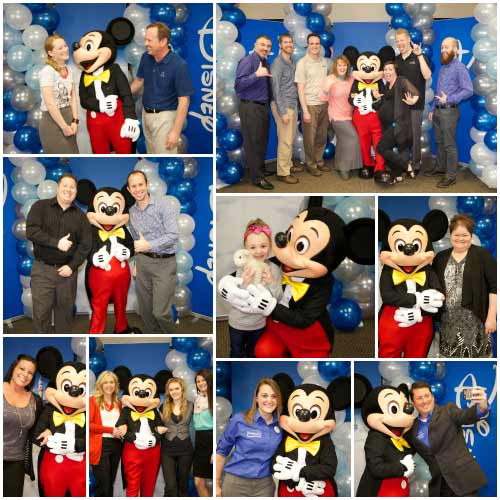 Not only that, but Disney presented Get Away Today and our founders, Chuck and Julie Smith, with an incredible statue of Steamboat Willie to celebrate 25 years of making magic. We are so incredibly grateful to have been able to work with Disney all of these years.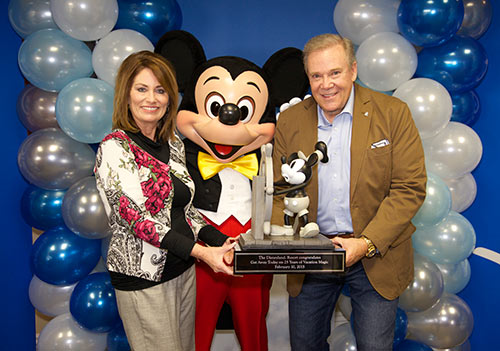 We also had the chance to sit with our contacts to learn about all the fun and exciting things that are happening during this amazing year at the Disneyland Resort.
Disneyland 60th Anniversary Diamond Celebration:
There is truly something for everybody at this celebration spectacular. This heartwarming and nostalgic event will begin on May 22, 2015. With all new entertainment and technology pushing the boundaries of anything that has ever been done before, Disneyland's Diamond Celebration is something not to be missed. We had the chance to go to the special sneak peak announcement last week which you can read about on our
Disneyland Diamond Celebration Announcements article
, but here is just a quick recap of what our Disney contacts had to tell us about all the excitement coming to Disneyland:
Paint the Night: David's favorite announcement so far - this brand new nighttime parade will be rolling down Main Street U.S.A. every evening during the celebration. Featuring all new floats filled with over 1.5 million brilliant LED lights, Paint the Night pays homage to the time honored classic, Disney's Electric Light Parade. With state of the art technology, Disney can control every single bulb and manipulate the lights to do anything they can come up with. And there are some really cool surprises we can't wait to tell you about - stay tuned!
Disneyland Forever: A one of a kind fireworks spectacular that has never been seen before. With two original songs and brand new projection technology, Disneyland Forever is unlike anything you have ever experienced. With projections that can map every nook and cranny on Main Street U.S.A, Matterhorn, "it's a small world" and Rivers of America, guests will have a completely different experience depending on where they watch the show. Disneyland Forever will run nightly May 22 through August. They have not announced off peak season times yet, but we will keep you updated as we learn more.
World of Color - Celebrate!: This complete new show will take guests through "The Wonderful World of Walt Disney." Mickey Mouse, along with his pals, will celebrate Walt's life, legacy and dream of Disneyland. World of Color Celebrate! has had a complete makeover filled with brand new animations and technology. This spectacular show will be shown nightly throughout the 60th celebration.
And also be sure to use #Disneyland60 to join in on all the magic on social media!
This limited time event in Disney California Adventure Park is melting away fast! For the most part, Frozen Fun will officially end May 15th, right before the 60th celebrations begin. Olaf's Snow Fest is melting a little earlier, so you'll want to get to the park before April 30 to meet everyone's favorite snow man. If you are looking for the best way to see all the excitement, you can check out our
Spring Break Tips for Frozen Fun at the Disneyland Resort and Everything Frozen at the Disneyland Resort articles to learn more. The only Frozen Fun that will be continuing on past the closing date will be Anna and Elsa's Royal Reception. Staying in the Animation Academy building, everyone's favorite sisters will be sticking around a while longer to meet and greet guests.
We can not thank Disney, David, Jessica and of course, Mickey Mouse enough for making not only our day, but our jobs so special. It was truly a magical day filled with so much fun and excitement. We can't think of a better way to celebrate Get Away Today's 25th Anniversary. In our 25 years, the greatest joy always comes from helping families meet Mickey Mouse themselves at the Happiest Place on Earth. You can book any of our
Disneyland packages
online or call our Disney Experts at 855-GET-AWAY.
We are so excited to share all of our new Disney knowledge with our customers!

Check out these great articles: