UPDATED MARCH 2019 Star Wars Land is coming to Disneyland May 31, 2019 and Disney World August 29, 2019. New details were recently announced and we're sharing everything we know about Star Wars Land on today's #MovieMonday.
#MovieMonday is here, and we're starting off the week with a glimpse into the upcoming Star Wars Land Disneyland. The new area will be opening in both Disneyland and Disney World in 2019. While we don't have specific dates, we do know that Disneyland's will most likely be opening earlier in the year than Disney World. Besides the opening year, Disney hasn't released much about Star Wars Land – until last weekend that is!
The Walt Disney Imagineer and Lucasfilm creative minds behind the expansion shared more details at the Star Wars and Disney Parks: A Galaxy in the Making panel discussion on April 15th. While the details are still miniscule compared to the huge project, they have us more excited than ever. You can take a look at the video of the information shared from the top Disney and Lucasfilm project directors below:
Doesn't the concept art look amazing? The cast of creative producers and directors just helps to confirm what we already knew: Star Wars Land will be unlike anything else. In case you didn't know, here's a list of the Disney Imagineers production cast and their previous work:
Scott Trowbridge, Creative Executive. He has worked on quite a few projects at Disney, but was also one of the geniuses behind the Wizarding World of Harry Potter in Orlando, Florida.
Chris Beatty, Executive Creative Director. Chris has worked on many a show at the Disney parks, but was also a huge part of the Fantasyland expansion in Magic Kingdom a few years ago. You can thank him for the Be Our Guest restaurant and the immersive Little Mermaid ride queue line among other things!
Asa Kalama, Executive Creative Director. Asa has been a part of many Disney World projects and is most known for giving guests a behind-the-scenes peek at Imagineering with his DVD series, The Science of Disney Imagineering.
The production cast also includes directors and producers from Lucasfilm, a partnership that is as unique as the new Star Wars Land promises to be. The director of the upcoming Star Wars: The Last Jedi and producer of Star Wars Rebels will be an important part of the new land as well. With such an amazing cast of Imagineers and Lucasfilm producers, the land promises to be unlike any lands we've seen before.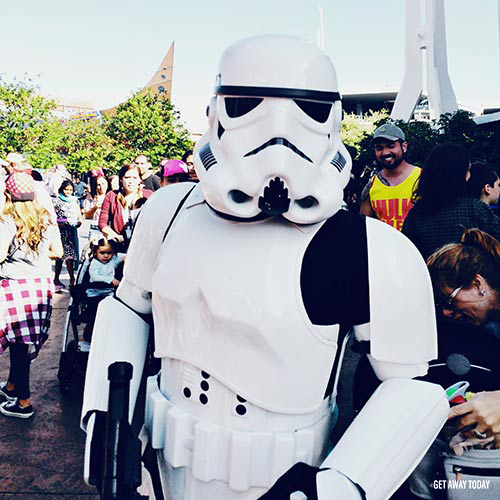 While the video doesn't share as many details as we may have hoped, the panel did share a bit more with those who attended. We now know that Star Wars Land will be an immersive experience, focused on a planet we haven't yet seen in the Star Wars universe. The Imagineers shared that the planet will be somewhere on the Outer Rim, at the edge of the Unknown Regions.
The planet, a remote village much different from the busy crossroads it used to be, will be a thriving area for smugglers, adventurers and rogue traders. The panel also shared that there will be opportunities for park guests to choose between good and evil, and whether they will work for the Resistance or the First Order.
Instead of a recreation of the movies, guests will experience an extension of the universe. The new land will be complete with the opportunities to drink blue milk and even drive the Millenium Falcon. Be careful, though – choices will matter and you never know who may be upset at you for bringing back the Millenium Falcon damaged. The opportunities for interaction with the Star Wars universe don't end there. Imagineers are planning on having Star Wars characters spread throughout the park to interact with guests constantly. You may be offered a side job by a bounty hunter or witness a villager fighting off the storm troopers right in front of you.
The new Star Wars Land just gets better and better as more details are released. We are so excited to see this detailed project come to life in 2019 and will keep you updated as soon as we have more information.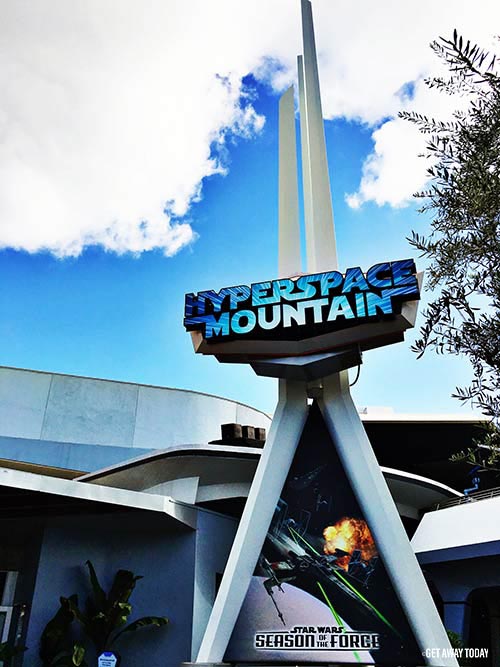 While Star Wars Land won't be complete until 2019, you can still visit Star Wars Season of the Force at Disneyland. You'll have the chance to ride Hyperspace Mountain during a battle of X-wing starfighters and Imperial TIE fighters. Your little ones can train to become Jedis during the Trials of the Temple in Tomorrowland. Or, you can enter the Star Wars Launch Bay to meet iconic characters like Chewbacca and Darth Vader.
Don't forget to book your Disneyland vacation with Get Away Today for galactic savings – including Extra Day Free Disneyland tickets and Extra Night Free hotel specials. You can book online or by giving our travel Jedis a call at 855-GET-AWAY.

Check out these other great articles: