Pixar Fest has completely taken over the Disneyland Resort and people can't stop talking about the Pixar Fest Food. We got to go behind the scenes and get an inside look... and taste at some of the menu items that are making Pixar Fest so popular.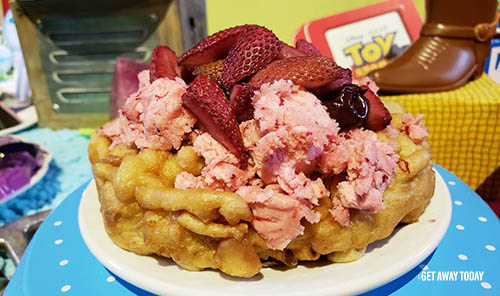 Pixar Fest Food: An Inside Look
Our team was at the Disneyland Resort when Pixar Fest kicked off and we were lucky enough to get to go behind the scenes. Not only did we get to see so many awesome things, we got to taste many of the favorite Pixar Fest food menu items. We even interviewed Gracie, one of the talented pastry chefs at the Disneyland. She gave us a quick overview of some of the best foods from the celebration. Enjoy:
As you can see, there's something on the menu for everyone when it comes to Pixar Fest food. Savory, sweet, and everything in between can be found throughout Disneyland, Disney California Adventure Park and the Downtown Disney District. Here is a recap of some of the highlights from the video:
Pixar Fest Food - Cheeseburger Pizza and Alien Macarons:
One of the most immersive places to grab a wide range of Pixar Fest food is Pizza Planet, a temporary pop-up restaurant. The previous Redd Rocket's Pizza Port in Tomorrowland has been transformed into a Toy Story themed restaurant complete with the famous aliens. You'll oooohhh over the fun decor and then aaaahhhhh over the delicious menu options.
The cheeseburger pizza is one of the most unique offerings at Pixar Fest. Pizza Planet has combined two of the most beloved foods in America to rave reviews. The cheeseburger pizza's base is similar to a standard cheese pizza, but with cheddar cheese and a soft sesame seed crust. Then, the chefs add miniature hamburger patties and pickles, and finish the creation off with a ketchup and mayo drizzle. It is oddly satisfying. You can buy this concoction by the slice for $8.49 a piece, or get a whole pie for $39.99.
You can take the whole pizza value a step further with their family meal deal. For $69.99 you'll get an entire pizza of your choice, a delxue salad complete with artichoke hearts, olives, tomatoes and more, four fountain drinks and a dessert. When you add up how much all of these items would cost ala carte, it's a huge value.
Pizza Planet also serves up some sweet and easily recognizable alien inspired desserts. There is a darling alien parfait, but we especially love the alien macarons that we were able to sample in the video. If you couldn't tell, we weren't the only ones who loved it. The combination of lemon and blackberry is out of this world.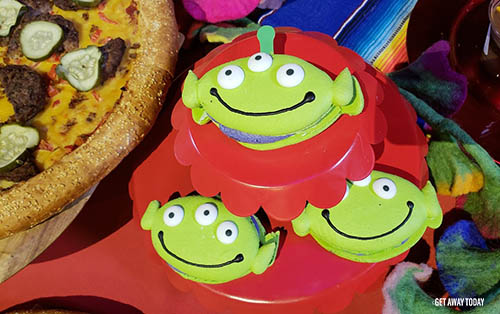 Pixar Fest Food - Cake Pops and Caramel Apples:
It wouldn't be a celebration at Disneyland without adorable and delicious cake pops and caramel apples. The Pixar Ball cake pops we got to try were delicious, but that's just the beginning. You can find Monsters Inc. themed cake pops, Up inspired grape soda cake pops and more throughout the entire resort.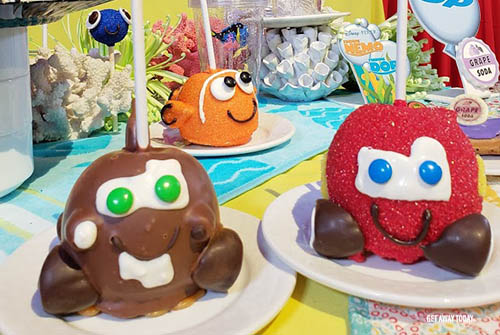 You'll also be able to find a wide array of Pixar themed caramel apples. The fun thing about the caramel apples are that many of them come in pairs. For example, you'll find a Lightning McQueen caramel apple right next to a Mater apple. You'll also find Nemo and Dory apples side by side. It's important to note that some of these specialty treats are only available now through June 22nd. After that, some new treats will join the line-up on June 23rd, which is when Pixar Pier officially opens.
Pixar Fest Food - Super Unique Options:
There are some pretty unique choices when it comes to the foods available at Pixar Fest. One of our favorites we got to try was the Chilled Pasta Salad with color changing noodles. You can grab these wildly delicous and gorgeous noodles inspired by Monsters Inc. from the Lucky Fortune Cookery in Disney California Adventure. Just add some fresh lime juice and watch your lunch go from a dark blue to a lighter purple/pink color.
Some of the other more unique menu items can be found in bakeries throughout the resort, but our favorite place to grab them is the Jolly Holiday Bakery. Here you'll find Adventure Tarts, but we like to call them "Up tarts," which is a hazelnut-filled pastry with a sugar screen printed scene from Up. You'll also find PB & J eclairs just for the occasion.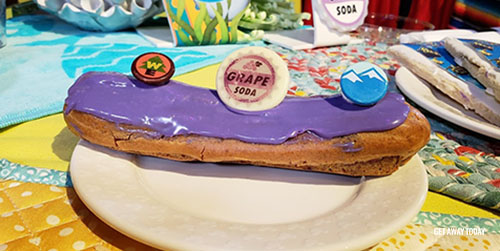 Pixar Fest Food - Churros:
There were so many specialty churros added to the Pixar Fest food offerings that they needed their own category. You can find six specialty churros just for Pixar Fest, including some fruity choices. Try the lemon with fruity cereal topping, or the Lots-o Strawberry churro. If you're looking for a churro with a dipping sauce, try the carrot cake churro with cream cheese frosting and raisin-carrot dip, or the chocolate powder coated Coco-inspired churro with a Mexican chocolate dipping sauce. If you're looking for something a little more traditional, you can get an iced doughnut churro from "a bug's land" or a "Choose your racer" churro with specially colored sugar in Cars Land. Rest assured that your churro craving will be fulfilled and then some during Pixar Fest!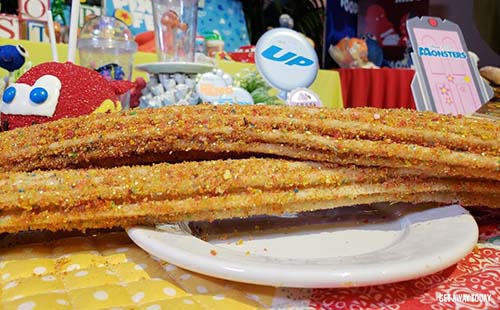 Beyond Pixar Fest Food:
If you haven't booked your Pixar Fest vacation yet, don't wait any longer. These treats will only be available for a limited time. Not to mention, Paint the Night Parade and the Pixar Play Parade will only be at the Disneyland Resort through September 3, 2018. You can find out all about these incredible parades from our last two videos here:
A Glimpse Into Paint the Night Parade at Disney California Adventure Park
Everything You Need to Know About Pixar Play Parade
Experience these things, the exclusive Pixar themed fireworks show and so much more. You can find all of our discount Disneyland packages and tickets online. Or, you can call and talk to any of our Disneyland vacation experts at 855-GET-AWAY.

Check out even more Pixar fun: