UPDATED FEBRUARY 2018. Pixar Pier vs Pixar Fest – What's the Difference? We answer your questions about What, When, Where and More in this edition of #MovieMonday.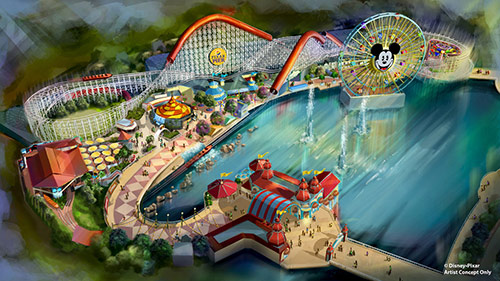 Photo Courtesy of Disney Parks Blog
We made this video to help explain all about Pixar Pier and Pixar Fest. We'll tell you what they are, what the differences are, where they'll be and when they'll be there. Enjoy!
We hope that cleared up any of your questions about Pixar Pier vs. Pixar Fest. As a recap, here's an overview of what we covered in the video:
Pixar Pier vs. Pixar Fest: What?
Pixar Fest is a celebration all about Pixar stories. Think entertainment, parties and atmosphere.
Pixar Pier is land. It will be a permanent location (well as permanent as Disney gets) with attractions.
Pixar Pier vs. Pixar Fest: When?
Pixar Fest begins officially on April 13, 2018 and, just announced, will end September 3rd. Which means it will end just before the park begins to get ready for its ever-popular Halloween Time.
UPDATED FEBRUARY 2018: Pixar Pier now has an official opening date of June 23, 2018. On top of the new opening date, we also know that one attraction in particular will not be part of the summer debut - more on that later.
Pixar Pier vs. Pixar Fest: Where?
Pixar Fest, because it's a celebration, will be taking place throughout both parks in the Disneyland Resort.
Pixar Pier will be inside Disney California Adventure Park. It is replacing a major area that was once part of Paradise Pier.
Pixar Pier vs. Pixar Fest: Details
Pixar Fest will include a number of returning, revamped and new entertainment options. The Pixar Play Parade will move to Disneyland. This returning favorite will feature new floats including one inspired by Inside Out. The Paint the Night Parade will return, but this time to Disney California Adventure Park. This nighttime spectacular will also feature a new float. Together Forever – A Pixar Nighttime Spectacular fireworks is a brand new, immersive fireworks show to take place in Disneyland. There will be a Pixar Shorts Festival in Disney California Adventure Park at the Sunset Theater. Pixar Fest will also have specialty food and merchandise available as part of the celebration.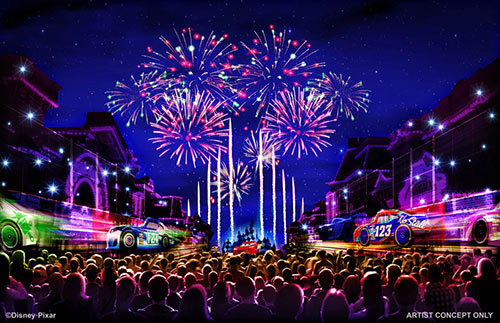 Photo Courtesy of Disney Parks Blog
Pixar Pier will be a newly re-themed land that will highlight four new neighborhoods. Each of the neighborhoods will have an attraction and character interactions based around its theme.
The Toy Story Neighborhood will feature Toy Story Mania!, which is currently open and one of the most popular rides in California Adventure Park. The Inside Out neighborhood will have character experiences when it opens and will eventually feature a new ride that will be coming later. The Incredibles Neighborhood will feature the Incredicoaster, the largest attraction at Disney California Adventure Park, formerly known as California Screamin'. The final neighborhood will represent a "mix" of your favorite Pixar stories – including a re-do of Mickey's Fun Wheel. The Games of the Boardwalk will all become Pixar themed and some new Pixar themed dining will replace what used to be the Cove Bar and Ariel's Grotto.
As you can see, both Pixar Pier and Pixar Fest are going to be amazing additions to the Disneyland Resort. No matter whether you're thinking of a late spring or summer vacation, both will be amazing times to be at Disneyland. And of course, we'd love to help you get there.
Check out our Disneyland tickets and Disneyland packages online, or you can call any of our vacation specialists at 855-GET-AWAY.

Check out these other great videos: