"Our experience was that of a lifetime. We booked months ago for rates which saved us almost half of what we would have paid otherwise.
We arrived at the hotel and all it took was an ID, and we were in our room with a free upgrade. Once we got to the parks, we were in and out of the ticket line in no time. We just showed them our ID, and we were good to go. I would use you guys again in a heartbeat! Thanks!
-Jason K."
"I must tell you that this vacation was the best vacation I have ever gone on. Your agency made this trip so relaxing because we didn't have to worry about anything. I'm so glad my friend referred me to your website. We already have plans to use your agency for an upcoming Disneyland trip in February of 2013.
First, we checked into our hotel and you guys had taken care of everything - even our special room requests. Then we went to Disneyland to pick up our tickets and the ticket teller bragged about how they loved your company. You truly made our vacation spectacular and I'm so thankful for the great service you provided us. We cannot wait to book with you again in February.
Thanks for everything,
Austin B."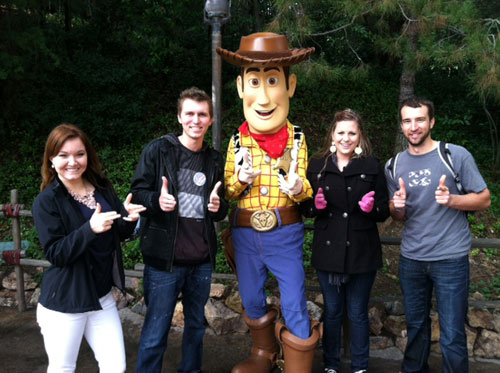 "Just want to thank you for your help in planning our recent
Disneyland trip
. We had a great time, everything went perfectly with our tickets, hotel was great and the price was fantastic. The service we received from Get Away Today was outstanding. I had misunderstood an arrangement and when I called your office the service was excellent and the management got back to me within a very timely manner. We will use your services in our future travel planning and have already started telling others about your services. Thank you specifically to Liz she was outstanding in serving us.
Thank you,
Randi H."
"Thank you making our
Disneyland trip affordable
. In today's economy we thought we would have to same up for a while to go on this trip. But we were able to afford the nice hotel and park hopper tickets and stay within our budget, Thank you Get Away Today. We will for sure book all our future vacations through you.
-Rita"
We love helping families and friends make priceless memories - at a great price! Send your Get Away Today vacation experiences to
[email protected]
and you could be the next travelers featured on our blog!

Check out these other guest experiences:
Smooth Affordable Family Vacations
Fantastic Vacation Experiences
Firsthand Get Away Today Guest Experiences