"The Wyndham Garden Grove is very nice and clean. Pool area/cabanas were excellent. Breakfast was awesome and plentiful. Beds/pillows were super comfy. Staff was very friendly and we very much appreciated the fact that our room was cleaned early on in the day rather than late afternoon. Free shuttle was great - even ran on-time! Will definitely stay here again."
- Clint B.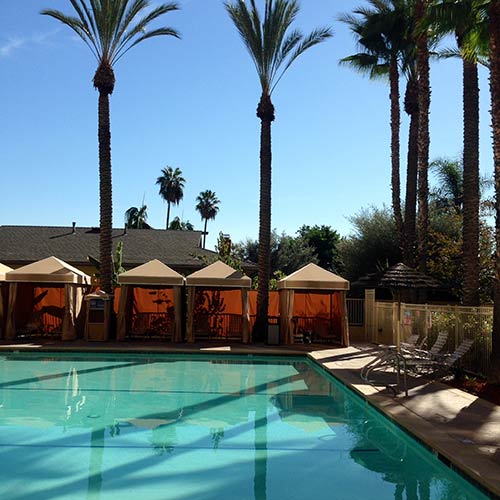 "I booked 7 rooms at the Residence Inn Anaheim Resort for a family reunion to Disneyland, there were 33 of us and we had exceptional service from the time of check-in to the time of check-out! The breakfast and the mini meal at night was beyond wonderful, we have stayed at this hotel before but with only a few family members, everyone was delighted with our whole experience, we will definitely stay here again!!! Thank you Get Away Today for arranging everything from the rooms, the Disney tickets, and the hop on, hop off bus passes, it was amazing!!!"
- Cheryl W.
"I really loved the Ayres Hotel Orange, and will stay on my next trip to Disneyland. Breakfast was wonderful, scrambled eggs bacon sausage, hash browns, toast, pancakes, cereal and much more. This really is a great hotel."
- Cyndi M.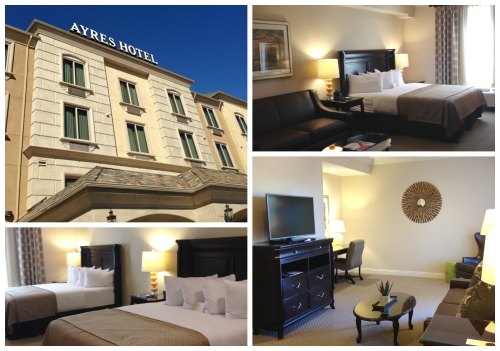 "The Tropicana Inn and Suites is conveniently close to Disneyland and easy to check in. The staff were very friendly and made my toddler happy that it was his 1st time to visit Mickey. Rooms are always decent and housekeeping staff friendly. I even like the late check in...if needed. This is my go to place if available."
-Tamie B.
"The last 10 years we have been going to new hotels every year, trying to find the perfect hotel. We found it! The Springhill Suites at Anaheim Resort/Convention Center was AMAZING. CLEAN, SPACIOUS, FRIENDLY STAFF. Since our family is so large, we need the family suites with all the extra beds we could get. The first night we ordered extra towels, and since that ONE request ONE time, Every day after coming back from Disney, the house keeping always kept the bathroom STOCKED with extra towels! The breakfast is AMAZING!!! Bacon, Sausage, eggs, potatoes, along with hot/cold cereals, pastry, coffee with difference creamers, juices, milk, different types of yogurt! My husband is EXTREMELY picky and he says he cannot wait to go back next year and stay another day this time!!! Being above CVS was AWESOME too!!! Snacks, drinks and extra stuff you forgot is RIGHT THERE!!! This is the BEST we've found that isn't ridiculous prices."
- Ariana A.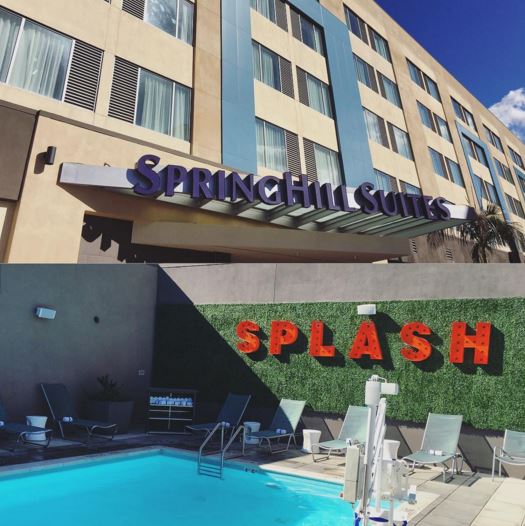 "I loved everything about the Anaheim Majestic Garden Hotel! Clean, helpful, comfortable. We will defiantly stay here again next time we travel to Disneyland!!"
- DeAnne V.
"We checked in very late at night to the Hilton Garden Inn after our travel went longer than expected. The staff were ready to greet us and make check-in and parking as easy as possible. Any questions we had or needs for linens in our rooms staff were quick to assist in any way they could. The restaurant staff were great as well. We were pleased with the size of the beds and didn't have any trouble sleeping in comfort. We would stay with them again for sure."
- Rebecca F.
"This last trip marks the 3rd time we have stayed at the Clarion. The staff is beyond generous, they have let us check in early (This last time was 9AM and they upgraded us to a suite at no extra cost!) and let us park there after check out. This is key for us since we are a 4 hour drive from Disney, so we come early in the day and leave later at night. The hot breakfast is great compared to some other hotel continental breakfasts. The rooms were clean, and beds were comfy. We had grad night students down our hall and above us, but I didn't hear them at all, it is well insulated. The staff were all extremely friendly and went out of their way to make us feel at home."
- Renea P.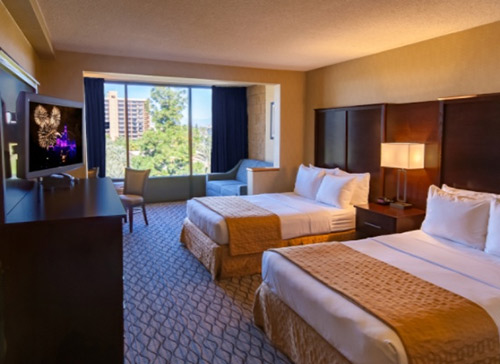 At Get Away Today, we work closely with all of our hotel partners to make sure you not only get the best deals, but the best service possible! No matter what you are looking for in your home away from home while you are visiting the Disneyland Resort, we can help you find it. Book your Disneyland package online or call our agents at 855-GET-AWAY.