We were so lucky to have SeaWorld visit our office recently and not only share some of their amazing animals with us, but also information about upcoming events and changes for their park in San Diego. SeaWorld does so many amazing things for the animals of the world and we were so honored to meet some of their animal ambassadors. Check out this video for a glimpse into our fun filled day:
But as I mentioned, the day was more than just animal fun. Our contact updated us on all of the exciting things taking place at SeaWorld San Diego. There is always something fun going on and it changes throughout the year! With so many fun things, you could visit again and again and hit different festivities each time. Here is a brief overview of the fun that's in store for 2016:
The Seven Seas Food Festival - a foodie favorite that showcases delicious international food and wine as well as local live bands – has already begun, kicking off the summer events at SeaWorld. Summer Nights follows on May 28th with longer park hours, nighttime shows, and spectacular firework displays throughout September 5th. Add in the high-energy, family friendly music performances of SeaWorld's Summer Vibes events (June – August) and your family will have fun all day long. Animals, rides, shows, and fireworks make for a great summer vacation, but visiting SeaWorld's waterpark Aquatica will make it the best summer vacation ever! Aquatica has seven thrilling water rides as well as a lazy river, toddler zone, and wave pool to keep your whole family cool all day long starting on May 27th.
The fun and excitement doesn't end with the summer season. The Halloween Spooktacular begins the last weekend of September and continues throughout weekends in October. Your family will be able to trick-or-treat throughout the park, stop at Mermaid Grotto for dance parties, or watch the Halloween-themed shows. It's a spooky fun time for any family visiting this fall!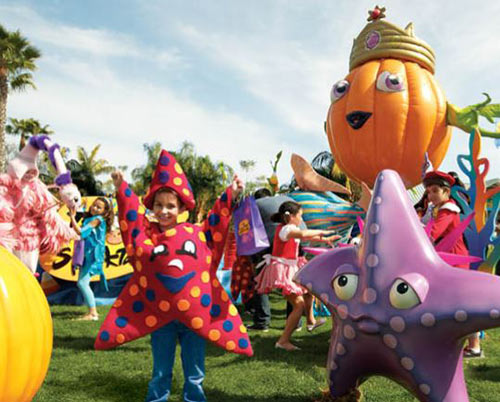 The last event of the year is some of the staff's favorite; SeaWorld's Wintery Wonderland. Starting on November 21st, the park will transform into a Christmas dream with dazzling lights, its own Christmas village (complete with Santa's Cottage and Reindeer encounter), Southern California's largest Christmas Tree of Light, and holiday themed shows. The winter fun will last until January 3rd, making it perfect for a family looking to celebrate Christmas or New Year's in San Diego.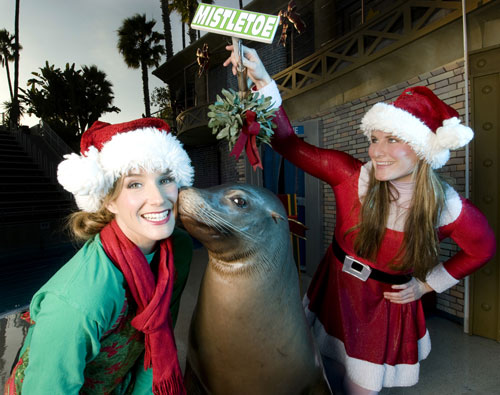 Along with their unforgettable events this year, SeaWorld also shared upcoming changes taking place within the parks. SeaWorld has ended their orca breeding, announcing that this generation of the orcas will be their last. The current population will live out their lives in the park habitats, receiving the highest care available and continuing to be observed by SeaWorld guests. The current theatrical shows will be changed to focus on the enrichment and health of the orcas and the parks will be remodeling the viewing areas to be more naturalistic settings, starting next year in San Diego.
SeaWorld has also announced their new partnership with the Humane Society of the United States to continue their work on improving the health of our oceans and the animals that live in them. SeaWorld Rescue alone has saved over 27,000 animals in their 50 years of service – working with HSUS, they will be able to rescue even more marine life as well as partner in efforts against commercial killings of sealife and protection of the coral reefs. To view more information about the last generation of orcas, the new partnership, and all the animals SeaWorld Rescue has saved, you can visit
seaworldcares.com
.
As you can see, it's an exciting year for SeaWorld San Diego! The best way to learn more about SeaWorld's mission and the changes they have coming up is in person. Plus, you can plan your trip around any of the lively events above to make it a trip your family won't forget. Book your San Diego SeaWorld vacation online or call our travel experts at 855-GET-AWAY.