Our Sheraton Universal Hotel review will walk you through what it's really like to stay at this hotel. We'll cover the rooms, amenities, location and more.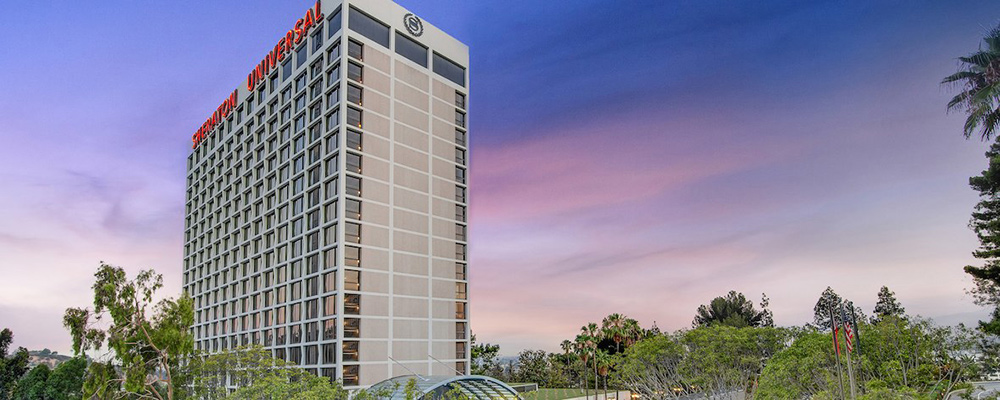 Photo courtesy of the Sheraton Universal Hotel
Sheraton Universal Hotel Review
The Sheraton Universal Hotel is our number one choice whenever we go to Universal Studios Hollywood for a number of reasons. Our team recently stayed there (again) for the kick-off of Grinchmas at Universal Studios Hollywood. While there we filmed a room tour and some of the common areas so you can see what it looks like for yourself. You can find our Sheraton Universal Hotel Room Tour here.
Sheraton Universal Hotel Review - Rooms:
There are to main standard room types at the Sheraton Universal; two double beds or one king bed. The two double beds are perfect for a family vacation or friends getaway. The king bedroom is ideal for a couples trip. Both room types are incredibly modern, spacious and comfortable.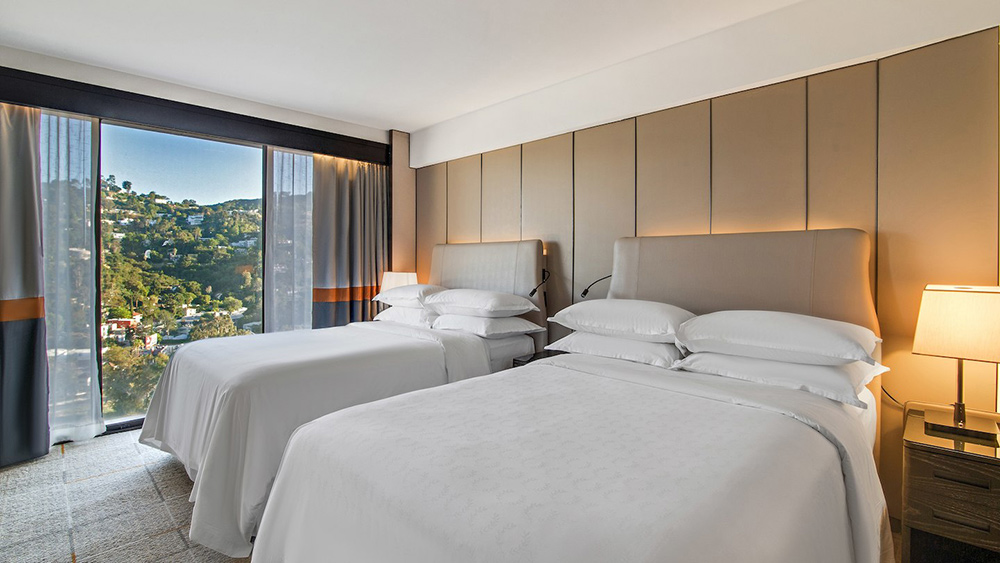 Photo courtesy of the Sheraton Universal Hotel
One thing that we especially love is the Sheraton sweet sleeper brand beds. They may just be the most comfortable hotel beds ever. We were also impressed with the number of outlets, and the awesome rainfall showerhead. Overall, we love the rooms at the Sheraton Universal.
Sheraton Universal Hotel Review - Amenities:
The amenities at the Sheraton Universal will make your stay comfortable and fun. The outdoor pool is perfect for spending a day in the sun. There is plenty of poolside seating, and there's a lounge as well. The hotel features a small on-site gym and on-site valet parking for a fee.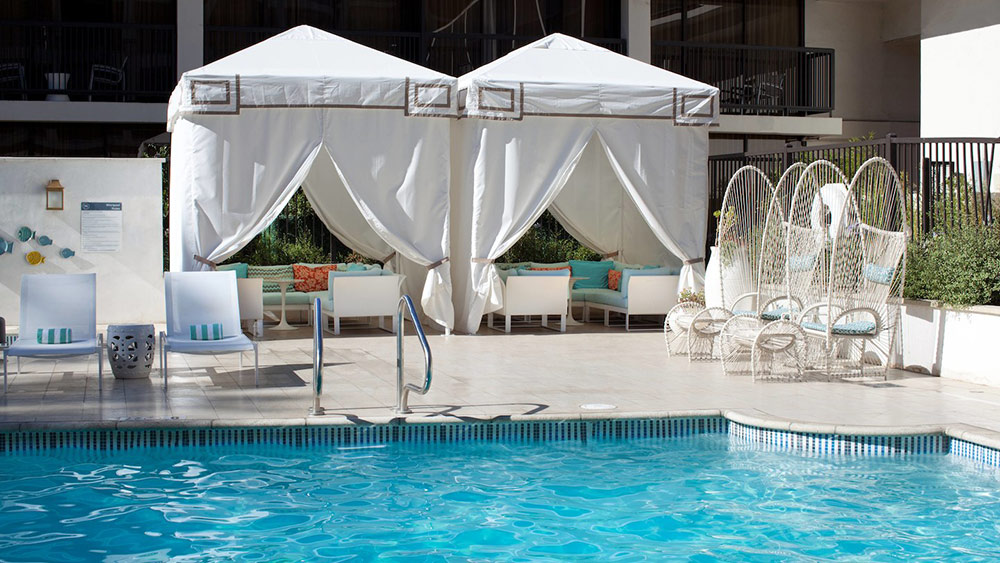 Photo courtesy of the Sheraton Universal Hotel
A complimentary shuttle running to and from Universal Studios Hollywood is available throughout the day. It makes getting to and from the park a breeze. Another fun surprise that can often be found at the hotel is the occasional wax figurine from Madame Tussaud's Wax Museum featured right when you enter. I must admit, I've taken a double (or triple) take with more than one of the realistic wax figures.
Perhaps one of the reasons the Madam Tussaud's statues catch my eye is because the Sheraton regularly hosts actors, musicians and other entertainers. It never hurts to watch for celebrities during your stay at the Sheraton. You just never know who you may see!
Sheraton Universal Hotel Review - Dining:
There are two dining options on-site at the Sheraton Universal. There's a pool lounge that serves Cajun inspired small bites. California's is the hotel's main restaurant that serves breakfast, lunch and dinner. There's also a lobby bar called In the Mix.
In addition to having in-house dining options, there are dozens of restaurants nearby. Some of the closest restaurants can be found at the Universal City Walk. At the City Walk you can find everything from fast food to fine dining and everything in between. You'll also be able to find L.A. staples including Pink's Famous Hot Dogs. Whether you're craving burgers, sushi, ribs or frozen yogurt, you can find all that and more just steps away from the Sheraton Universal Hotel.
Sheraton Universal Hotel Review - Location:
Speaking of steps away from the Sheraton Universal Hotel... you're just a few minute walk to Universal Studios Hollywood. However, you should know that the walk is quite intense because the Sheraton is located on the bottom of the same hill that the park is situated on. There is an elevator on property that you can take to the Hilton located right above the Sheraton which will cut out some of the walking. Or, you could easily take the shuttle that runs regularly throughout the day. Either way, you're super close to a day of fun.
In addition to being one of the very closest hotels to Universal Studios Hollywood, the Sheraton is about an eight minute walk to the Red Line Station. You can catch the metro into Hollywood where you can experience all that it has to offer. Watch a movie at the famed El Capitan Theatre or explore the Hollywood Walk of Fame.
Overall, we love everything about the Shertaon Universal Hotel! There are so many reasons to make this your home away from home when visitng Universal Studios Hollywood. We would love to help you get there with our lowest price guarentee! Book your vacation package online or call our travel experts at 855-GET-AWAY.