The Season of the Force has been growing strong on the West Coast at Disneyland since mid-November. Families visiting the East Coast can now rejoice knowing that the Force has arrived on the East Coast at Disney's Hollywood Studios at Walt Disney World Resort! Guests can expect to find many of the same fan favorites found at Disneyland, as well as some incredible attractions unique to Florida. Here's a quick overview of what you'll find at Walt Disney World's version of Season of the Force:

Star Wars Launch Bay

You'll choose the Dark Side or the Light Side at the Star Wars Launch Bay where you'll have the opportunity to meet either Darth Vader or Chewbacca for a quick visits and photos. You can also explore two different exhibits; Celebration Gallery and Celebration Hallway which feature replica Star Wars props, murals and more. Authentic costumes, props and artwork from The Force Awakens can be found here as well.

Star Tours – The Adventures Continue

This classic attraction has been updated with new scenes from The Force Awakens. Although there are over 50 different possible scenarios, each ride during Season of the Force will include one segment from the new film.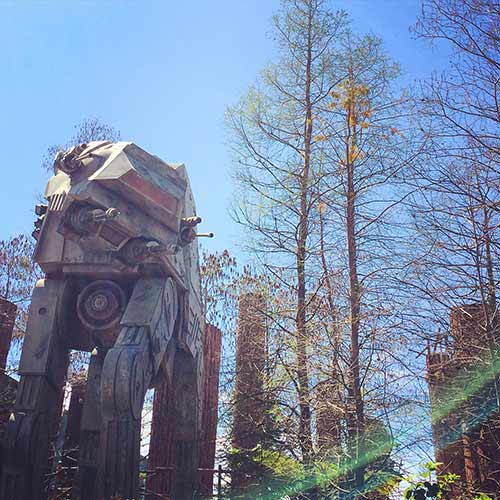 Jedi Training: Trials of the Temple

Padawans ages 4-12 can pre-register to be part of this show which trains them how to be Jedi Knights. They'll need to put their training to use when they are called to battle Darth Vader and for the first time ever, the Seventh Sister Inquisitor from Star Wars Rebels.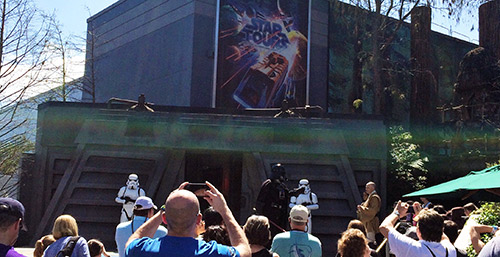 Star Wars: Path of the Jedi

Relive the best moments of the seven Star Wars films in this incredible, interactive overview. It feels like the movies have come to life.

Galactic Food

You'll be so immersed in the worlds of Star Wars that you'll be able to taste it. You can find Star Wars foods and drinks throughout the park like Blue Milk Panna Cotta, Padawan Limeade, and BB-8 Lemon and Butter Cream Cupcakes, to name a few.

Fireworks

The "Symphony In The Stars: A Galactic Spectacular" nightly fireworks show begins tomorrow night. It's only fitting that the Star Wars Celebration would end where it began... in the skies of the galaxy. To make things even sweeter, beginning January 5, 2016, you can purchase tickets for a special dessert party that include preferred viewing for the show. "Symphony in the Stars: A Galactic Spectacular Dessert Party" includes Star Wars-themed desserts and drinks, a souvenir Chewbacca stein, and reserved viewing for the fireworks. Park admission is required for the party and is not included. Tickets for this exclusive event are $69 per adult and $39 for children ages 3-9. Tax and gratuity are included and advance reservations are recommended. You can reserve your spot through Disney Dining at 407-939-3463 or Disneyworld.com/dining.

If you haven't booked your Walt Disney World vacation, don't wait until the next Star Wars movie comes out. Experience these limited time experiences for a vacation that is out of this world. Book online or call our Disney experts at 855-GET-AWAY.

Check out these other great article: