At Get Away Today we love our hometown of Ogden. Not only were we named the #1 Ski Town in the US by Powder Magazine, we are an official venue of the Sundance Film Festival which kicks off tomorrow and takes place through January 27, 2013. There's still time to plan a quick
ski vacation to Snowbasin
during the Sundance Film Festival where you can also catch a premier! Check out the press release below: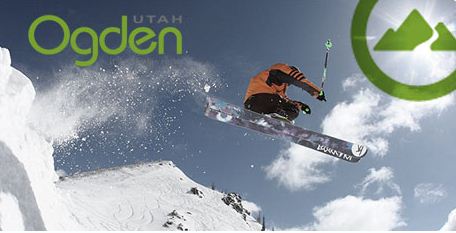 OGDEN, Utah (January 16, 2013) - Independent film makers will showcase their artistic creations at Ogden's Peery's Egyptian Theater, an Official Provider of the Sundance Film Festival. The festival held January 17 - 27, 2013, will give patrons a first glimpse of the prominent independent films. As one of the festival's largest venues, Peery's offers numerous ticket options. Local organizations such as Downtown Ogden Inc. and Historic 25th Street Association will offer festivities and specials during the Sundance Festival.

"Tickets can be extremely limited during Sundance and attending a screening may seem unrealistic. But, many people do not realize the accessibility in Ogden and tickets are still available," said Ross Reeder, director of sales and marketing at Peery's Egyptian Theater. "We feel fortunate that our relationship with Sundance Institute allows us to premier incredible films. It also provides the community the chance to interact with many of the world's best directors, actors and producers."

Beginning Jan 19, Historic 25th Street Association will host "Celebrate Cinema" during the Sundance Film Festival. Participating restaurants and retailers along Historic 25th Street will offer special deals and discounts to patrons that show their Sundance movie tickets or stubs. The Association is a sponsor of the Jan 19 screening "Emanuel and the Truth about Fishes." The film begins at 9:30 p.m. Free tickets to the screening will be given away on Historic 25th Association's Facebook and Twitter sites as well as www.historic25.com. This is the first year the Association is a Sundance Supporter Group, and it hopes to make it an annual Celebrate Cinema Festival.

Downtown Ogden Inc. will host a reception for the film, "Austenland" on January 21 at the Egyptian Theater. The film begins at 6:30 p.m. and is based upon the novel "Pride and Prejudice." The Girl's night out themed festivities will begin immediately following the screening. Downtown Ogden Inc. is a Sundance Supporter Group. For additional reception ticket information contact Saydee Barragan: Saydeeb@ogdencityarts.org.

Films screening at Peery's Egyptian Theater are:
• Crystal Fairy
• Emanuel and the Truth about Fishes
• Who is Dayani Cristal?
• Mud
• Austenland
• Before Midnight
• History of the Eagles
• The Way Way Back
• The Crash Reel
• Big Sur
• The East
• Stoker
• Very Good Girls

Local ticket options are available for purchase At Peery's Egyptian Theater box office. Open ticket options begin January 15, or waitlist tickets are also obtainable two hours prior to the screening. Individual tickets are $15 each. Special ticket options are available. For a complete listing of films visit Sundance Film Festival at www.sundance.org.

About Peery's Egyptian Theater
Peery's Egyptian Theater in Ogden is a proud Official Provider for the Sundance Film Festival. Ogden welcomed the festival for the first time in 1998. It began with a limited number of screenings and now includes films during the full 10-day run of the festival. The theater hosts public screenings, screenings for local high schools and Best of Fest screenings after the conclusion of the festival. Peery's Egyptian Theater is located at 2415 Washington Blvd. in Ogden Utah.

For additional information regarding Peery's Egyptian Theater e-mail: boxoffice@peerysegyptiantheater.com or visit www.peerysegyptiantheater.com

For additional information on the Sundance Film Festival visit www.sundance.org.
And of course, be sure to book your Ogden ski package with Get Away Today! Our agents would love to give you their insider tips on how to make the most out of your trip to our town.

Check out these other great blog articles:
Get Away Today's New Ski Packages on Fresh Living
(video)
Get Away Today Tours Ogden
Get Away Today Presents Discount Ogden Ski Packages