Get Away Today loves group tours and we would like to announce an incredible, once in a lifetime, vacation opportunity to Peru! Join us from September 13-20, 2014 and you will discover all the majestic mountains, the historical city of Lima, Machu Picchu and so much more! Here is a day by day itinerary for your eight day adventure: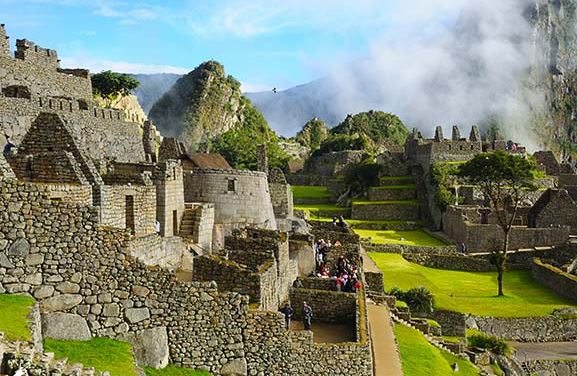 Day One – The adventure kicks off in Lima, Peru. Travel through this captivating land and prepare to visit some of the world's most famous sites, including the "Lost City of the Incas," Machu Picchu. Late this evening you will arrive in Lima, "The City of Kings."
Day Two –See the sights on a historical tour through Lima. Appreciate the artwork at the San Francisco Monastery and enter the catacombs. You will also view the Cathedral at Plaza de Armas and the chic suburbs of San Isidro and Miraflores. This evening you will be joining your fellow travelers for a dinner showcasing Peru's delicious cuisine and entertainment.
Day Three – Fly to Cuzco, the heart of the Inca civilization. Here, you will learn the centuries-old methods of spinning, dyeing and weaving Andean traditional textiles, take a crash course lesson on the local language and visit Pablo Seminario Ceramic Studio to learn about techniques and designs inspired by ancient Peruvian cultures.
Day Four – Halfway through your vacation you will experience the lifestyle of the modern Andean people and their culture. You will also visit the Ollantaytambo ruins, the only Inca settlement that has been continually inhabited since its inception. Do as the locals do and enjoy a tasting of 'chicka,' a unique regional drink made from maize.
Day Five – Climb aboard the Machu Picchu train for breathtaking views as you ride through the Andes to the "Lost City of The Incas." Machu Picchu is considered the most spectacular sight in South America and tonight you will stay at its base to further a chance to soak up its atmosphere and enjoy an exclusive culinary demonstration before dinner.
Day Six – Take some morning free time for independent exploration! You may return to Machu Picchu or explore local markets. Later you will again travel by train to the Sacred Valley. Experience the blends of Inca and Spanish colonial culture in Cuzco and meet Peruvian children supported by in part by this tour.
Day Seven – Take a colonial city tour and have a chance to explore the former capital of the Inca Empire, experience Santo Domingo and the Plaza de Armas. This afternoon you may choose to explore the inexplicable Inca terraces at Maras and the salt mines of Moray. Tonight, enjoy a dinner and performance of traditional Andean folkloric music and dance.
Day Eight – For your final day in Peru, you can choose to visit the Centro Artesanal Cuzco market or enjoy leisure time and explore the San Blas artisans quarter before returning to the airport for you flight home.
Rates for this incredible vacation are $5,050 per person for one to a room, $4,450 per person for two to a room, and $4,420 for three to a room. This price includes our cancellation waiver and insurance, round trip airfare from Salt Lake City, air taxes and fees/surcharges, hotel accommodations, hotel transfers, several excursions, and 11 meals. PLUS, if you make a reservation before March 13, 2014 you will save an additional $250 per person!
If you would like to extend your stay, you have the option to add a 5-day/ 4-night Peruvian Amazon Post Tour Extension. You will have the opportunity to explore the Peruvian Amazon Basin, hike to Lake Condenado and Lake Sachavacayoc (Tapir Lake) and enjoy a canoe trip back to Puerto Maldanado.
If you would like to make a reservation or have questions on this vacation package or any of our other guided tours, please call Jandy or Jaime at 877-510-2929 or email
[email protected]