When visiting the Disneyland Resort, the grandest place of all to stay is without question Disney's Grand Californian Hotel & Spa. From the moment you walk into the magnificent California Craftsman lobby with its roaring fire and grand piano, you know you're someplace special. If you are looking for the perfect balance of fun and relaxation, excitement and luxury, and convenience and recreation, look no further than this fantastic property, often referred to as The Grand. I've been lucky enough to stay here on some special occasions and I've put together my top ten reasons (in no particular order) why I think you should choose Disney's Grand Californian Hotel & Spa for your next vacation: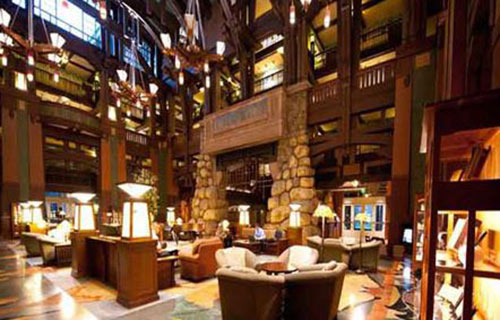 Location, location, location: Disney's Grand is the ONLY hotel that is located inside a theme park at the Disneyland Resort and it boasts its own private entrance into Disney California Adventure Park. This exclusive and awesome private entrance is only available to guests staying at the Grand Californian. There is nothing better than literally walking directly out of your hotel into a theme park first thing in the morning when you just want to get to the park.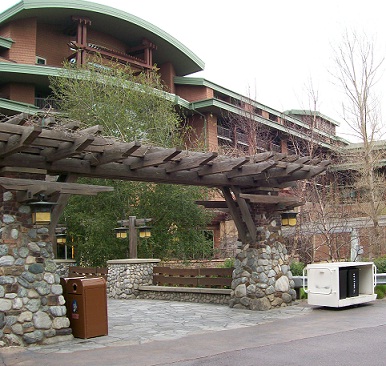 On the flip side, there's nothing better than being steps away from your room after a long day of running around the park when all you want to do is crawl into bed. Not to mention, Disney's Grand Californian Hotel is tucked away by Grizzly River Rapids, so if you happen to get soaked on this attraction, you can just buzz up to your room for a quick change and be back in the park within minutes. No other hotel offers that type of convenience. This added exclusive entrance makes staying at Disney's Grand Californian Hotel even more worth it!

Extra Magic Mornings: One of the best perks of staying at Disney's Grand Californian (or the other Disneyland Resort Hotels) is that you get early entry EVERY morning of your stay! All of our 3-day or longer Disney tickets include one early entry that can be used at Disneyland on Tuesdays, Thursdays or Saturdays, which is great. However, when you stay on property, you don't have to pick a day - you get early access to Disneyland every day of your vacation that it's offered as long as you have a valid park ticket.

Extra Magic Hours: Different from Magic Mornings, when you stay at one of the Hotels of the Disneyland Resort, you get Extra Magic Hours which means exclusive early entrance to Disney California Adventure Park! These Extra Magic Hours give you access to Disney California Adventure Park on Mondays, Wednesdays, Fridays and Sundays one hour before the park opens to the general public - including the new Cars Land! That alone is worth it to me! Like Magic Mornings, you don't have to pick just one day to use your Extra Magic Hour, you can get in early each day of your stay as long as you have a ticket!

Pools: The Hotels of the Disneyland Resort have the best pools in the Anaheim area hands down and Disney's Grand Californian houses three of them! Choose from the peaceful Fountain or Mariposa Pools, each with their own outdoor hot tub. Your kids will most likely find the Redwood Pool with a waterslide to be their favorite of the three pools. One nice bonus of the pools at Disney's Grand is that they supply life jackets on request (complimentary) and they have private cabanas available for rent (fee).




Pinnochio's Workshop: Disney's Grand Californian is also the only hotel that offers a licensed child activity center on-property for those nights when Mom and Dad want a nice dinner out or just a little break. And, it's Disney, so you know your kids are in good hands. Arts and crafts, computer games, Disney films, dinner and snacks and more are provided for children ages 5 - 12 for a fee. Pinocchio's Workshop is incredibly popular and you have to be a guest of one of the Disneyland Resort Hotels to take advantage of it. Guests staying at Disney's Grand get priority over guests of the other two Disney hotels for Pinocchio's Workshop availability.

Napa Rose: So, Napa Rose is a perfect example of a time when you may want to use Pinocchio's Workshop. Napa Rose is my very favorite restaurant in the entire Disneyland Resort and is perfect for a special occasion. The award-winning restaurant is known for its vast wine selection and fresh, local food served with California flair. I love their truffled mac & cheese, scallops and Smiling Tiger salad. Or, if you're feeling extra adventurous, you can select the chef's four course tasting menu that changes weekly. You can always be guaranteed that Chef Andrew Sutton will put on quite the spread.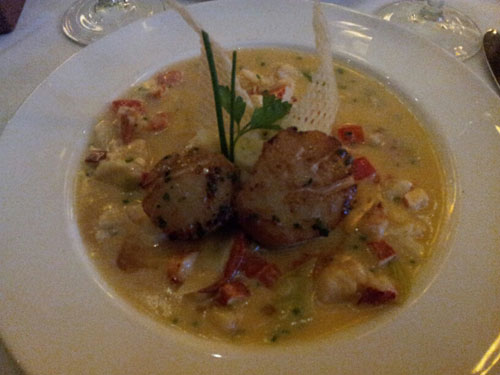 Mandara Spa: Here is another reason why you may want to check-the kids into Pinnochio's Workshop - the world-famous Mandara Spa. The Grand is the only Disney property that offers a full-service spa. Here you can unwind with a range of massage therapies, skin treatments, and salon services. The Bali inspired Mandara Spa features eight private treatment rooms, a couple's pavilion, a relaxation lounge for men and women, separate sauna, steam room and changing facilities for men and women and more.

White Water Snacks: Not only does this conveniently located quick-service restaurant have delicious meals available all day long (the nachos are especially delicious), they offer a limited amount of grocery items as well. As an added bonus, the grocery items are reasonably priced! I was shocked to see that I could purchase snacks, cereal and even milk at Disney's Grand Californian Hotel for prices comparable to what I'd pay at the local grocery store.

Luxurious guestrooms: The Grand carries its California Craftsman style throughout its guest rooms. Granite counter tops with rich woods are found in the bathroom, plush white bedding welcomes you to a good night's sleep and more make your stay a pampered one. And, this might be a little silly, but I love the fact that when you return to your room for the evening, you'll find that someone has left a delightful treat of chocolate coins to be enjoyed before bedtime. Hey, it's the little things that matter!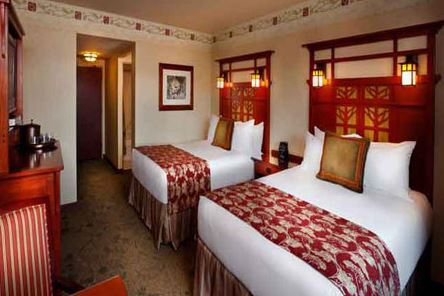 Exclusive activities: When you stay at the Grand, you'll have access to all sorts of exclusive activities that you just can't find anywhere else. You can explore your hotel during the Art of the Craft Tour and kids love The Grand Quest, a scavenger hunt designed for guests ages 3-12. You can also sign up for a private Build-a-Bear session or beauty course at Sephora before the stores open to the public, take an early-morning power walk through Disney California Adventure Park before it opens, or join an outdoor pilates class. Not all activities are offered all of the time, but there is always something going on to add to your vacation.

Choosing my top 10 reasons to stay at Disney's Grand Californian Hotel & Spa was actually a lot harder than I thought it would be because there are so many fantastic amenities and reasons why I love this hotel. See for yourself what makes the Grand so grand and book your next Disneyland vacation today! Book any of our Disneyland packages online or call our agents at 855-GET-AWAY.


Check out these other great blog articles:

Disney's Grand Californian Hotel & Spa Room Tour
Disneyland Resort Hotels: Video Highlights
Top 10 Reasons to Stay at the Disneyland Hotel