At Get Away Today, we tend to focus a lot on all of the fun that your family can have between Disneyland and Disney California Adventure Park. But, there are some amazing adventures to be had outside of the parks but still on Disneyland property. The Downtown Disney District and Disneyland Resort Hotels are located just outside of the parks and feature many fun things to do and to see. Filled with Disney music and excitement, there are great places to play games, take pictures and spend time with family and friends. So today we are going to share our top things to do at the Disneyland Resort - outside of the parks!
Enjoy your first day at the Disneyland Resort by ramping up the excitement. The Downtown Disney District is an open air mall and activity area complete with Disney magic and fun! Parking is free for the first three hours and can be extended with validation from a sit-down restaurant or the movie theater. However, you can always stay in a hotel that is within walking distance so you don't have to worry about parking at all!
If you're arriving later in the evening or afternoon, you can take the opportunity to
explore the free access areas near the park entrances
. It's a great way to get a taste of the Disney magic before entering the next morning. I personally love to maximize my time at the parks; morning time at the Disneyland Resort has the smallest crowds and is filled with a welcoming party from Mickey and his pals! Typically, Disneyland's Main Street U.S.A. and Disney California Adventure's Buena Vista Street open 30 minutes before published opening times. Cast members set up a rope at the end of the street and at the appointed hour, a lucky family gets to open the park. How awesome is that? So be sure to get there early for a chance to open Disneyland! It is exciting to be part of the rope drop and to be the first person on your favorite ride. Remember to take advantage of the Magic Morning early entry that comes with your 3-day and longer tickets, but now back to Downtown Disney...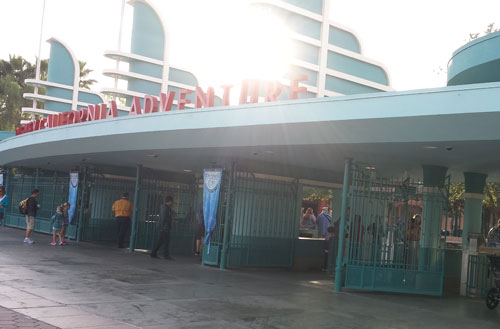 Typically, because of flights or drive times, families tend to arrive in Anaheim mid-day. Rather than spending only a partial day in the park, you can have a great time at the Downtown Disney District! The area has a celebratory vibe and is filled with fun activities for every member of the family. Check out our top list of things to see and do while you explore the Downtown Disney District and Hotels of the Disneyland Resort:
The plaza is located right between Disneyland and Disney California Adventure Park. If you did not get your Disney tickets in the mail, you will want to pick up them up at any of the ticket booths the day before so that you can be in line before park opening the next day. Be sure to ask the ticket cast member for a free Disneyland pin to celebrate any special occasion. The plaza is filled with Disney music and excitement and it is a fun place to play and take family photos. If you are there in the evening, you can catch the fireworks show from a whole different perspective.



B. The Disney Hotels:
Although technically not part of the Downtown Disney District, the three Disneyland Resort Hotels have some great features and do not require admission.

The Paradise Pier Hotel occasionally offers fireworks viewing on the third floor pool deck. Ask a Disney cast member about the viewing options. They also offer Surf's Up with Mickey and Friends Character Breakfast each morning and it's the only place you will find Mickey outside of the parks.

The Disneyland Hotel offers nostalgic memories of Disneyland, complete with an exhibit of old Disneyland toys and ride cars. Each tower has a different theme based on one of the lands of Disneyland. The lobby area found in the Fantasy Tower features giant sized tea cups and child sized chairs in front of a TV showing Disney classics.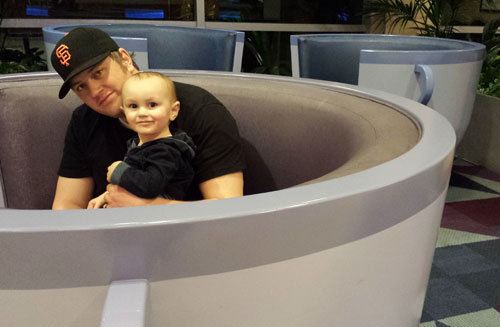 Located in the middle of the Downtown Disney District, the lobby of Disney's Grand Californian Hotel & Spa is a must see. Patterned after the Grand Lodge at the Yellowstone Inn within the National Park of the same name, the lobby is complete with musicians and a nice place to enjoy some time by a fire with a story teller, a Disney song with a piano player or a hunt for hidden Mickeys.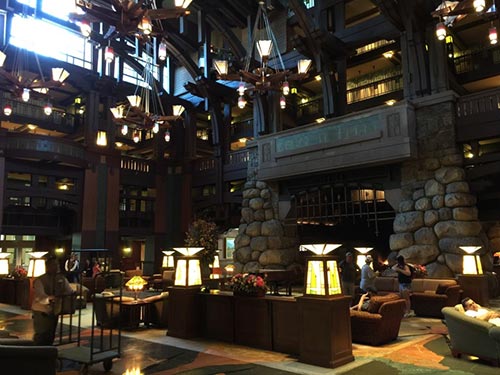 Photo Credit: Justin Morley
The Grand Californian Hotel is a great homage to the Arts and Crafts movement within American architecture. This clock, built with amazing old growth tiger oak, is among the many beautiful items on display. Look close for special touches, like the hidden Mickey in the clock's face.
Photo Credit: Justin Morley

C. Marceline Confectionary:

A dying art, hand-made treats and goodies are rare these days. The Marceline Confectionary not only has the treats, but you can watch them being made. Look for the hidden Mickey on their sign…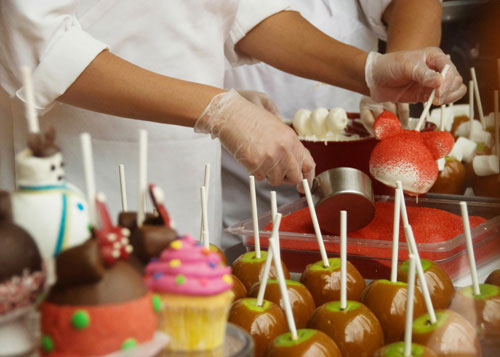 Photo Credit: DisnFanReview
D. Downtown Disney and/or Disney hotel dining options:
There is something to satisfy every taste in Downtown Disney. But at Disney, your meal is more than just dining, it's an experience. Even if you stop by to take in the ambiance, get a drink or a meal - the restaurants are worth a look. Here is my list of the top five places to see:

5. Steakhouse 55: Named after the year Disneyland opened, 1955, Steakhouse 55 is located in the Disneyland Hotel lobby, a great place to enjoy an amazing meal! ($30 - $60 per adult – reservations recommended.)

4. Storyteller's Café: Located in the Grand Californian Hotel, a great place to grab lunch with a Disney Flare. ($15.00 - $30.00 per adult- reservations recommended). In addition, the Café' offers Disney Character breakfasts that are fun for every member of the family. The environment is filled with hand painted art and Arts and Crafts decor.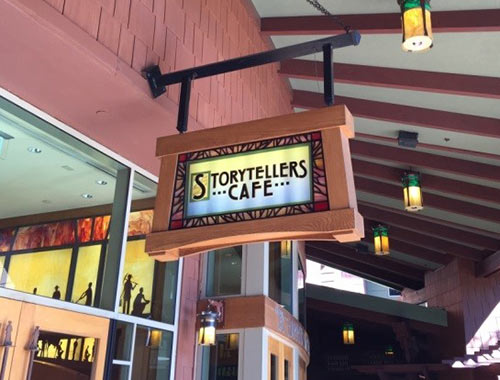 Photo Credit: Justin Morely

3. Trader Sam's Enchanted Tiki Bar: A bar located on the pool deck at the Disneyland hotel, the themed bar is "owned" by Trader Sam from the Disneyland Jungle Cruise ride. As always, he is offering a special. Comment below if you know what his perennial special is! Decorated with the Disney fan in mind, the walls are filled with Disneyland memorabilia and historical references to the park. A Disney fan could spend an entire day looking at the everything from Disney Imagineers, song writers and artists that contributed to the building of Disneyland. Ask the cast members to see the sinking ship in a bottle at the top of the bar. (Meals for $14.99 and under per adult). – Trader Sam's welcomes children before 8:00 PM, after that, adults only.
2. Goofy's Kitchen: Located in the Disneyland Hotel lobby, you and your kids get to play with Disney characters and enjoy a great meal. Goofy's Kitchen is open for "brunch," which normally runs from 7am-2pm-ish and dinner, which generally begins between 4pm-5pm depending on the season.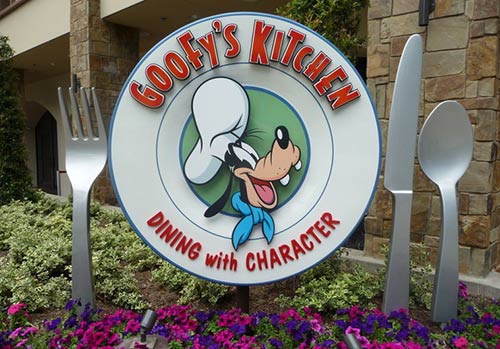 1. The Napa Rose: This is award winning fine dining at its best! Napa Rose features farm to table options, at the Napa Valley themed restaurant with an eclectic menu, located in the Grand Californian Hotel. ($30-$60 per adult)

Some honorable mentions include: ESPN Zone (watch for your exclusive Get Away Today coupon for free Game Play with a meal purchase), Rain Forest Café, House of Blues and Earl of Sandwich.



E. Themed Shopping:

The Lego Store: Play with one of the world's favorite toys and see Lego Engineer's creations from a giant fire breathing dragon, to a life size Darth Vader, or your favorite Disney characters.

Ride MakerZ: Great for the boys! Build a remote control car, complete with your own style and excitement. Your Get Away Today package includes a special coupon for Ride MakerZ.

Elsa and Anna's Boutique: Every little girl wants to shop at Anna and Elsa's boutique from Disney's movie, Frozen. Anna, Elsa and Olaf transformations are also offered here starting at $18.95 - but you'll want to book early as appointments sell out.
World of Disney: Shop for any Disney gift at one of the world's biggest Disney stores.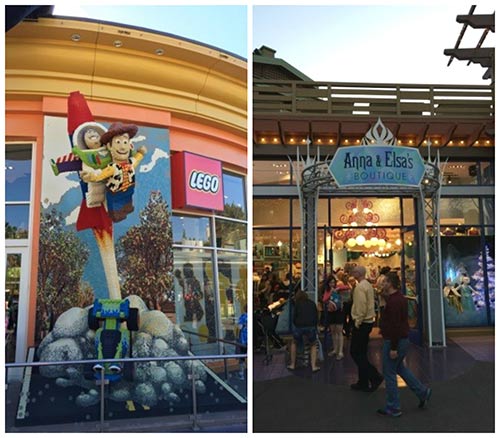 Photo credit: Justin Morley
In addition to the many adventures that you can find at the Downtown Disney District, the area supplies seasonal fun. In the winter, there is ice skating and in the summer several street entertainers perform nightly.
The magic of the Disneyland Resort can be found in the details. Make sure you take the time to enjoy all that there is to see. Speaking of details, there is no one like Get Away Today. They will ensure that every detail is complete for your next vacation to Disneyland. Let them help you plan your next adventure. Book your next Disneyland package online or call the vacation experts at 855-GET-AWAY.
Chris Dallin is a Disneyland fanatic. He travels to Disney parks several times a year and continues to find hidden gems, joy and magic in the Happiest Place on Earth. Tune into future blogs for additional ways to experience the Disneyland Resort.

Check out these other great articles: