I recently took a 3-week trip to Europe with my husband and two sons. We visited Germany, Switzerland, Austria and Italy. We saw many incredible places and made unforgettable memories. I've been asked repeatedly how I was able to plan such a trip. The answer is lots of research and preparation, and of course, help from the experts at Get Away Today! If you're planning a trip overseas, whether it's to Europe, Mexico, the Caribbean, or anywhere else in the world and don't know where to start, here are some tips that may help: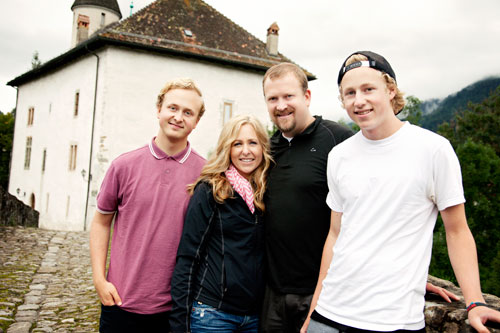 Documents
Get a current passport for all travelers. This process normally takes 6-8 weeks, but can take up to six months, so it is an important first step. When you receive your documents, make two copies of your passport, driver's license and credit cards. Take one set of copies with you and keep them separate from your actual documents. Leave the other set of copies and a copy of your itinerary home with a trusted family member.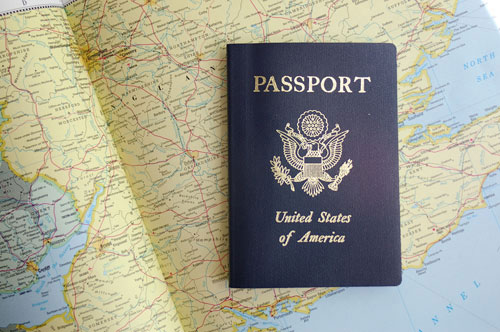 Itinerary
Create an itinerary. This may seem obvious, but when you really start researching the place(s) you'd like to visit, it may spark other ideas of other places you'd like to see while you're there. It's a good idea to get a plan in place on what cities or tours you'd like to visit and do and how long you'd like to stay at each place. Research each city you're planning on visiting and their surrounding cities and areas. Write down your must sees. This will help you to know how many days you'll need in each city. If this seems overwhelming, Get Away Today can help! We have Europe experts and guided tours that cover the most popular itineraries. If you're planning on staying at an all-inclusive resort in the Caribbean or Mexico, you'll probably want to spend most of your time at the resort with a few tour days planned during your vacation. Our agents work side by side with you every step of the way in the planning process no matter where your travels take you.
Attraction Tickets
Buying tickets to attractions and museums ahead of time is a good idea and can save you valuable time. For example, if you're traveling to Europe are planning on seeing Michelangelo's David sculpture in Florence, the non-advance ticket line wait time can be hours longer than the advance ticket line. You definitely don't want to be wasting time waiting in a line when you could be seeing the sights! Milan is the home for the famous Da Vinci's "The Last Supper" painting and the tickets sell out weeks in advance. We watched several people who did not have advance tickets get turned away. If you're doing a guided tour, your ticket admissions are taken care of for you, which is an added bonus. The most popular tours in Mexico or the Caribbean can sell out, so it's a good idea to book those in advance with your Get Away Today agent as well. We love to give personalized recommendations on how to best experience your destination!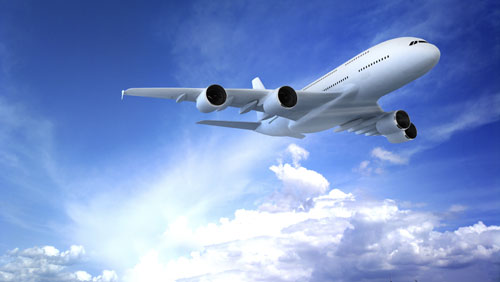 Flights and Transportation
Once you have your preferred itinerary in place, you are ready to book your flights and transportation. Or, better yet, if you're booking with an agent, we can package it all for you. There are many theories on when the best time is to book international flights, but a good rule of thumb is six months in advance for the best price and availability. When you book with a Get Away Today agent, we look at the best rates as well as preferred flight and connection times.
Europe is famous for their public transportation. A solid itinerary will help you make the decision if you need to rent a car, or if public transit is the way to go. If you rent a car, make sure you inquire if an international driver's permit is necessary. You'll also want to check on a navigation system. Most rental car companies have one you can rent for a daily fee, but those fees can add up fast. I found it was less expensive to bring my own GPS. It worked great and we never got lost. Remember to purchase the GPS maps you'll need and update your device before you go! An American GPS system will not have Europe maps pre-loaded.
If you're traveling to Mexico or the Caribbean, we always work directly with the resorts to use their trusted transportation and do not recommend trying public transportation on your own. When you book your guided tours through Get Away Today, transportation is usually included.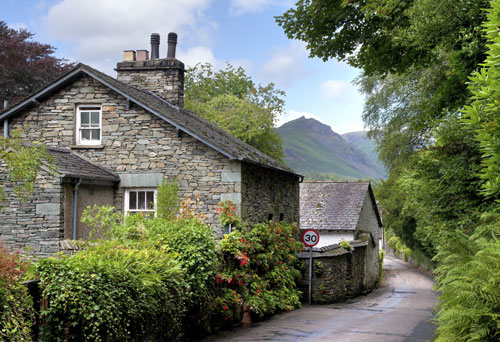 Accommodations
Next we'll help make arrangements for lodging, or again, include it as part of your package. There are many accommodation options in Europe and we work with the best and most trusted hotel brands. If you're booking an overseas trip with one of our agents, we'll prepare all of your necessary travel documents for you and send them before your departure. If you decide to book your own arrangements on our site, we'll send everything you need via email. Make sure to print out copies of your reservations, confirmations and itinerary and bring those documents with you on your trip. It's also a good idea to leave a copy with a trusted family member or friend at home.
Money
Understand the currency before you go. Don't assume that all Europeans use the Euro. Switzerland, for example, still uses the Swiss Franc. Many high tourism areas in the Caribbean and Mexico even accept the US dollar. You will be able to exchange currency in any country. We found that it was less expensive to avoid the airport exchanges with high fees and exchange rates, and make withdrawals from ATMs instead. Keep in mind that you will pay ATM fees with each withdrawal, so plan accordingly. You'll want to put sufficient amounts of cash in both your checking and savings accounts ahead of time, because ATM machines can vary in which of your accounts the money is pulled from.
No matter where you travel, plan to use your credit / debit cards whenever possible. However, be aware that there are places that don't accept credit cards, so you'll need to have some cash on hand. It is also important to notify your financial institution that you'll be traveling overseas. Otherwise, your credit cards may be denied if your bank suspects fraudulent activity.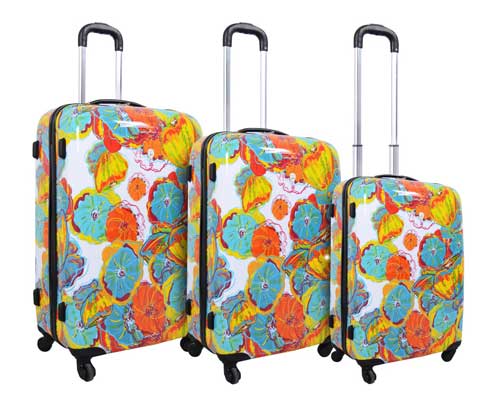 Luggage and Convertors
Now it's time to purchase key items such as suitcases, backpacks and electrical convertors. Having comfortable and functional luggage is key. Remember, you'll have to transport everything you take from place to place. If you are traveling around a lot, either by train or a guided tour, you'll want to minimize your luggage as much as possible. Even if you rent a car, the trunk may be much smaller than you are used to. Bring high quality, lightweight, easy to use luggage in good condition with premium rolling wheels and multiple compartments. Get Away Today offers some great
3-piece luggage sets that are high quality and easy to spot - check them out
. Check with your airline and know their most current baggage restriction policies and baggage fees. Consider a comfortable travel backpack or sling bag instead of a big bulky purse for a carry-on. A collapsible tote bag is also a good idea for day trips.
The electrical outlets in Europe are different than those in the United States. Converters can be purchased online or at local department stores. Keep in mind that you'll need different convertors for different countries in Europe. Be sure any electronics you bring are dual voltage compatible. If you're staying at a resort in Mexico or the Caribbean, many will be compatible. Your Get Away Today agent can help you determine if you'll need converters at your resort or hotel.
International Cell Phone and Data Plan
If you are planning on using your mobile devices overseas, make arrangements with your cell / data provider for a temporary international phone / data plan. Most providers have a reasonable international voice and texting plans, and most devices can text and talk over Wi-Fi, but international data rates can be very expensive. We turned our data plans off and took advantage of the Wi-Fi networks that were available in our hotels and cafés. Many all-inclusive resorts throughout the Caribbean or Mexico offer free or reasonable Wi-Fi rates for guests. Be knowledgeable before you go so you don't incur any expensive international roaming charges.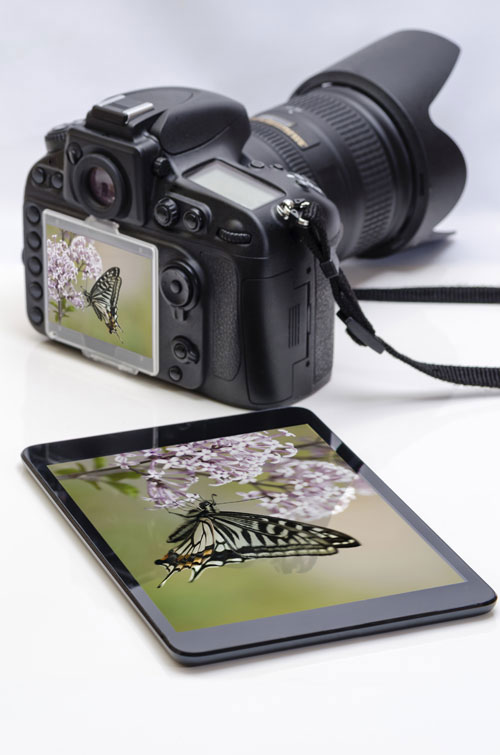 Cameras
Prepare your cameras, phones and tablets for picture taking and video recording. Clear space off of your devices to make room for the many pictures you will take. Bring extra memory cards. Charge up the batteries and bring some extra batteries too. My photographs are my most treasured souvenirs!
Prepare Your Home
Visit the post office and suspend your mail from being delivered during the dates of your trip. Make arrangements for your pets. Turn your heating/cooling system in your home to a reasonable temperature that is less comfortable but still protects your pipes and belongings. Make arrangements for your indoor plants to be watered, and your outside lawn and plants to be taken care of. Clean out your refrigerator and get rid of anything that might spoil while you are away. Take out the kitchen trash and any other garbage that could get smelly. Pay any bills in advance that might come due while you are gone. If you are leaving your younger children home with a loved one, prepare a calendar of their schedules and events to leave with their caregiver. If your home will sit empty, put a few lights on timers. Install motion-activated sensors on your outdoor lights. Lock all of your windows and doors, and if you have an alarm system, make sure it is set and armed when you leave.
And of course, there's what to pack, but that's a whole separate article. Stay tuned for my post on what to pack for overseas travel!
Remember, the more prepared you are, the better your experience will be. Don't let this important to-do list get you overwhelmed – we are here to help!
Call our travel experts at 855-GET-AWAY and get ready for the vacation of a lifetime.

Check out these other popular articles:
Lucky Ireland Tours from Get Away Today
Guided Tours and Adventures by Disney Spotlight
Get Away Today's Favorite Caribbean Resorts
5 Things to Love About Puerto Vallarta