"I traveled last week with a group of 72 teens and 19 adults for a choir tour, we stayed at this hotel and they were so friendly, and accommodating! They had our room key cards all divided out to just hand out. They were lightening quick to bring up more towels, blankets, and pillows when we called them and they allowed our bus drivers later check out so they could rest before our all night drive home. They had several other large groups of teens but the staff didn't seem at all put out by noisy and active kids, but treated us all like like old friends. The breakfast was fantastic and there was never a long line. Everything was very clean and well kept. Our choir group ALWAYS stays at Embassy Suites properties and this location is defintely a prime example of the quality we expect from this chain."
- Carma about the Embassy Suites Anaheim South
"This was the best hotel we've stayed at. We go to California at least twice a year and are always looking for a nice hotel for the family at a decent rate. I loved this hotel! The staff, the cleanliness, the bed, the cocktail hour, the pool, breakfast, location, everything was GREAT! I will never stay at another hotel if I'm in the Anaheim area! Thank you Get Away Today staff for the recommendation!"
- Trina about the Ayres Hotel Orange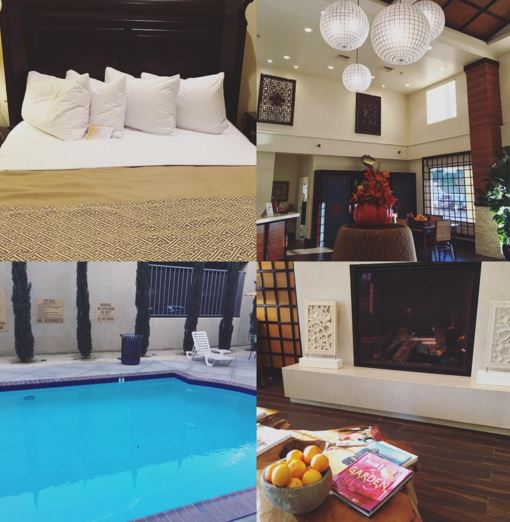 "Very friendly staff, valet parking & concierge at no extra cost, very clean, comfortable, close to the park but still felt private and removed from the crowds. Two favorite moments: 1) my boys walking in and seeing the Cars decor and 2) on our last night (the only night we were actually in our room at fireworks time) we heard the giant booms and went out to investigate. We were able to watch the fireworks (and even hear some of the music) from the balcony outside our room. That was a truly amazing experience. I've stayed at other hotels in the area, but this WILL be my first choice again on our next visit. Couldn't have been happier with this stay."
-Kimberly about the Fairfield Inn Anaheim Resort
"This hotel was great!! We stayed in the 2 bed 2 bathroom, and it was spacious and clean. We took advantage of the full breakfast every morning and they had a great selection that went way beyond continental breakfast. We had several requests for the front desk and they helped us out each time and were friendly. I would definitely stay here again."
-Lindsey about the Residence Inn Anaheim Resort Area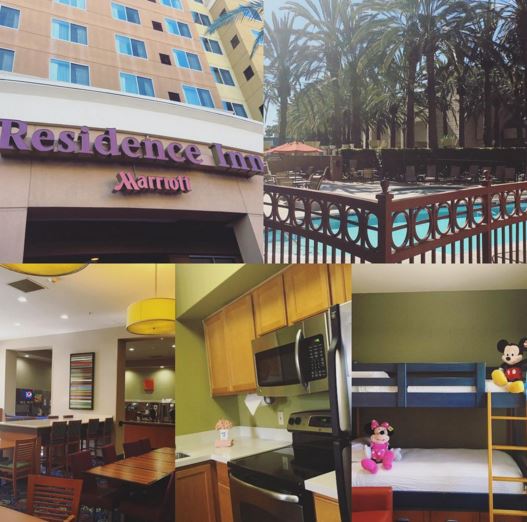 "Our family enjoyed staying at this hotel. The rooms were comfortable for a family of 4, but our water in our shower tub did not drain quickly on our first night's stay. My dancer daughter actually slipped in the tub getting in and bruised her hip from falling. We notified housekeeping and there were no further problems with the shower for the remainder of our stay. The room climate also needed to be tweaked because the controls did not work correctly. We were able to figure it out eventually and it did not negatively affect our stay. Breakfast was amazing! The hotel issues vouchers for each night's stay which was an excellent perk of booking through Get Away Today. There was fresh fruit, an omelette station, waffle station, scrambled eggs, bacon, sausage, potatoes, pancakes/french toast, cereal, oatmeal, and juice and coffee. My family enjoyed the friendly staff and delicious food! The hotel offers free shuttle to the Disneyland Parks, free parking, and free breakfast (as part of Get Away Today's plans). Close parking is limited, but the hotel offers a back lot to park behind the hotel next door. Target was right across the street which made it convenient to buy bathing suits for our kids to enjoy the pool. Joe's Crab Shack, Red Robin, Outback Steak House was right in the same area of the hotel which was very convenient! We would definitely book this hotel again due to the many conveniences and friendly staff!"
- Jennifer about the Wyndham Garden Grove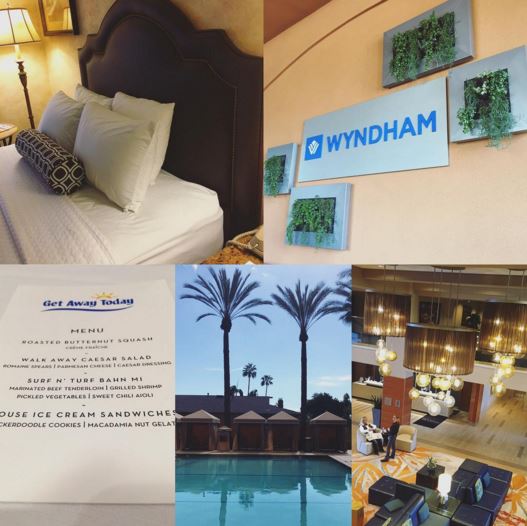 "The hotel was great and the price we got was amazing as what we paid for three night was the normal price for one.(the person checking us in told us) we were able to get a room on the top floor, so we didn't get noise from someone being above us. the room was very clean and had a mickey mouse on the wall it was cute. they totally had a full breakfast that was good, just had to get there early as it was busy. I would definitely stay again."
- Danielle about the Stanford Inn & Suites
We work hard with our hotel partners to make sure that our guests have the best vacations, and we love when we hear that things were even better than expected! Our hotel reviews help us have a better understanding of what our guests experience, and most importantly, help our guests know what to expect when they choose a hotel for their own vacations. We hope you'll enjoy reading our guests' reviews about our awesome hotel partners and that it helps you make an educated decision for your vacation. Book any of our Disneyland packages online or call our agents at 855-GET-AWAY.

Read more about Get Away Today guests vacations: