Very friendly staff!! "We recently stayed at this property for our family spring break vacation and couldn't have been more pleased with everything. The staff was more than willing to help with anything we needed. The rooms were very nice and cleaned when we returned back every night. The breakfast was a great time and money saver every morning before our day at Disneyland. Location is perfect for young familes who want to come back for a break midday to relax before going back for the nighttime festivities in the park, just a short 8-10 minute walk to the front gate..... We will definitely stay here on our next trip to the happiest place on earth!!!"
- Josh P. about the Desert Palms Hotel & Suites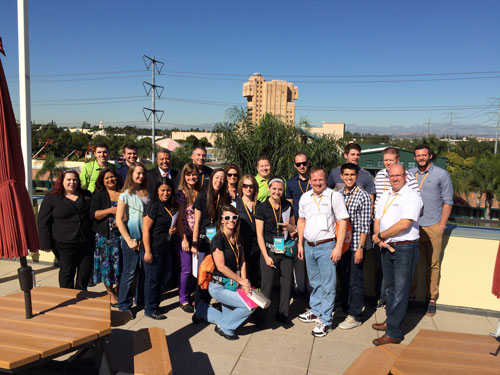 This is our staff enjoying the views from the breakfast area at the Desert Palms.
Nice find. "Clean and comfortable! We will definitely use this place again."
- Karel D. about the Anaheim Springhill Suites Maingate
Great breakfast, clean hotel & great service! "This was our second time staying at this Hotel and we Just love it. Property is extremely clean, staff is friendly and helpful, Rooms are clean and Breakfast is awesome!! Having a Denny's next door is a plus! We're staying here again in two months!"
- Alma M. about the Best Western PLUS Anaheim Orange County
Great location, nice hotel, good food, great suites! "We stayed here in January, and recommend this hotel. It is very clean, and in a great location. Nice walk into Downtown Disney and easy to take the Monorail from Downtown Disney to avoid the long lines at the main gate. We highly recommend this hotel. The restaurant is great, and very reasonable priced compared to the cost in the park for food. We had the Star Wars Suite. It was a lot of fun!"
- Carmen B. about the Holiday Inn Hotel & Suites
Awesome Suites "This is a great hotel if you have kids. Definitely the best thing ever. The kids loved the bunk beds and it was so nice to have our own bathrooms. The vacation was a total success. The ART picks you up right out front drops you right in front of the gates...Couldn't have asked for a more enjoyable experience. oh and there is an Irish bar and grill right next door. DELICIOUS Grub."
- Gladys R. about the Stanford Inn & Suites
We love hearing what our guests thought about their vacations, including the specifics about their hotels. These are just some of the reviews that guests wrote on our site about their Disneyland area hotels to help other families plan their vacations. Our agents visit all of the hotels that we offer, so when you call, you can talk to someone who has personally seen it. Our agents love sharing their first-hand experiences, but sometimes you want another perspective. That's why you can now leave a review on any of the hotels you've stayed at that Get Away Today offers. Just log-in to your account and you can leave a review on your personal experiences at any hotel you've stayed at to help other travelers. We love reading your feedback!

When you're ready to try out another one of our hotel partners, or even return to your favorite hotel, read the most recent reviews from Get Away Today guests and book online. Or, give us a call and our agents will help guide you to the perfect hotel for your vacation. Our exclusive offers at many of our Anaheim area hotels make our hotel partners even better! Look for free night hotel specials to save the most on your Disneyland vacation.

Check out these other articles: