Search
Featured Posts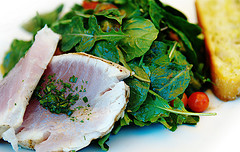 Taste the best of San Diego at a price that will leave your taste buds and wallet ready for another course during San Diego Restaurant Week. This semi-annual culinary celebration features both San Diego's most renowned restaurants, favorite local hole- in-the-wall joints offering palate pleasing pre-fixe menus . Pre-fixe lunches will go for just $10, $15 or $20 per person at participating restaurants, and pre-fixe three course dinners for $20, $30 or $40 per person, depending on the restaurant. Always wanted to dine at the Rancho Bernardo's El Bizcocho, or 1500 OCEAN at Hotel del Coronado, but could never quite stomach the price tag (which can run you well over $200 for dinner)? Now's your chance!

Over 180 San Diego restaurants will be participating, and many of our hotel partners' restaurants are getting in on the act. Steak, seafood, Mexican, sushi, Californian cuisine, contemporary fusion, it's all here! Restaurant Week will run from January 15-20. No special passes are required, just pick your favorite restaurants and enjoy! Reservations are highly recommended. You can check out all of San Diego's participating restaurants and make reservations here.

We'd love to hear from you! What are your favorite San Diego eateries? What are the must try dishes? Where do you find the best Mexican? Fish tacos?

Dig into our San Diego specials including free nights at San Diego's best hotels, discounted tickets to SeaWorld, the San Diego Zoo, LEGOLAND, our new speed boat tours, and much more! Bon appetit!