Halloween Time at the Disneyland Resort is one of the most popular times of year to visit, and you don't need a ticket to Mickey's Halloween Party to have a good time. We've put together a list of 15 things to do during Mickey's Halloween Party if you don't have tickets to the separately ticketed event. For the 2017 list, make sure to read our
13 Things To Do if You Don't Have Mickey's Halloween Party Tickets
.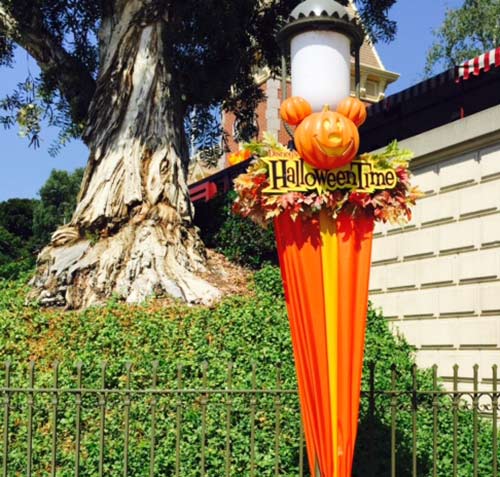 If you're visiting Disneyland during Halloween Time, you are in for a treat! It is one of the most festive and popular times of year to visit with all sorts of whimsical decor and spooky fun. This year Halloween Time at Disneyland begins September 9 and continues through October 31. If you've visited before, you know that Mickey's Halloween Party is held on select nights during the celebration and this year is no exception.
This year Mickey's Halloween Party begins on Friday, September 23 and will be held on 17 nights (mostly Mondays, Wednesdays and Fridays) through Halloween. On those 17 nights, Disneyland park will close a little early (6 or 7pm) and only those with tickets to Mickey's Halloween Party will be allowed to stay. Tickets range from $79-$99 per person and can only be purchased through Disney directly.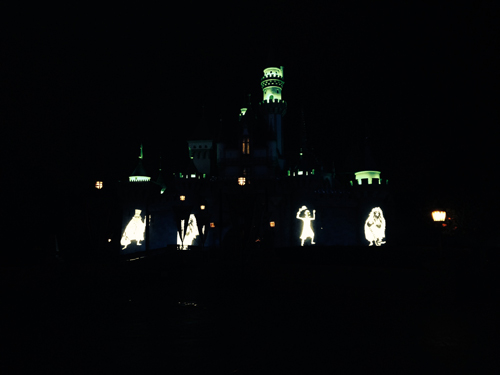 We've been asked what guests should do if they don't have tickets to Mickey's Halloween Party and they don't want to spend an extra few hundred dollars for their family to attend. We always answer the same way, there is SO much to do if you don't have Mickey's Halloween Party tickets. And, it's also important to remember a few things...
First of all, Disneyland isn't closing that early. The park would normally be closing around 8 or 9pm most of the party nights anyway, so you're maybe missing out on two hours of Disneyland park time at the most. Second, Disney California Adventure Park stays open later than they normally would to make up for it. And third, the party dates are spread out so you never have two party days back-to-back. As long as you check the calendar and plan appropriately, you probably won't even notice that there's something else going on!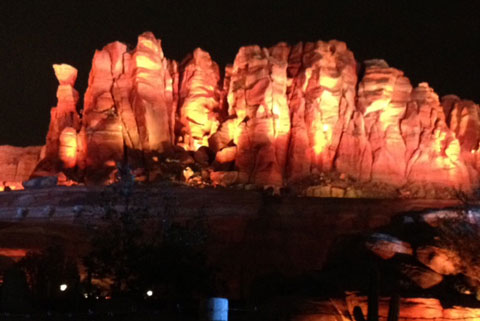 To give you just an idea of how much there is to do during Halloween Time at and around the Disneyland Resort WITHOUT going to Mickey's Halloween Party, we've put together a list. Here are 15 things to do during Mickey's Halloween Party if you don't have tickets:
1. Cars Land - Make sure you have a Park Hopper ticket so you can head back over to Disney California Adventure Park for the evening. Cars Land is a completely different experience at night than it is during the day. The neon lights bring the entire land to life and the red rocks of Radiator Springs Racers are glowing. It is a sight to behold. Plan on dinner at Flo's V8 Cafe or use the single rider line to take a spin on Radiator Springs Racers without too long of a wait.
2. Goofy's Kitchen at the Disneyland Hotel - If you're thinking about doing Character Dining during your vacation (and you should), a Mickey's Halloween Party night is the perfect time to plan it! Character Dining is the only way to spend time with all of the characters without waiting in any lines, plus the food is delicious and plentiful. Goofy's Kitchen is the only character dining experience that is available at night, and since it's located inside the Disneyland Hotel, you don't need a park ticket to get in. You can make reservations up to 60 days in advance online or by calling 714-781-DINE (3463), but be sure to get your tickets through Get Away Today. Our tickets already include tax and gratuity and can save you 10% or more on your dinner.
3. Beachside Bonfire Dinner Buffet at Disney's PCH Grill - One of the best kept secrets is the incredible buffet dinner available nightly inside Disney's Paradise Pier Hotel. It's not a character dining experience, but because you're still on Disney property, it feels like you're still in the magic. The food is incredible with a carving station, wood-fired pizzas, mini tacos, mac & cheese and so much more. Not to mention, dessert includes tons of options, including a s'more bar! You get a lot of bang for your buck here. Reservations can be made up to 60 days in advance online or over the phone.
4. Go swimming at your hotel - No matter where you stay near Disneyland, your hotel is sure to have a heated pool year round. And most have a hot tub. Some hotels even have rooftop pools with a view of the fireworks, which is totally an extra bonus! Regardless of the time of year we travel, my kids always want to swim. Nighttime swimming is a favorite of our family because you don't need to worry about sunscreen and we oftentimes have the pool to ourselves. Swimming is even better when it's not cutting into your park time.
5. Shop Downtown Disney - If you're at Disneyland, you're probably going to shop for souvenirs at one time or another, so you may as well do it during Mickey's Halloween Party. Downtown Disney is always bustling with activity and offers some of the most unique shopping you'll find anywhere. For a really memorable souvenir, stop by Build-a-Bear or Ridemakerz (check your Get Away Today package for an exclusive coupon) where your kids can craft their very own custom memento.
6. Medieval Times - Located just a few miles away in Buena Park, Medieval Times is one of the most memorable dinner theater experiences you'll ever have. You'll watch knights battle, horses prance and see a number of surprises while feasting on a hearty four course meal - all served without utensils. It is so much fun and a perfect way to spend an evening. You can get discount tickets through Get Away Today.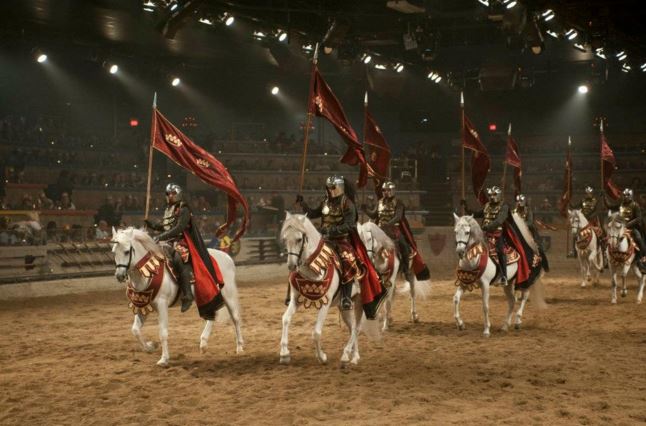 Photo Courtesy of Medieval Times
7. Pirate's Dinner Adventure - Also, located in Buena Park, the Pirate's Dinner Adventure combines incredible live action on a real pirate ship set on a 200,000 gallon lagoon. If you are traveling during October, the show is transformed into "Vampirates," which is exactly what it sounds like, vampires + pirates. :) All shows are billed as family friendly for all ages, but if you have little ones who scare easily, Medieval Times may be a better choice during October. As always, you can get your discount tickets through Get Away Today.
8. Rain Forest Cafe - Another super fun dinner option that will leave you right in the magic is the Rain Forest Cafe in Downtown Disney. The jungle theme is super fun and portions are really generous. Try the Sparkling Volcano dessert for an extra fun treat to share.
9. Anaheim GardenWalk - If you want to venture outside of Downtown Disney, the Anaheim GardenWalk is a great place to do it. It's a huge outdoor dining, shopping and entertainment district located just about a mile from Disneyland. Here you'll find a Bubba Gump Shrimp Co., a California Pizza Kitchen and a Cheesecake Factory, just to name a few restaurants. The new House of Blues is opening at the Anaheim Gardenwalk sometime this fall, so you may get lucky and get to be among the first to visit in October!
10. ESPN Zone - Back in Downtown Disney, the ESPN Zone is a restaurant, shop and entertainment location all in one. Watch sports on the big screens while eating, play in the arcade and shop in the retail store. It's a sports lover's dream come true. Plus, check your Get Away Today package for an exclusive coupon good for a $10 ESPN Zone game card.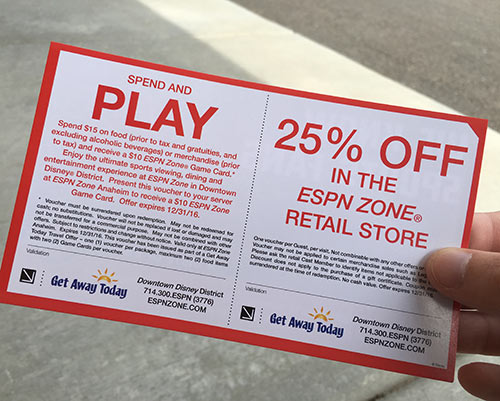 11. Carthay Circle Restaurant - If you want a truly spectacular dining experience, make a reservation for the Carthay Circle Restaurant, located in the heart of Buena Vista Street in Disney California Adventure Park. You can enjoy a lovely dinner off their regular menu created by award-winning chef Andrew Sutton, or reserve a World of Color dining package that comes with preferred viewing for the night's show with a three course prix fixe menu. Reservations can be made up to 60 days in advance, and you'll need a Park Hopper to get to the restaurant if you've visited Disneyland earlier in the day.
12. World of Color - This is something you're going to want to see during your Disneyland vacation at some point. I would recommend scheduling your World of Color night on a Mickey's Halloween Party day and just plan on spending the full day in Disney California Adventure Park. If you don't do a World of Color dining package, you'll still need a Fastpass for the night's show. You can get your free Fastpass ticket in the morning near Grizzly River Run.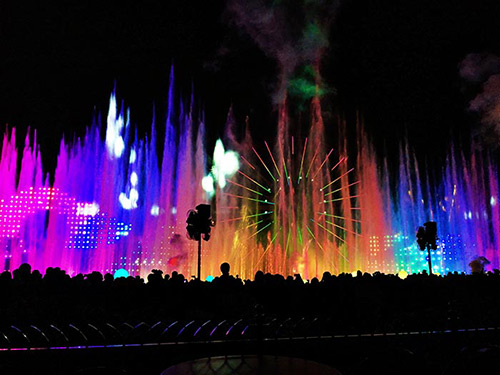 13. Soarin' Around the World - This new attraction is going to be on your must list for your Disneyland vacation, and since it's located in Disney California Adventure Park, you can ride during Mickey's Halloween Party. Try to grab a Fastpass, but know that tickets go quickly. Remember that if you get your ticket during the morning, your return time could be for nighttime. That doesn't mean you have to wait until your Fastpass return time to get your next Fastpass. Your next Fastpass will be available two hours after you get it.
14. The Hollywood Tower of Terror - This is your LAST Halloween Time to ride the Tower of Terror before it closes in January 2017 to become Guardians of the Galaxy - Mission: Breakout! The Tower of Terror is always extra spooky during Halloween and even more so at night. Be sure to drop in on this attraction one last time during Mickey's Halloween Party.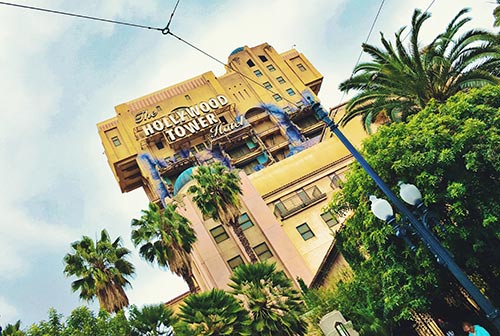 15. Watch a movie in Downtown Disney - Go see that blockbuster movie you've been dying to see at the AMC Downtown Disney 12 Theatre. Some films are available in RealD 3D and there's even an IMAX screen for the ultimate movie experience.
Bonus idea # 16 - Go to bed early so you are bright and fresh for an early morning at Disneyland. Seriously! It just works out that most of the Mickey's Halloween Party dates this year fall on a Monday, Wednesday and Friday, which just happens to be the night before Disneyland Magic Mornings, which are available on most Tuesday, Thursday and Saturday mornings! Each 3-Day and longer Disneyland ticket comes with one Magic Morning and it is the best time to be inside the park. Check the calendar for exact times when you'll be there and plan on being to the Magic Morning half an hour early to be among the first in Disneyland.
As you can see, there's SO much to do during Mickey's Halloween Party even if you don't have tickets! In fact, there's so much to do that there's no possible way for you to do all of the ideas listed above and you won't feel like you're missing anything. Make sure you extend your Disneyland Halloween Time vacation so that you can fit in all of the fun. Book your Disneyland package online or call our Disney Experts at 855-GET-AWAY.


Check out these other great articles: