UPDATED APRIL 2019 There are so many things for you to discover at the Disneyland Resort. Check out our top 25 Disneyland secrets, the list that will make sure you have the most magical vacation yet!
At Get Away Today, we know Disneyland inside and out. Our agents all visit the park on at least an annual basis and have had some really amazing experiences. They have been to the park before it opens to the public, been invited to backstage areas, done the "Walk in Walt's Footsteps Tour," dined at Club 33, been invited to private events and more. With all of these experiences and then some, we've learned a thing or two about Disneyland.
It was difficult to narrow down, but we've put together what we think are some of the best 25 Disneyland secrets, including things that we think are cool and things you can get and do for free. We originally shared this list on one of our favorite blogs, "Or So She Says." It was so popular, we decided to share it here as well. I hope you learn a thing or 25!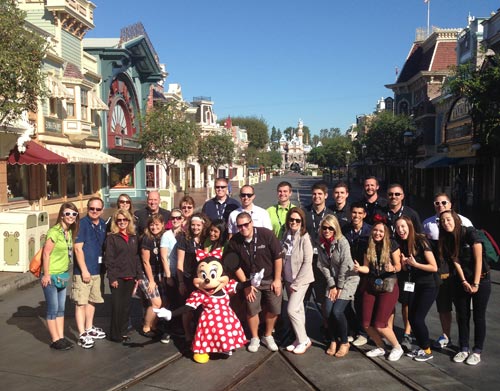 1. Most regular Disneyland visitors know about the Fastpass, but it's one of the most frequently asked questions by Disneyland newbies. For those unfamiliar with the Fastpass system, it's available for everyone with any type of Disneyland ticket. Just look for an attraction or entertainment option with a Fastpass distribution area, slide your ticket into the machine, and you'll get your ticket back with a reminder ticket that has a return time to ride the attraction using the much shorter Fastpass line.
Although it's one of the most popular Disneyland ticket features offered, there are some misconceptions, even among Disneyland frequenters. Many Disneyland goers assume that you can only have one Fastpass out at a time. Not necessarily. Pay attention to the small print on the bottom of your Fastpass ticket. It will tell you when the next Fastpass is available, normally two hours after collecting a Fastpass. That way, if your return time is six hours later, you can get a Fastpass for a different attraction hours before using your first Fastpass. Also, Fastpass tickets for Fantasmic and World of Color don't count as a Fastpass attraction ticket, so you can grab another one right after collecting your show Fastpass.

2. Rider Switch is your best friend if you have young kids who don't measure up to certain attraction height restrictions. One person in your group will stay back with the small kid(s) while the riders have their ticket scanned at the beginning of the attraction, wait in line as usual, and then ride the attraction. Then, whoever stayed back with the smaller kids go to the front of the line with up to two ride partners with the original scanned ticket. Rider switch can be combined with Fastpass tickets for ultimate flexibility.

3. Single Rider is another lesser known option to reduce wait times, and it works especially well with adults or families with older kids. Select attractions have a single rider line option where your party can wait in a MUCH shorter line together and then take the next available seat on the attraction. It works especially well with Radiator Springs Racers and goes really quickly in the morning.

4. Families always want to know about bringing food and drink into the parks. Disneyland allows food and drinks as long as you follow the no alcohol or glass containers rule. You can bring in small coolers (nothing full-sized) and you can get a free cup of ice water from any quick service restaurant whether you order or not. Just ask. Also, you can score a free sample of sourdough bread and chocolate from the Pacific Wharf in Disney California Adventure.

5. If you love to eat out like I do, but don't love spending a ton of money, consider the "express" restaurants in Downtown Disney. Most of the main restaurants in Downtown Disney, like La Brea Bakery, Tortilla Jo's, Ralph Brennan's Jazz Kitchen and Napoli's Ristorante have a quick-service version next door to the main restaurant. The express restaurants serve a limited menu of the exact same food for a fraction of the cost. P.S. The beignets from the Jazz Kitchen Express are amazing and make a great quick breakfast!

6. The Disneyland Resort Hotels are incredible, but you don't have to be a guest at one to enjoy some of the amenities. Disney's Grand Californian Hotel has a grand lobby with a warm fireplace, live piano music and a children's area playing Disney cartoons that anyone can enjoy. They also feature a free "Art of the Craft" hotel tour daily. Also, the Disneyland Hotel has live island music, tiki torches and a fire pit nightly available to anyone at the Resort.

7. One of the most popular and spendy restaurants in Disneyland is the Blue Bayou, located inside Pirates of the Caribbean. If you want the same great taste for less, you can make a reservation for Cafe Orleans, located right across from the Blue Bayou. The atmosphere is authentic New Orleans and they serve the Blue Bayou's famous Monte Cristo sandwiches.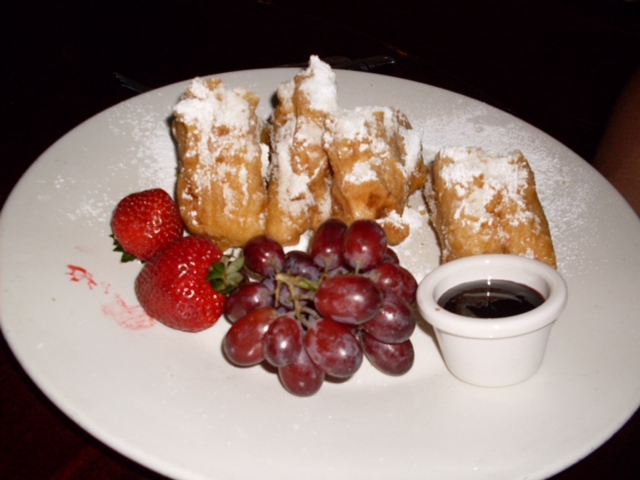 8. One of my favorite restaurants at the Disneyland Resort is Earl of Sandwich. It is tasty and cheap. What you might not know is you can get a full sized sandwich free on your birthday. Just sign-up for the Earl of Sandwich e-club a couple of weeks before your birthday trip and you'll be emailed a one time use coupon just for you. Keep in mind, you can sign-up for discounts for many of the area restaurants before you go and that will help you save too.

9. Since Disneyland was the only park that Walt Disney lived to see, there is a special feeling in the park. There is also a fair share of memorabilia. One fun thing you can do is sit on the original park bench that Walt was sitting on when he dreamed up Disneyland. It can be found on Main Street U.S.A.

10. If you've spent a good amount of time on Main Street U.S.A., you may have noticed a candle above the fire station. It is placed in the window of Walt's apartment that he used during his time in the park. The candle always stays lit in his honor. Formerly unavailable to the public, anyone can now visit Walt's apartment as part of the Walk in Walt's Footsteps Tour. These tours are available daily for approximately $100+ per person.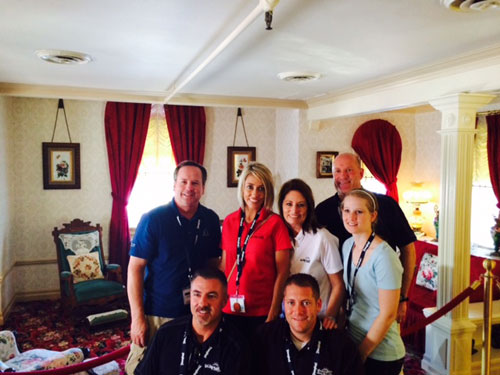 11. If you ever find yourself in need of an aspirin, band-aid, ice pack, saline solution or even an antacid, you can head to the First Aid station near the Plaza Inn in Disneyland and get assistance and medication from RNs for free. There's also a Baby Center next door where parents can change diapers, nurse, heat bottles, purchase baby goods/needs, etc.in peace and quiet.

12. Affectionately referred to as "the plaids," the Disneyland Resort has VIP Tour Guides available. If you spot them in the park, see who they're with… it could be a celebrity. But the VIP Tour Guides are not just for the famous. You can set up your personal VIP tour guides for approximately $300-$350 per hour with a six hour minimum. VIP Guides will tell you all sorts of insider secrets and get you VIP access to any attractions you wish. It's a splurge for sure, but an unforgettable experience.

13. Disney doesn't offer any discounts on their Annual Passes, however if you are planning on getting one, you can purchase multi-day tickets at a discount before you travel and get all of the perks that come with the pre-arrival tickets. For example, at Get Away Today, you can save up to $16 per ticket depending on what special is going on, plus you get over $300 in coupons and freebies for booking your Disneyland package with us. Then, upgrade your ticket to an Annual Passport at the park during your vacation.
You'll get the full ticket value – not the discounted price you paid – and you get to keep all of the extras that came with your package. It's the only way to get a discount on your Annual Pass! Plus, if you upgrade at the beginning of your vacation, you'll be able to score the Annual Pass discount at many of the Disneyland Resort restaurants. It's the best of both worlds.

14. You can get free souvenirs. Ask for a free map of the Jungle Cruise when exiting the attraction. Or, go to a free drawing class taught by a real Disney animator and keep your masterpiece. Right now the Animation Building is offering "Do You Want to Draw a Snowman?" classes.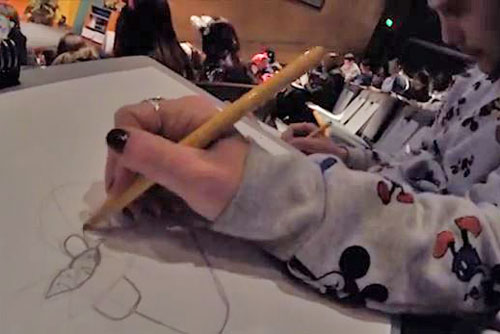 15. Your kids can perform in Disneyland as part of the Disney Performing Arts (DPA for short) program. Dancers, musicians and more can take workshops taught be Disney artists and then take the skills that they learned in class and apply it to their live in-park performance. Tickets normally have to be booked as part of a group package, but occasionally Disney will offer select dates where individuals can sign up without a group. What's more, these special youth tickets are a pretty big discount off of regular prices – and your kids get such awesome experiences that you can't get anywhere else.

16. Disney also offers a Youth Education Series (YES for short) Program where your school aged children can take a number of interactive classes about science, leadership, history and/or art. These classes last a few hours and take place throughout the resort. They include unique hands-on experiences, discounted admission and something you can not find anywhere else. These programs are normally only available as part of a group, but will offer open enrollment opportunities on select dates. Our Group Department can give you information on all of Disneyland's youth tickets.

17. Disneyland is full of can't pass up souvenirs and one of the most "pop"-ular is the balloons. Parents who have ever consoled a child over a popped balloon, will be glad to know that Disneyland will replace any popped balloon free of charge. Just bring the damaged goods to any balloon vendor and they'll give you a new one on the spot.

18. The Surf's Up Breakfast with Mickey and Friends is definitely one of the best kept Disneyland secrets. It is one of five Character Dining experiences offered at the Disneyland Resort and it is the ONLY character dining location where you'll meet Mickey Mouse. Save your time waiting in line to meet Mickey and let him come to you at breakfast. As an added bonus, it's inside Disney's Paradise Pier Hotel, so you don't need park admission the day of your character breakfast.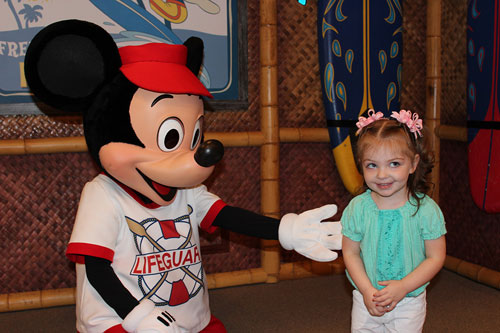 19. Speaking of character breakfasts, Breakfast with Minnie and Friends is the only character dining experience located in Disneyland Park. Make a reservation for the first seating of the day, and you'll get in before the crowds. While other families are lined up waiting to get inside, you can enter the park in the gates to the far left hand side just by having a breakfast reservation. You'll only have access to the Plaza Inn for your breakfast until the park opens, but seeing as you're already inside the park, you have a pretty great head start on your day!

20. One last thing about character dining… you probably already know that kids 2 and under get into the Disneyland free. But, they also eat free at any of the all-you-care-to-eat restaurants at Disneyland, including the character dining locations.

21. Downtown Disney has so many neat shops, including the World of Disney and new Dream boutique. We personally love the WonderGround Gallery, since it has all sorts of Disney-inspired art. Plus, you can pick up Disney postcards with unique designs for only $4.95 plus tax. Talk about a less expensive souvenir!

22. No Disneyland secrets list is complete without mentioning hidden Mickeys. Disney imagineers and artists will oftentimes stamp their work with a Mickey silhouette. These hidden Mickeys can be found throughout the entire Disneyland Resort – in attraction queues, inside attractions, on store signs and more. It is fun to see how many hidden Mickeys your family can find.

23. The first "Disney" Starbucks opened in Disney California Adventure. Also, the Starbucks in Downtown Disney is one of three premiere Starbucks locations in the world – the other two being in London and Times Square in New York. It's also one of the only places that you can order a $139 cup of coffee with its exotic coffee beans.

24. Trader Sam's Enchanted Tiki Bar is one of my favorite restaurants at the resort. It is completely themed after the Jungle Cruise and there are a number of interactive drinks. If you want to see some action order a Shipwreck or the Uh-Oa. Keep in mind the tiki bar is family friendly until 9pm (the appetizers really are delicious), and then becomes an adult only bar.

25. Magic Morning isn't so much of a secret, as there are a LOT of questions around it. Magic Morning comes with 3-day and longer Disneyland tickets only and is good for an hour of early theme park admission on select days – right now those days are Tuesdays, Thursdays and Saturdays. Magic Morning is good for admission to select areas of Disneyland Park only, normally Fantasyland and Tomorrowland. Extra Magic Hours are a perk exclusive to guests staying at one of the Disneyland Resort Hotels and includes an hour of early entry each day of your stay. It's good for Disneyland early entrance on the same days that Magic Morning is offered and for early entrance into select areas of Disney California Adventure Park on Mondays, Wednesdays, Fridays and Sundays. Staying at one of the Disneyland Resort Hotels is the only way to get into Cars Land before it opens to the public.

Call our agents at 855-GET-AWAY or explore our blog for even more Disneyland secrets, tips and tricks. One thing that is no secret is that we would love to help you plan your upcoming Disneyland vacation. We'll help you save the most with our discount Disneyland tickets and hotel specials. We'll also be with you every step of the way. Book any of our Disneyland vacation packages online or give us a call.