Thinking of visiting LEGOLAND this year? We have three reasons why early spring is the perfect time to go. Plus, a special ticket offer that can get you up to two free days at the park!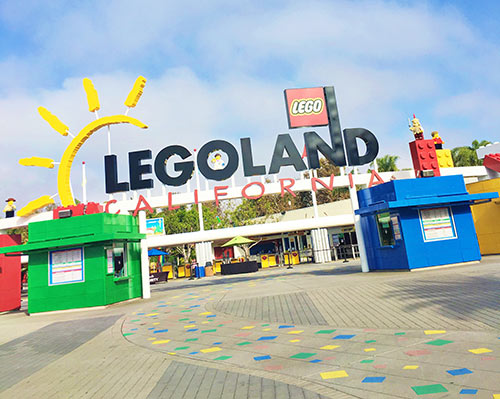 We love the LEGOLAND California Resort and all it has to offer families vacationing in Southern California. There's always something fun going on, especially in early spring of 2018. While we could go on and on with why to go, we've put together our top three reasons to visit LEGOLAND this spring.
Before we look at those reasons, let's look at two amazing ticket offers you can take advantage of right now. The first is our exclusive discounted LEGOLAND + SEA LIFE 2nd Day Free ticket. Now, you could purchase these tickets from LEGOLAND directly. You'd pay $113 per adult and $107 per child at the gate. But you'd save a ton of "bricks" by booking with Get Away Today. Why? We have an exclusive discount that means you only pay $89 per ticket, for both children and adults. That's a savings of up to $24 per adult ticket and up to $15 per child ticket - about an $80 savings for a family of four! You'll be singing "Everything is awesome!" for hours on end with this ticket deal.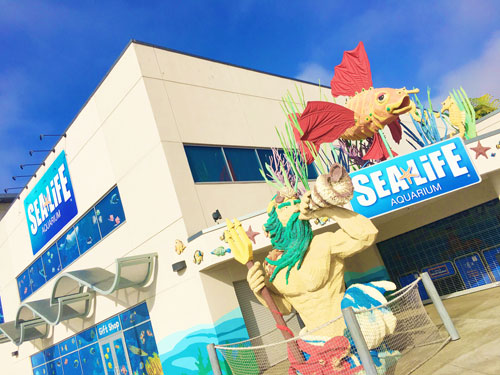 If you're visiting LEGOLAND this month, you can save even more by combining our 2nd Day Free ticket with LEGOLAND's "Our Gift to You" ticket offer happening right now. With this bounce back special, you'll be able to get another day free. How? All you have to do is visit LEGOLAND between now and January 31st. Take your ticket to Guest Services on the first day of your visit. In return you'll receive a one-day ticket - good for both LEGOLAND and SEA LIFE Aquarium - that can be used to return between February 1st and March 9th (excludes blackout dates of March 3rd and 4th).
Not sure you'll be able to visit again to use that free day? Plan your trip through the last week of January and first weekend of February. You'll be able to use your first day on January 29th and then the remaining two days (one from the 2nd Day Free ticket and the second from the bounce back special) on February 1st and 2nd.
Now that you know what a great deal it is to visit LEGOLAND early spring, let's look at our top three reasons to go:
1 – New 4D movie. We're more than excited to see the LEGO NINJAGO crew back in a new adventure! Opening January 12th, your family will be one of the first to experience the LEGO NINJAGO Master of the 4th Dimension movie if you visit early this spring. You'll become part of the action as you help Master Wu prepare the ninjas for the 'Scroll of the 4th Dimension' teachings. Don't be surprised if the ninjas find themselves in a heap of trouble – you and your family will get to help them harness the power of the elements and save the world!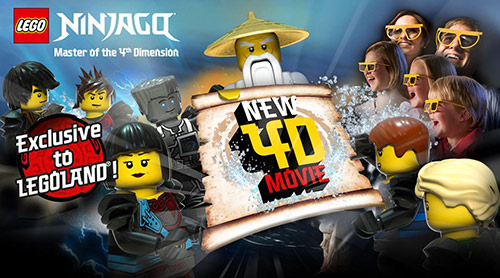 Photo Courtesy of LEGOLAND California
2 – Avoid Spring Break crowds. One of the best parts about visiting in early spring is that you'll be avoiding Spring Break crowds. While Spring Break dates are spread out through February and April, the majority of Spring Breaks take place March 15th – 20th and March 22nd – 27th. By visiting before then, you'll be able to enjoy shorter wait times and take advantage of using your free day from the LEGOLAND bounce back offer we mentioned above.
3 – Something for everyone. While the LEGOLAND California Resort is known for being best for kids 3-12, many families are surprised at how much there is to do for all ages. If your little ones are under three, they'll love LEGOLAND. The park has several areas exclusively for the youngest of Master Builders, including Dig Those Dinos, Swabbies Deck and The Hideaways. Older kids and adults will also like LEGOLAND, since many of the rides can be enjoyed by all ages. The intricate LEGO models in Miniland USA, apple fries and tons of shopping opportunities are just a few of the things adults will love about LEGOLAND.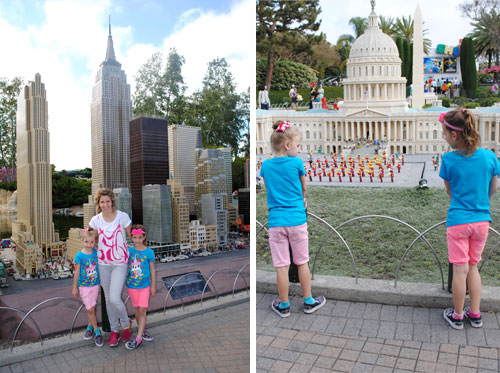 The park is also great to visit if you're looking for an educational vacation that fosters creativity. Your family will be able to visit SEA LIFE Aquarium to learn all about the creatures of the sea and then use their imagination to construct the future at different LEGO spots throughout LEGOLAND. Whatever you do in the park, there's a good chance you're learning or using your creative brain.
Get your early spring LEGOLAND vacation booked now to take advantage of our 2nd Day Free LEGOLAND tickets and reduced hotel rates. You can browse any of our packages online or give our travel experts a call at 855-GET-AWAY. Whether you're visiting LEGOLAND this spring, summer or fall, we know everything will be awesome.

Check out more LEGOLAND articles: