The entertainment options available at the Disneyland Resort are inspiring, fun, educational and will add a magical mix to your vacation. Either grab a quick show to rest your feet or make a day of the amazing entertainment found at the Disneyland Resort.Although the entertainment at Disneyland is great for everyone, I have recommended shows for specific audiences according to who it will most appeal to. Keep in mind, these shows are all available during the day.Because there is so much fun to be had, I previously put together an
Entertainment Guide to Disneyland After Dark.
Be sure to check it out. Also, make sure to review the parks' schedules for show times and availability during your Disneyland vacation.
Must see shows for every family and every age:

1. Disney's Aladdin - A Musical Spectacular:
This stage show is my top recommendation and is located in Hollywood Land in Disney California Adventure Park. This live Broadway quality show features characters from Disney's animated feature, Aladdin complete with elephants, horses, the Cave of Wonders and everyone's favorite Genie. All seats are great, but get there early because the show can fill up quickly due to its popularity.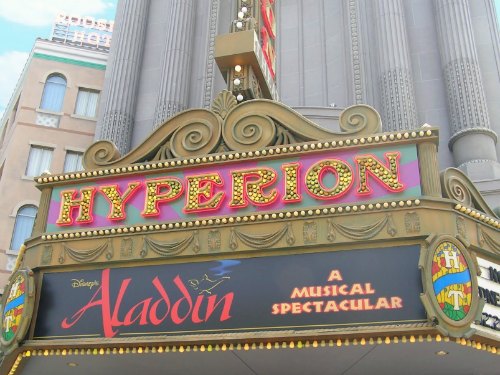 Photo credit: Brandon McBride
2. Mickey and the Magical Map:
A multimedia stage spectacular featuring Mickey and the villain from Fantasia, Yensid (notice that is Disney spelled backwards), is great for the entire family. The show stars Disney heroes such as Pocahontas, Mulan, Rapunzel and many surprises. Try and sit in the middle of the theatre, because the "map" is terraced and the best viewing is where you can see the entire picture. The Magical Map theatre is located near the Toontown stop for the Disneyland railroad.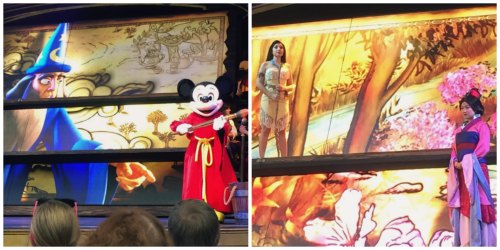 Photo credit: Brandon McBride
Great shows for toddlers and young children:

1. Disney Jr. - Live on Stage!:
This is probably the best show for kids 0 – five years old and is located towards the entrance of Hollywood Land in Disney California Adventure. Your kids will love the story book themes starring their favorite Disney Jr. stars. Line up early and try your best to get as close as possible to the stage. Viewers sit on a carpeted floor and you'll want to  make sure that there is plenty of room around you for dancing and chasing bubbles!
2. Fantasy Faire Vaudeville shows:
 Located near the front of the castle at the hub of Disneyland, is the Royal Theatre. Fun for the young at heart, smaller children love the story time entertainment offered by rotating condensed versions of Tangled and Beauty and the Beast. And starting January 7, Anna and Elsa will be joining the line up where they'll star in a Frozen themed show. The viewing area is small, so you might have to wait for the next show, but the clever themes and stories are worth it.
3. Turtle Talk with Crush:
 Best for kids between one and 12, you can join your kids as they actually talk with Crush from Finding Nemo. Crush, the show's talking sea turtle, asks and answers questions, and has a lot of fun. For a better chance to interact with Crush, have your kids sit up front on the carpet lily pads, and encourage them to wave their hand, and have a question ready for their favorite turtle. Cowabunga!
Great shows for kids to teens:
1. Jedi Training Academy:
 Located in Tomorrowland, Jedi Masters randomly select young padowans (Star Wars lingo for kids between the ages of five and 13) to battle with the dark side! Imagine a light saber duel with Darth Vader or Darth Maul! The Jedi Masters want to put on a good show and do not want to select someone that is going to be shy. There are no guarantees to be selected, but you can increase your kids' chances of being selected by: A. Going to the frontof show area. B. Showing excitement. I.e. jumping up and down and makingeye contact with the Jedi Masters. C. It does not hurt to dress inyour favorite Star Wars costume to show that you are really a fan. May the force be with you.
2. Marvel Characters Meet and Greets:
Your favorite Marvel characters can now be seen at Disneyland. Swing by the Innoventions attraction in Tomorrowland for a chance to hang out with Thor and Captain America.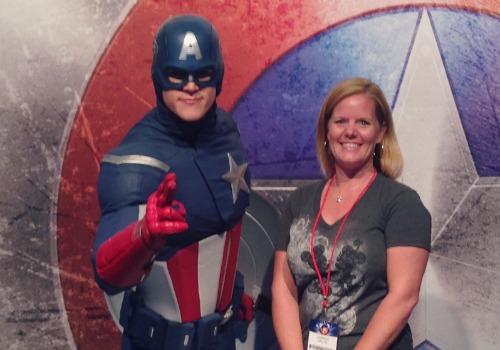 3. Animation Academy: This is great for any member of the family that likes to draw or appreciates art and is located in Hollywood Land. Anyone can learn to draw a Disney character from an actual Disney animator. Complete with pencils and paper, it's a fun and a relaxing activity, creates a great memory and gives your family a unique and free souvenir.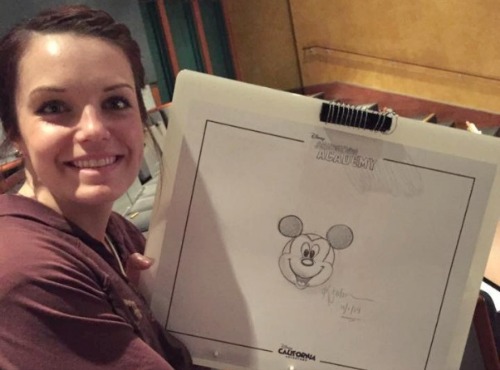 Photo credit: Rich and Kortney Johnson

4. It's Tough to be a Bug!: Stop by to see how bugs of all ages are entertained. This show is fun for the whole family, but certain surprises might scare the little ones. Located in "a bug's land" of Disney California Adventure, don's miss any of the details as you shrink to the size of a bug when you enter the theatre, but watch out for 4D surprises. 
Shows for those that appreciate nostalgic Disneyland:
1. The Disneyland Story presenting Great moments with Mr. Lincoln:
I recommend this show for all families. Prepare for your visit by talking to your family about President Abraham Lincoln and his contributions to the United States. Located in the Opera House on Main Street, USA, the lobby features historical documents, photos and memorabilia about the history of Disneyland. Further into the lobby the area becomes patriotic and features a miniature US Capitol Building and information about Abraham Lincoln. Walt Disney and his Imagineers were commissioned to create a presentation featuring one of America's favorite presidents for the 1964 World's Fair. The presentation can still be seen and is now connected to history in its own right. Inspiring and educational, "Great Moments" plays frequently throughout the day and there is nearly always a comfortable theatre-style seat available.
2. Walt Disney's Enchanted Tiki Room:
See the first attraction featuring audio animatronics in a show that's great for families. Get there a little early to see the Hawaiian garden show featuring tall tales from Hawaiian culture. To really enjoy the break, grab a Dole Whip or Dole Float in the tiki room plaza area, located at the entrance to Adventureland.
3. The Golden Horseshoe:
 Located on the banks of the Rivers of America, the Golden Horseshoe saloon features fun frontier-style entertainment. The best seats are in a small alcove just off the side of the stage. The Golden Horseshoe is listed on Disneyland's map as a restaurant. You can enjoy a hearty meal here, but you don't have to to enjoy the show.

4. Street Performers:
Look for the great entertainment appearing on the streets of Disneyland and Disney California Adventure Park. The performers are fantastic! Look around for some of these great acts; The Trash Can Trio, The Dapper Dans, the Royal Street Bachelors, Jambalaya Jazz Band, and the Main Street Piano player at Coke Corner, just to name a few.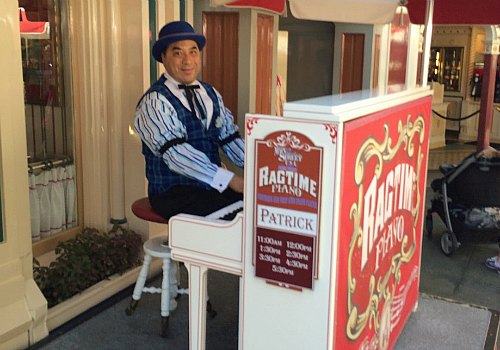 Photo Credit: Stanford Clark
The magic of Disneyland can be found in the details. Make sure you take the time to enjoy all that there is to see. Speaking of details, there is no one like Get Away Today. We will ensure that every detail is complete for your next adventure to Disneyland. Let us help you plan your next adventure to the Disneyland Resort! Book any of our
Disneyland packages
online or call our vacation experts at 855-GET-AWAY.

Check out these other great articles:
Entertainment Guide to Disneyland After Dark
10 Things You Didn't Know You Can Do at Disneyland
The Inside Scoop on All Things Frozen at Disneyland
Disneyland: Tips for Your First Trip
• Muppets 3-D is currently being refurbished. We will update the blog with information when the attraction re-opens.

Chris Dallin is a Disneyland fanatic. He travels to Disney parks several times a year and continues to find hidden gems, joy and magic in the Happiest Place on Earth. Tune into future blogs for additional ways to experience the Disneyland Resort.