A Disneyland vacation is one that families from all over the world dream about. Some families are lucky enough to visit the Disneyland Resort several times a year and other families save and plan and dream for a long time before they make it on their Disneyland vacation. I believe it is this reason that the cast members at the resort work so hard to make every single day magical.


Just the other day I came across a fellow Disney enthusiast's blog about how she teaches her children gratitude while visiting the Disneyland Resort. The article was very touching to me. I recommend you read it by clicking here but let me give you the gist of why it is so great.


April Perry notes that sometimes kids (and adults) can become impatient at the parks while waiting in line for attractions and shows, which I know to be true from my own impatient habits. But if you look around there is so much work that goes into making a day at Disneyland truly magical. From the smiling cast members to the detail in the ambiance while waiting for a ride to the thrill of finding a hidden Mickey, magic is all around. The Perry family shows their gratitude by giving "thank you" cards to cast members who go above and beyond their duties.

"He (a ride attendant) had given each of us a "magic feather" to hold," says Perry, "and then as he came around to collect them, he gave everyone high fives. His enthusiasm was totally contagious."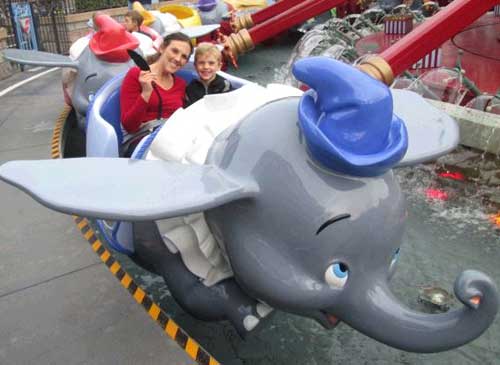 Working for Get Away Today I often hear and experience first hand the exceptional customer service provided at Disney Resorts. Here are a couple of my favorite stories from my co-workers and our guests:


"Some of my favorite guests, Mr. and Mrs. Portanova, love Disneyland and Disney World. They go frequently, they always stay at Disney's Grand Californian. I assisted them making reservations for their 50th anniversary trip to Disneyland; they had so many wonderful stories. When they arrived they were wearing the anniversary buttons they were given at the front desk, so many cast members and characters wished them a Happy Anniversary. One day, they were eating lunch at Carnation Café and the server noticed the big anniversary. When they were given the check it simply said 'Happy Anniversary, your meal is on Mickey.'"
- Christy Hamblin, Reservations Manager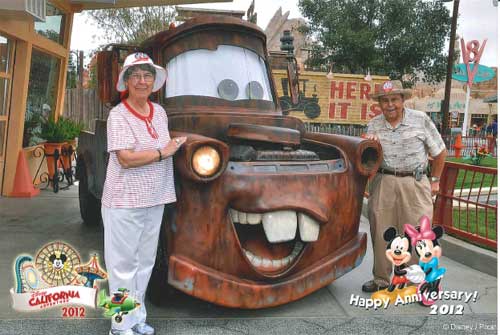 "We took a trip to Disneyland in May of 2011 - just shortly after Tangled was released. One day in the park, my son was walking beside me, not paying much attention to the people around him, but more in awe of the brightly colored buildings and lively music. As we rounded a corner a hurried gentleman, ran right into my little boy, knocking him to the ground. The man quickly bent down, lifted my boy to his feet and exclaimed 'Oh Dear! Please excuse me little sir! I am in a hurry to meet up with my beloved princess!' My little guy looked up at him and gasped, 'Flynn Rider!' 'Indeed, little man! And whom do I have the pleasure of speaking with?' After a quick introduction, 'Mr. Ryder' asked if he would like to meet his 'Beloved Princess.' He then took my son past the 2+ hour line to meet Rapunzel and made sure that he got her autograph as well as his own."
– Stephanie Smith, Groups Specialist

There are so many reasons why Disneyland is magical but all of those reasons come back to the cast members running the show. So on behalf of Get Away Today and our wonderful guests I would like to say to the bakers, the line attendants, the imagineers, the characters, the janitors, the performers and all the other hands that go into a day at Disney, thank YOU for making Disneyland the Happiest Place on Earth.
To start building magical memories with your family make your Disneyland vacation reservation online or call our reservation staff at 855-GET-AWAY.

Check out these other great blog articles:
We Treat Each Family Like It's Our Own
Disneyland Vacations: It's the Little Things that Count

First But Not Last Get Away Today Vacation