It's the day that only comes once a year; March 14th. AKA 3.14. AKA Pie Day! In my family we have a saying that, "You are never too full for pie." And this year is no exception. But this year we decided to take the fun of Pie Day up a notch with Mickey Pies.
If you are looking for something fun to do with the kids to celebrate, then these cute Mickey Pies are a perfect choice. They combine the tasty tradition of pie with the magic and fun of their friend Mickey Mouse! Mickey Pies are incredibly easy to create and they are the perfect size for your little bakers to eat and enjoy.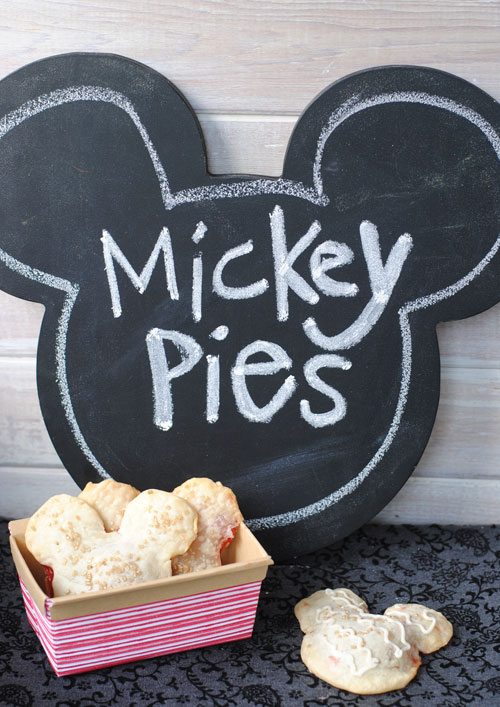 Here's what you will need for your Mickey pies:
Small Can of Pie Filling
Pillsbury Pie Crust
Butter
Sugar Sprinkles
Mickey Mouse Cookie Cutter
Take your pie crust out of the fridge and let it warm up to room temperature for about 30 minutes prior to starting. Roll the crust out onto a cutting board and then cut the dough into shapes with a Mickey Mouse cookie cutter. Make sure to cut the shapes close together to get as many Mickeys as you can from the dough. You can gather the scraps of dough and roll them out again to prevent waste.
Spray a cookie sheet with non-stick cooking spray. Preheat your oven to 350 degrees. Now you are ready to add the filling. Any pie filling will work, but we picked cherry because it is Mickey Mouse red. You can use cherry, or choose your family's favorite flavor. Place a single Mickey dough shape onto the cutting board. Spread a thin layer of butter across the dough. Then add a scoop of pie filling on top. Spread the filling so that it reaches both ears, but be careful to make sure that it doesn't get too close to the edges.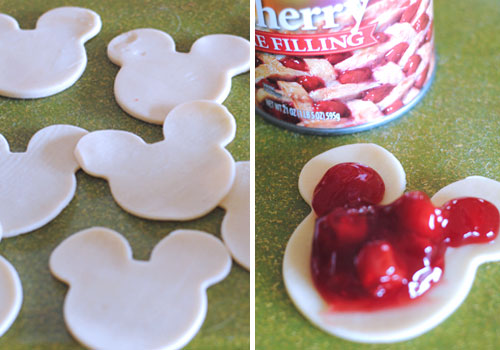 Now, you can add the top layer of dough. Use a rolling pin to flatten one of your Mickey shapes so that it is just a little bit bigger than the bottom layer. Try to keep the basic shape the same, just a little bit flatter.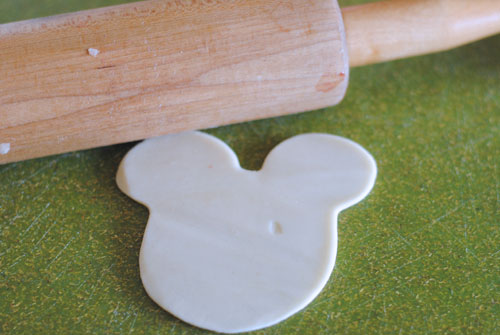 Place the flattened dough onto the pie filling. Carefully press the edges of the dough together with your finger tips. You could use a fork for this step as well, but my kids enjoy being hands on. Whether you're using fingers or tools, the important thing is to create a nice seal.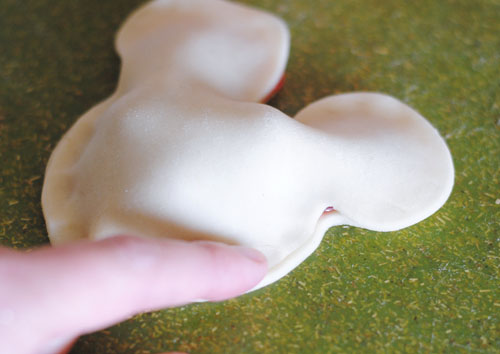 Butter the top of the dough. This will give it a tasty flavor and help the dough to get nice and brown in the oven. Sprinkle some sugar sprinkles onto the butter.
Continue making the Mickey Pies, one at a time, until your dough is gone. The package of dough that I bought had two round pie crusts and made 10 complete Mickey Pies.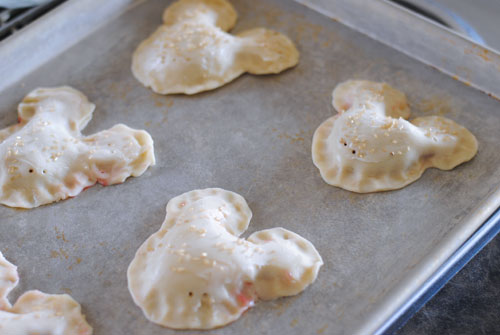 Bake the pies at 350 degrees for 15 minutes. Check them at 12 minutes to make sure they are not over brown.The pies will be ready when the pie crust is a nice golden brown and the insides are bubbly warm.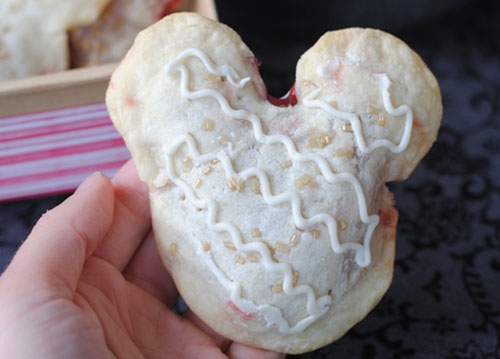 You can serve the pies right out of the oven with vanilla ice cream, or cold with a creamy frosting topping. Of course, you could have Mickey serve them himself!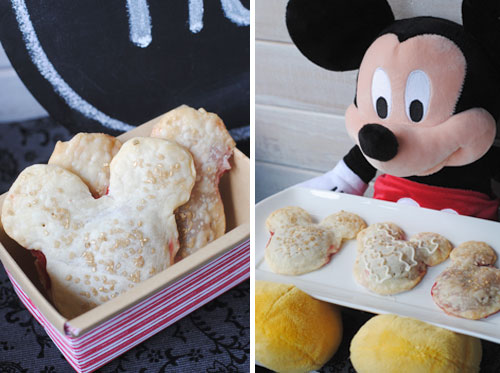 I hope your family enjoys these cute and festive Mickey Pies. They are a perfect way to celebrate Pie Day and bring a little more Disney magic into your home. Of course the most Disney magic can be found at the Disneyland Resort! Book your
Disneyland package
online or call our travel experts at 855-GET-AWAY.