Fairfield Inn Anaheim Resort: Exceptional service
"This hotel was amazing!! Not only did we get to check in early they were great to our kids. The rooms were clean and comfy. This hotel was wonderful, they made our trip easy and stress-free."
- Samantha C.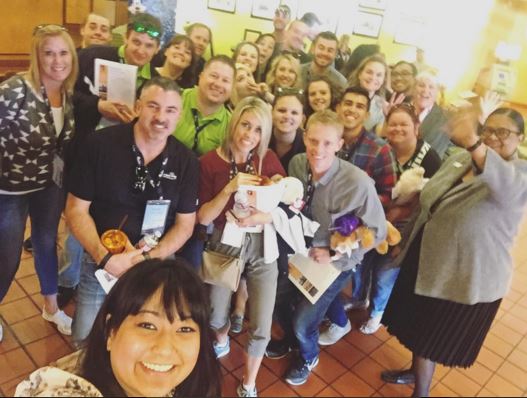 Our staff with some of the awesome staff at the Anaheim Fairfield Inn.
Anaheim Wyndham Garden Grove: Wonderful hotel with hot breakfast
Our family really enjoyed staying at the Wyndham Anaheim Garden Grove. The rooms were very nice and tastefully decorated. All staff were extremely friendly, welcoming, and helpful. The beds and pillows were comfortable and rooms were quiet, which was great after spending entire days on our feet at Disneyland and California Adventure! We enjoyed the pool and hot tub, especially on our free day when we didn't go to the parks. (Only drawback was that people from the bar were smoking outdoors near the pool. I wish the smoking area was located away from the pool area so we wouldn't smell the smoke). Free shuttle service worked well for us, although we were there midweek so it was probably not as busy as it would be Friday-Monday. Sometimes the shuttles were pretty crowded or some people had to stand, but we were always able to get on. The free hot breakfast buffet and 4th night free offered by our Get Away Today package made this hotel a great value for us. We would definitely stay here again on a future visit to Disneyland. Thank you to Get Away Today and Wyndham for a lovely first Disney vacation experience!
- Kelly K.
Castle Inn Hotel & Suites: Great hotel
"The staff was great, the rooms were nice and had everything we needed. The coffee machine and the soaps they provide weren't very good, but nothing we couldn't handle. The beds were very comfy. The walk from Disney was close enough to walk, but far enough it was hard for my kids to want to walk back after a long day. Overall we would stay here again and recommend to others."
- Malissa F.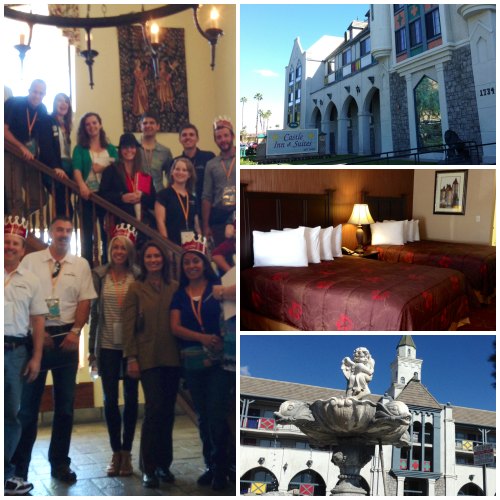 Holiday Inn Anaheim Resort: All around great quality
"Very comfy beds and pillows, very clean, loved the breakfast and coffee bar they offered for something quick. Loved our stay, everything went smooth and have no complaints."
- Krystal M.
Desert Palms Inn & Suites: Excellent value for families
"We stayed here for a week - all six of us - and I would highly recommend it. The only down side was that the suite we were in was slated for remodel....the day we left. If that had happened before we arrived, it would have made this a 5/5 review. We had the Sahara Kitchen suite and so were able to cook our own meals and have snacks to take to the park. The complimentary, full breakfast was a lifesaver - freshly made and changed up daily. There were eggs, bagels, fruit, yoghurt, do-it-yourself waffles, toast, doughnuts, juice and more. The walk was about 10 minute...depending how exhausted we were. All in all, we would definitely recommend this hotel. Clean rooms, friendly staff and more."
- Dorothy T.
We love helping our guests find the perfect hotel match for their Disneyland vacations. Our agents visit the hotels so that we can give you personalized recommendations based on exactly what you're looking for. We know which hotels are in which location, which hotels sleep larger families, which hotels have free breakfast, free parking, and so much more. You can view all of our Disneyland packages and hotels online and use our filters to find exactly what you're looking for, or give our agents a call and they can guide you through the entire process. Either way, we'd love to help you find the perfect hotel for your Disneyland vacation.

Read what more Get Away Today guests are saying about their vacations: