UPDATED MARCH 2019 This free printable Star Wars Countdown Calendar is a fun way to count down the days until your Disney vacation.And since we know Star Wars land Disneyland opens May 31, 2019, it's time to put these to good use! Each day has a unique Star Wars themed activity that will have all your little Jedis channeling the Force in anticipation.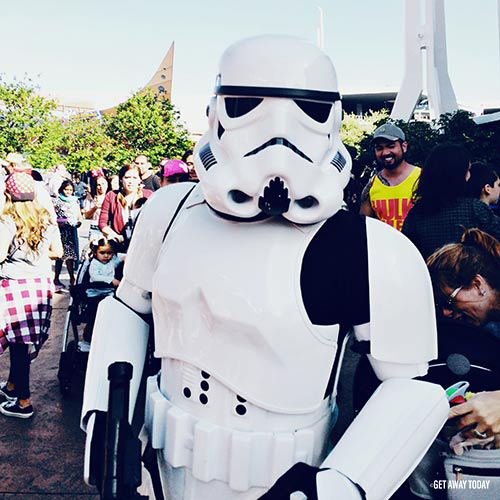 Does your Disney vacation feel light years away? Make the time pass in hyper speed with this free printable Star Wars Countdown Calendar. 28 days before your departure, you can start the intergalactic fun. There are a wide variety of activities to complete. Make tasty treats, play games, craft, dance and so much more! May the Force be with you.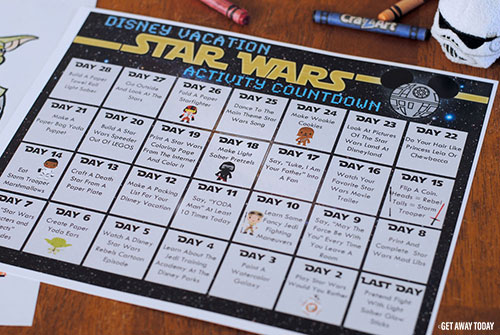 First, download the free printable Star Wars Countdown Calendar here. Print a copy for your personal use. You can hang it on the fridge or on your message board. Make sure your family can see it each day. It is a great solution to the dreaded phrase, "How many more days until we leave for our Disney trip?!"
You can find ideas online for inspiration on how to do some of the crafts and treats. There are so many Star Wars projects on Pinterest! However, feel free to make these daily activities your own. Personalize it to make the daily suggestions work for your family. Here are some examples of what I did to help get you started.
Storm Trooper Marshmallows are so fun. Draw their faces onto a regular size marshmallow with an edible black marker. The markers can be found in the cake decorating isle at the store. You can use this picture as a template for your Storm Trooper masks. We used the leftover marshmallows from the bag to make Rice Krispy Treats. It was a perfect combo.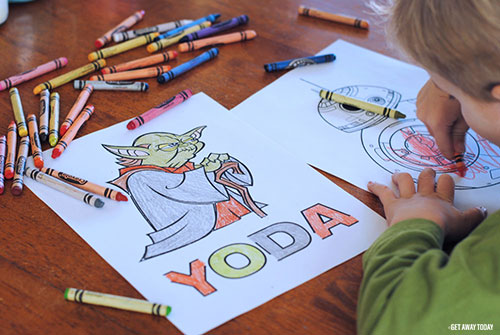 Bust out a box of crayons and spend time coloring together. There are a ton of fun free Star Wars coloring pages online to use for the Star Wars Countdown Calendar. Look through the options together and print your favorites. My little rebel found just the droid he was looking for!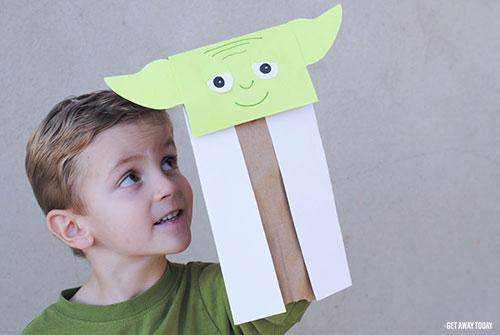 Craft you must. Yoda is a Jedi Master and he is also a pretty cute puppet! With just a few pieces of paper and a brown lunch sac you can make a Yoda puppet. Let him speak words of wisdom like, "Patience you must have my young Padawan." It sure takes plenty of patience to wait for a Disney vacation!
I haven't met a kid who doesn't think light sabers are cool. They glow. They slice. They hum. It's the magical weapon of every little Jedi's dreams. It is tricky to make a real light saber, so we went with the next best thing...glow sticks! Have a glow stick battle for one of your Star Wars Countdown Calendar activities. What side will you fight for?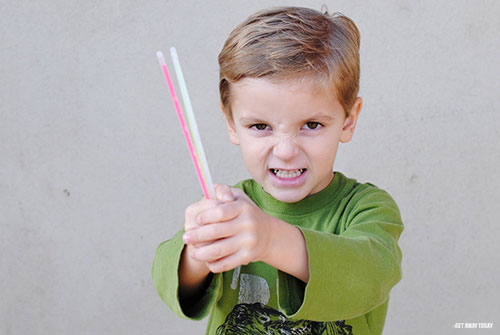 Speaking of fights, make sure to check out the details for the Jedi Training Academy at the Disney Parks. It takes place in Tomorrowland at Disneyland and in Disney's Hollywood Studios at Disney World.
Participants take the stage and train in the ways of the Force before testing their newly acquired skills to defeat the Dark Side. Novices use their warrior skills against Kylo Ren or Darth Vader. It is a totally interactive and exciting experience for kids ages 4-12. You must sign up on the day of your visit, in person, at the kiosk location detailed for each park. It is first come, first serve. So, be there early!
There are so many fun activities for Star Wars Land Disneyland on the Star Wars Countdown Calendar. I hope you enjoy completing them all. You can mark off the days on the calendar as they pass. This helps you visually count down the days until your departure. Make sure to download the Star Wars Countdown Calendar here - the days left until your vacation will fly by like you're in hyperspace.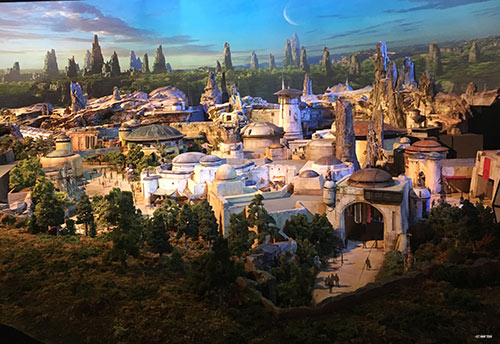 And, don't forget to take a look at everything we know about Star Wars Land, set to open in 2019. Construction is in full swing and we already know it is going to be out of this world incredible.
Don't have a vacation coming up to use the Star Wars Countdown Calendar on? We can help! You'll find the best prices on your Disney vacation with our discount Disney World tickets, discount Disneyland tickets and reduced hotel rates. Book our Disney packages online or give our travel experts a call at 855-GET-AWAY.

Check out more galactic articles: