Bring the magic of the Main Street Electrical Parade into your kitchen with these adorable Main Street Electrical Parade Ladybug Macaroons. The classic parade is back at Disneyland for a limited time, but you can enjoy our version of these delicious ladybug cookies whenever you'd like!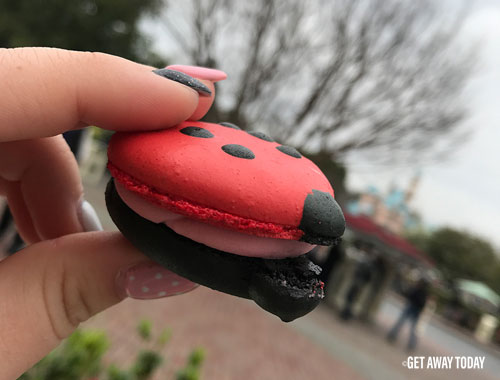 Light up your nights with the magic of the Disneyland Main Street Electrical Parade! The classic nighttime parade is back for a limited time, and it is every bit as dazzling as it was back in 1972 when it first took center stage down Main Street USA. Lovable characters like Pete's Dragon, Snow White and her Seven Dwarfs, Cinderella, Alice in Wonderland, and Pinocchio twinkle and glitter to the beat of the parade music.
Some of you will remember viewing this electrical parade in your youth. It is an absolute joy to see the nostalgic whimsical floats back at the park. To celebrate this spectacular parade procession, the Disney confectioners crafted a new line of festive treats inspired by the Main Street Electrical Parade. Disney sprinkles magic into everything and these treats are sure to bring a smile to your face when you eat them!
We had a chance to sample some of the tasty Main Street Electrical Parade sweets during a recent visit to Disneyland. Take a look at how adorable they are!
Main Street Electrical Parade Cheshire Cat Cookie. This cookie is a strawberry marmalade filled shortbread cookie with a colorful chocolate drizzle.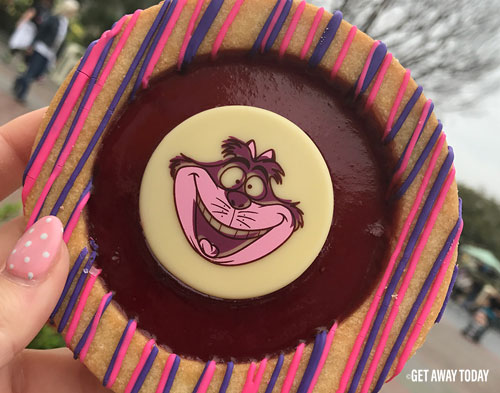 Main Street Electrical Parade Peanut Butter & Jelly Eclair. This creamy pastry is sure to be a hit with anyone under five and for those who still feel like a kid inside!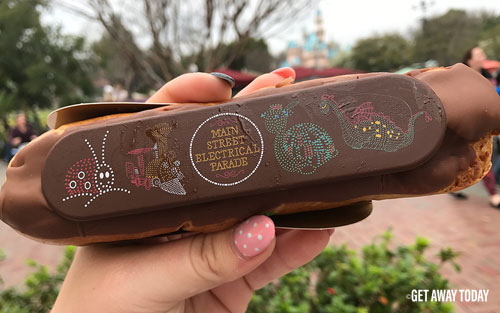 Main Street Electrical Parade Parfait. The Pineapple, Coconut Parfait layers these tropical flavors with strawberry and vanilla, and a pop of crunch with the rainbow sprinkles.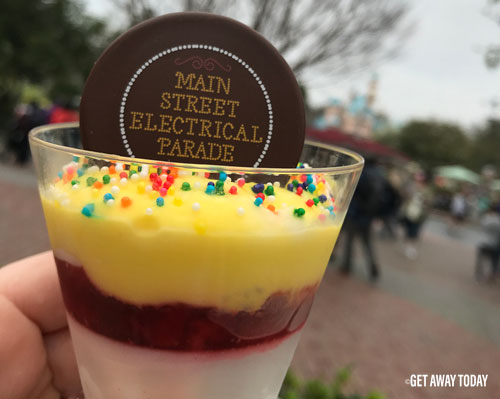 Main Street Electrical Parade Turtle Cream Puffs. These cute cream puffs are filled with a delicious chocolate cream and topped with half of a macaroon.
And of course, the Main Street Electrical Parade Trio of Ladybug Macaroons. These soft and fluffy macaroons are cute as a bug and tasty too. This trio of ladybugs inspired today's blog post. Make your own ladybug macaroons and light up your taste buds!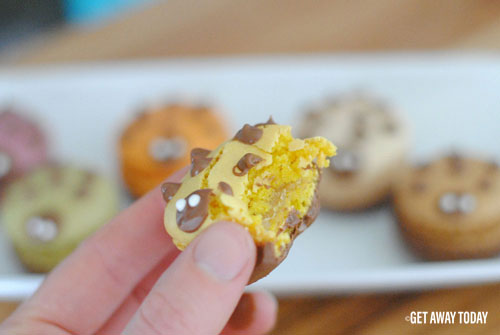 Main Street Electrical Parade Ladybug Macaroons:
Trader Joes Macaroons Variety Pack
This dessert is extremely easy to recreate. With the help of our friends at Trader Joes, you don't even have to make the macaroon cookies! They come prepared in packs of twelve. If you ever shop at Trader Joes grocery store, you know that anything with the Trader Joes label on it is delicious. If you are brave enough to make your own macaroons, you could definitely try that as well. Or, pick some up from your favorite bakery.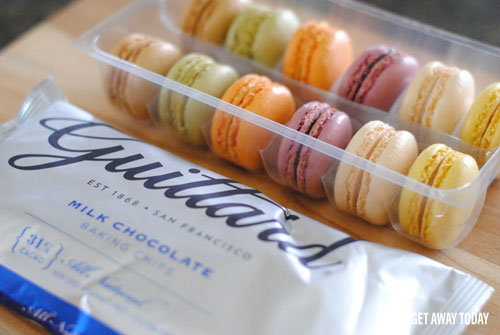 Start by melting 1/4 cup of high quality milk chocolate in a small bowl. Microwave it for about one minute, pausing to stir about every 20 seconds. Once your chocolate is nice and smooth, dip the bottom half of the colorful macaroon into the melted chocolate.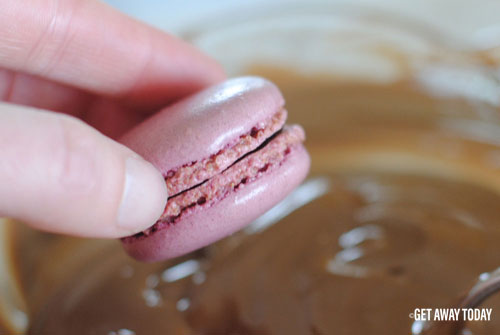 Place your dipped macaroons upside down so that the chocolate can set up without getting smudged. Continue until all of the cookies have been dipped.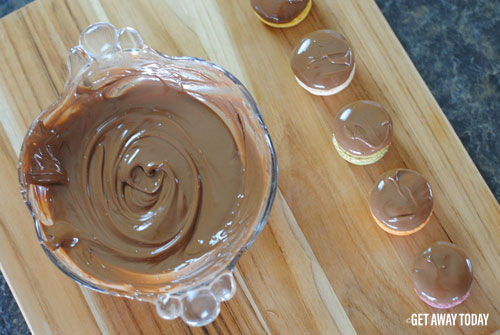 Place the cookies in the fridge to speed up the setting up process. When the chocolate has cooled, you can move on to the second step. Soften the remaining milk chocolate by heating it in the microwave for another 20-30 seconds. Then, scoop it into a frosting bag that has been fitted with a small round tip.
Add ladybug dots to the top of the macaroons. I put about six dots on each ladybug. Then add a little triangle tail and a circle face.

Before the chocolate cools, place two white pearl cupcake sprinkles onto the face to make eyes.
The combination of smooth yummy chocolate with the soft fruity macaroon cookie is really quite magical. It will make your mouth light up!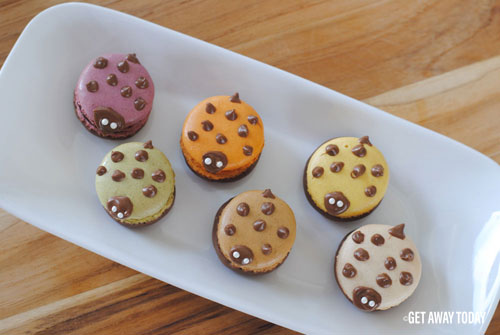 You can find the official Main Street Electrical Parade Trio of Ladybug Macaroons and other fun treats at the Jolly Holiday Bakery in Disneyland. In the meantime, make these at home to get excited for your Disneyland vacation!
If you want to catch the Main Street Electrical Parade, be sure to book your Disneyland vacation for travel before June 18, 2017. UPDATE: The Main Street Electrical Parade has been extended to August 20 of 2017, giving you even more time to plan your summer vacation. It is simply electrifying and we'd love to help! Our discount Disneyland packages can all be found online. Or, call our Disney vacation experts at 855-GET-AWAY.

Check out these other great articles: