Looking for a super summer vacation? Visit the Disneyland Resort before September 10th to experience the Summer of Heroes in Disney California Adventure. Check out our Summer of Heroes overview for more information!
There is so much to see and do at Summer of Heroes at Disneyland, you and your little super heroes are in for an epic adventure! Experience everything from dancing with Groot to meeting Spiderman to saving the Guardians of the Galaxy and so much more! For highlights, take a look at our Summer of Heroes overview:
Guardians of the Galaxy - Mission: BREAKOUT! The new ride is out of this world! You'll join Rocket the Raccoon as he attempts to break the rest of the Guardians of the Galaxy out from the Collector's Fortress. From amazing Easter eggs in the queue line to some rocking theme songs, your family is sure to have a blast. So get ready to raise your hands and scream your heart out - you're in for one fun ride!
Meet your favorite super heroes. Do you have any Marvel fans or wannabe super heroes in your house? You'll have the ability to meet some of your favorites at the Summer of Heroes event. Spider Man, Captain America, Black Widow and Groot are all available for photo opportunities during the heroic event. Just imagine your little ones' smiles as they come face-to-face with their beloved heroes!
Guardians of the Galaxy: Awesome Dance Off! Once you've broken the Guardians of the Galaxy out of captivity, you'll have the chance to face them in an epic dance off. Get your moves ready, Star Lord and the gang won't disappoint! Don't forget your camera, either - you'll want to remember this groovy moment forever.
FREE face painting and super hero sorting. Ready to find out what super hero you are?! Now is your chance! Stop by the Hero Action Center to take a short quiz to find out what hero represents your mightiest strengths. Plus, receive a FREE exclusive comic book and sticker. Then stop on over to transform into your favorite hero with FREE face painting! It doesn't get better than that.
Avengers Training Initiative. Think you have what it takes to be an Avenger? You'll find out if you really do when you participate in the Avengers Initiative. Black Widow and Hawkeye will train you just as they would an Avenger, so be prepared. Those who survive the training (don't worry moms, everyone survives the training) will become an honorary Avenger. Your little ones won't be able to stop talking about how they're an Avenger now!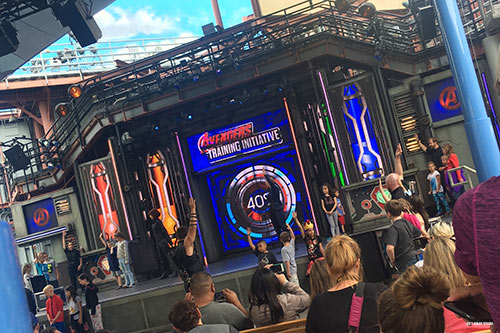 Hero-worthy souvenirs and food. On top of the fun events, specialty merchandise and food is being offered during Summer of Heroes. Take a bite out of crime with limited time treats like Groot Bread, Spiderman Doughnuts, drinks and more! Rock your favorite super hero gear with themed t-shirts, shields, pins and other can't miss items.
As you can see, Summer of Heroes is something you can't miss! These limited-time experiences will have to fly away after September 10th. Meet Captain America, battle Star Lord in a dance battle, train to fight with the Avengers and so much more! To experience the adventure, book your Disneyland package online or call our travel heroes at 855-GET-AWAY.

Check out these other great articles: