Find a healthy Disneyland Breakfast option at Galaxy's Edge. Rising Moons Overnight Oats are really good and also good for you! Enjoy the copycat version at home with this recipe.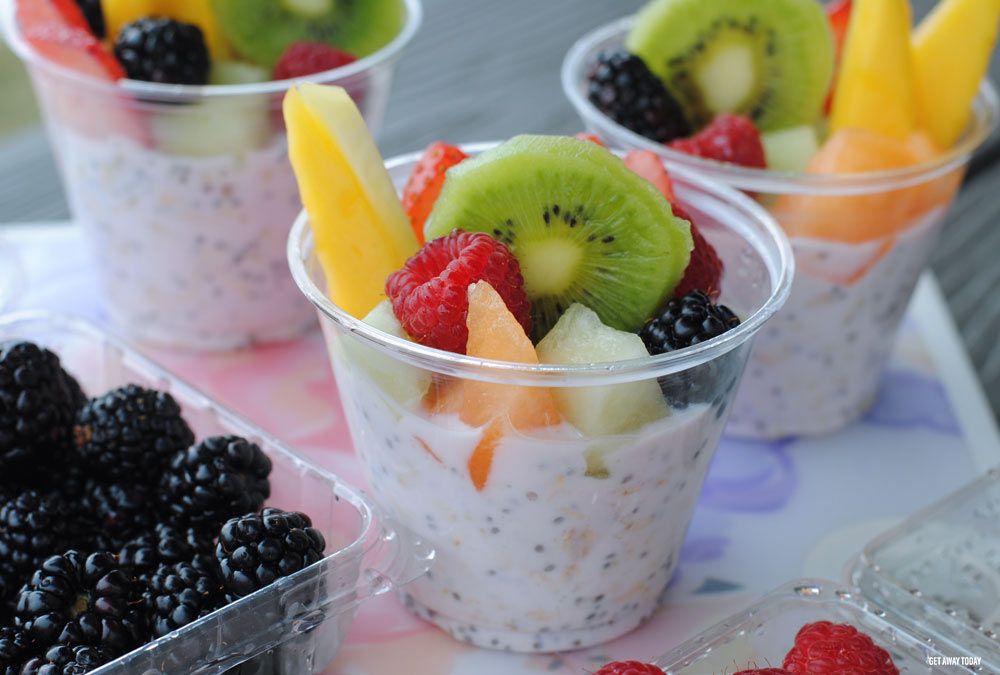 Disneyland is known for having a wide variety of food options for park guests! Everybody loves the famous treats like Dole Whips, churros, beignets, chocolate dipped Mickey Mouse ice cream, and popcorn! But, if you are in the parks during the morning hours, it is nice to order something that feels a bit more healthy! Not that I am saying donuts for breakfast is a bad idea! But, here is a better one: Rising Moons Overnight Oats from Galaxy's Edge.
Rising Moons Overnight Oats Recipe
Overnight Oats became really popular across the health food crowd a few years ago. Recipes took the internet by storm! The main ingredients are whole grain oats, Greek yogurt, milk and chia seeds. There are a million ways to dress it up with toppings and stir-ins for different occasions and flavor preferences.
This healthy Disneyland breakfast recipe is for the Rising Moons Overnight Oats that are sold in the Parks. It is a basic overnight oats base topped with a wide variety of seasonal fruit and bursting boba balls. They are out of this world!
Rising Moons Overnight Oats Recipe:
1/4 cup old fashioned oats
1/4 tsp chia seeds
1/4 cup strawberry Greek yogurt
1/4 cup Kefir cultured strawberry milk (or regular strawberry milk is ok too!)
seasonal fruit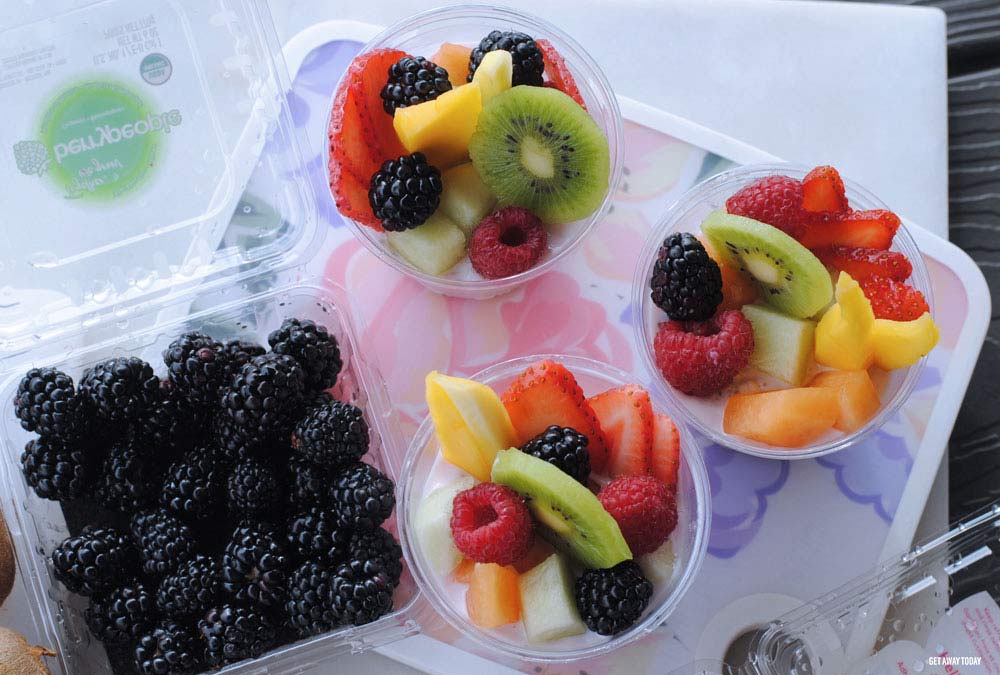 Like with any great recipe, if you start with quality ingredients you're going to get better results! Make sure you have yummy, healthy Greek yogurt and fresh oats. Pour 1/4 cup of old fashioned oats into a glass jar or plastic cup.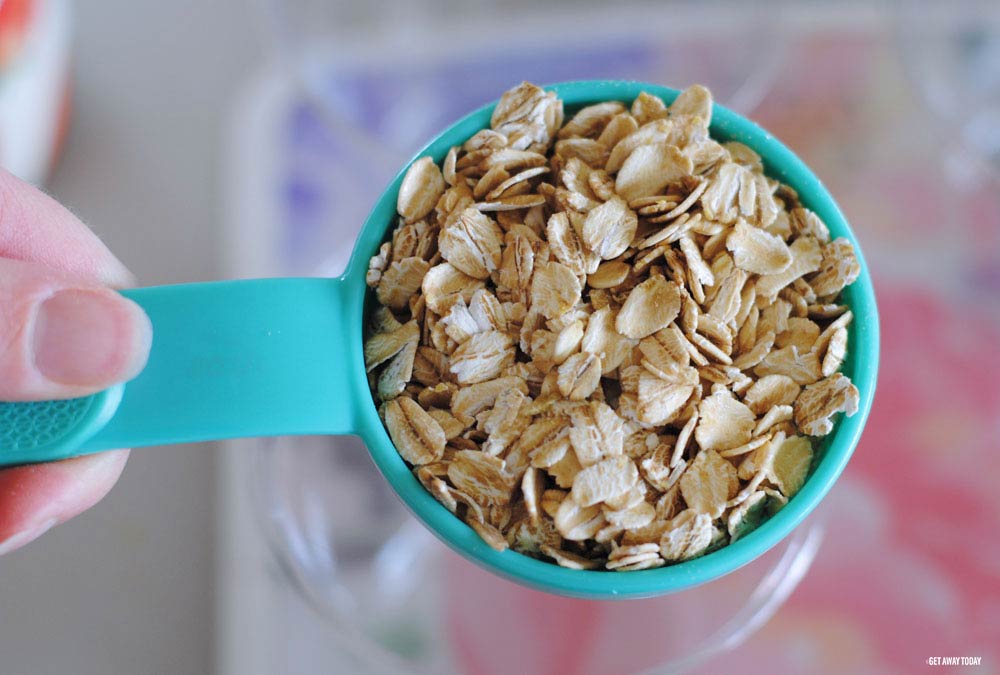 Add 1/4 tsp of chia seeds. Chia seeds are small, but they are full of important nutrients. Chia seeds are an excellent source of omega-3 fatty acids. They have fiber, iron, calcium and are rich in antioxidants...keeping the cancer cells away! To top it off, they have the "good" cholesterol that prevents heart attacks and strokes. Wow! Talk about a lot of goodness wrapped up in such a small package.
Add 1/4 cup of strawberry Greek yogurt to each serving. Greek yogurt is also a pretty amazing food. It has the "good" bacteria to maintain a healthy gut, protein to boost metabolism and muscle growth, and calcium to help maintain proper bone density! The Greek yogurt typically contains less sugar than the other varieties. So, that is an added bonus.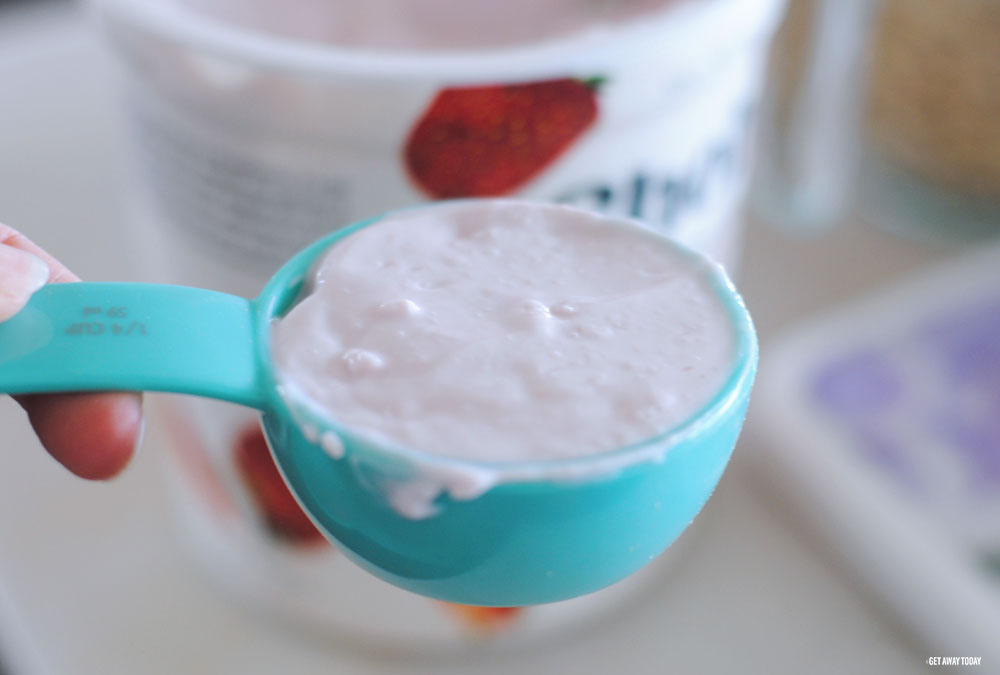 Then, pour on 1/4 cup of Kefir cultured strawberry milk. Some recipes call for regular cow milk or nut based milks. I liked the idea of the increased probiotic cultures that the Kefir milk adds to the healthy Disneyland breakfast recipe! Gut health is so important. It is a great way to sneak in a little extra good bacteria.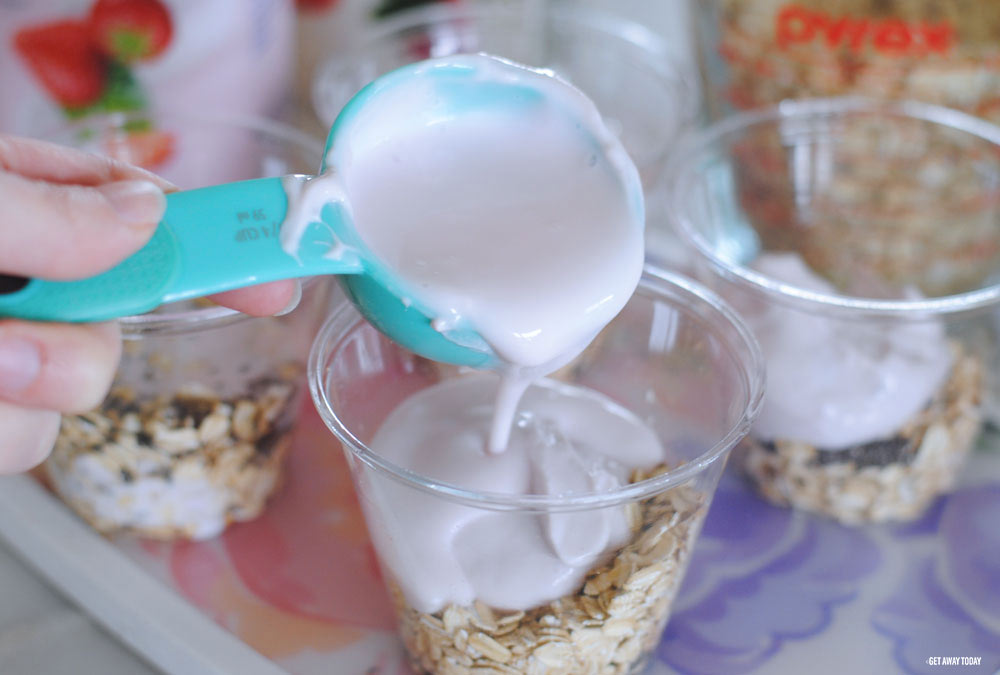 Stir all of the ingredients together so they are mixed evenly.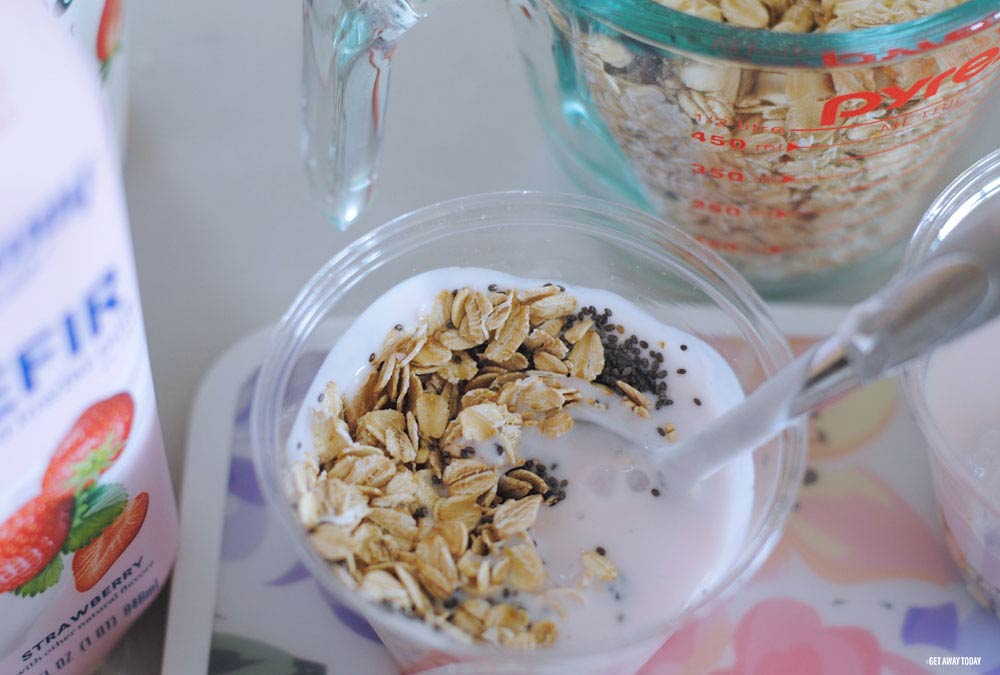 Rising Moons Overnight Oats Recipe - Refrigerate
Cover the dish with a little bit of plastic wrap. If you make the individual servings in mason jars, you can store them with metal lids. It's a perfect little dish for the overnight oats! Place the jars in the fridge for at least 2 hours.

The oats do not need to cook. They soften and absorb the liquids from the yogurt and milk. It is best to let them soak overnight. Hence, the name...overnight oats!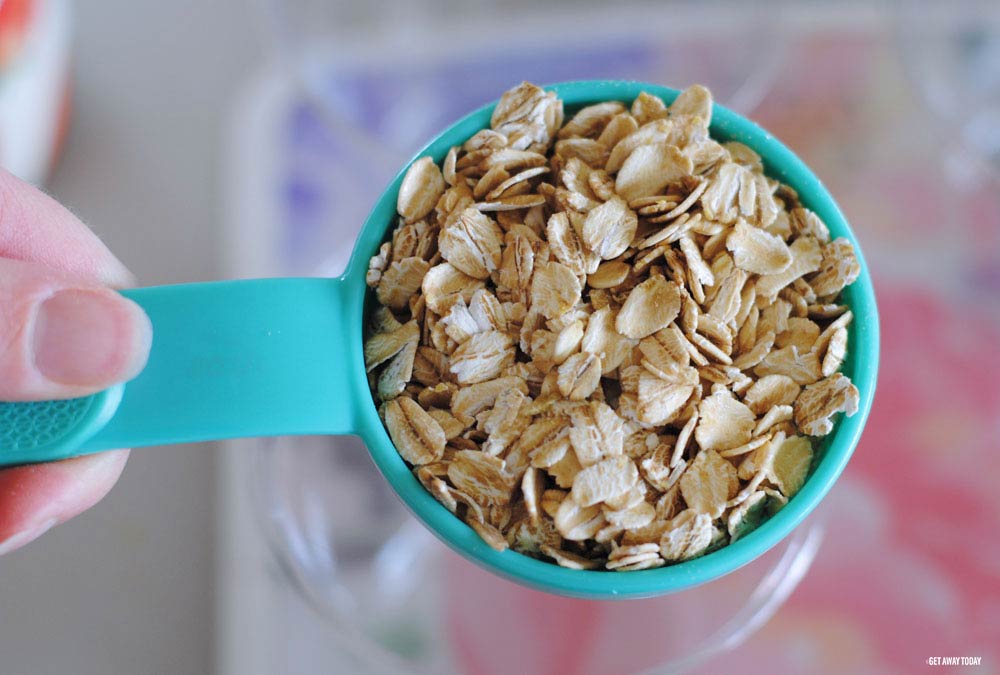 When you are ready to serve our copycat version of Rising Moons Overnight Oats, pull the containers from the refrigerator and top them with a variety of bite sized fresh fruits. The Disneyland version has seasonal fruit.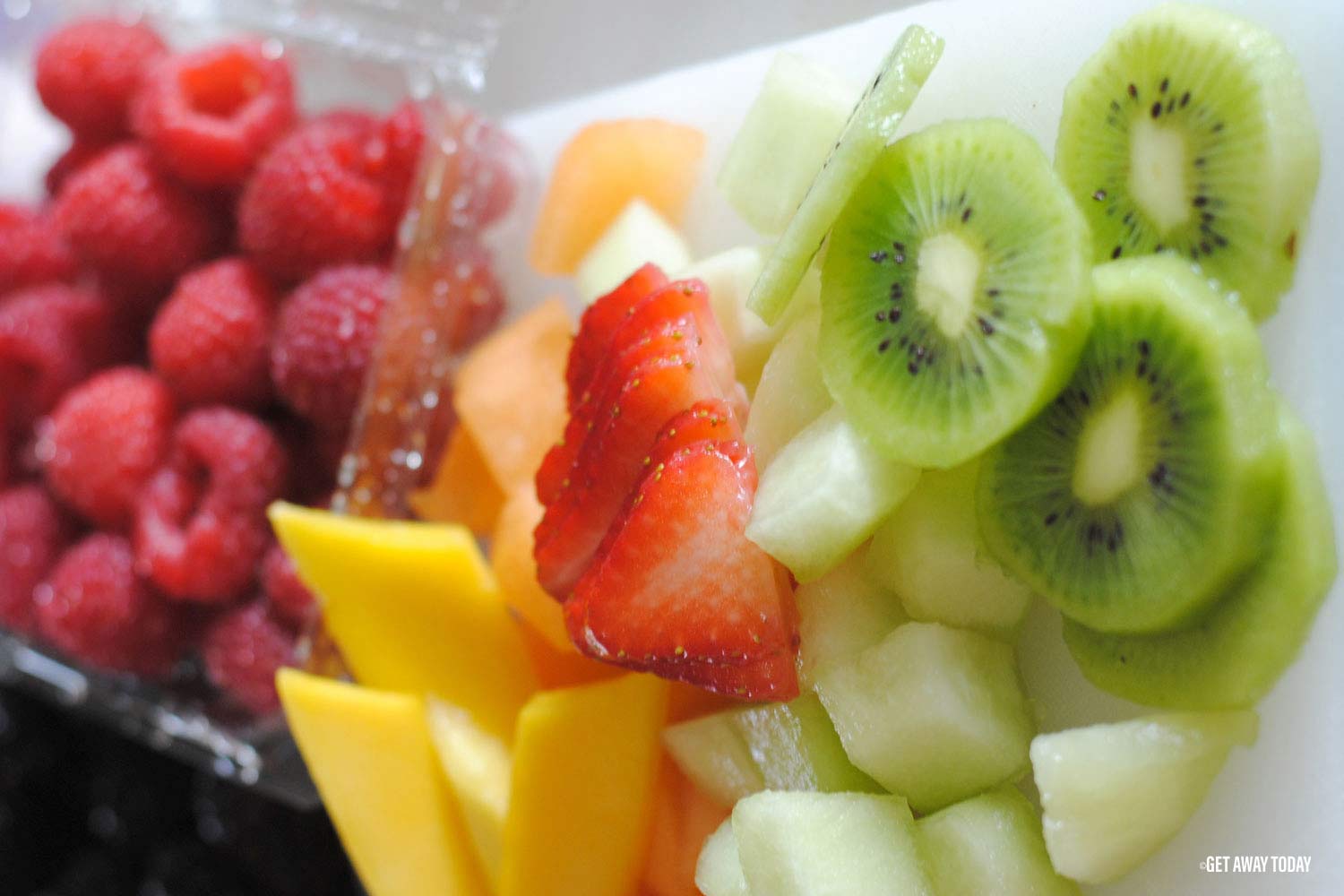 Typically, that includes melons, berries, mangoes and kiwi. They sprinkle a few bursting boba balls over the top as well to give the breakfast a little "otherworldly" look. Boba balls aren't sold locally, so you can order them online HERE if you want to make an authentic Star Wars version!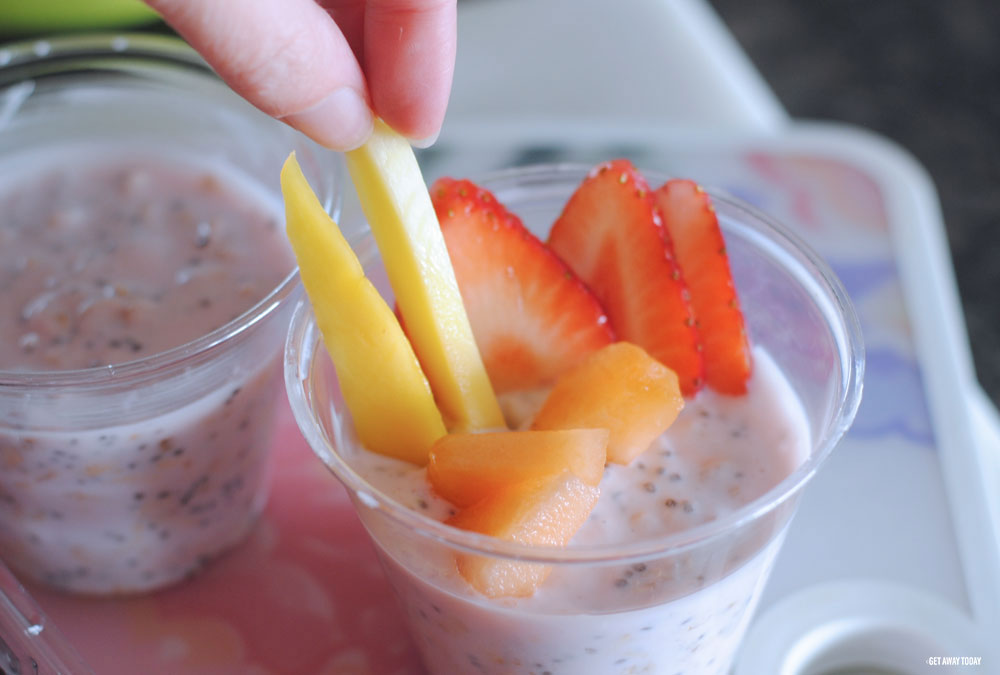 These healthy Disneyland breakfast overnight oats are really quite tasty. The fruit sweetens up the yogurt base. If you need a little extra sweetness, you can sprinkle some brown sugar over the top or drizzle a bit of strawberry syrup or honey on the fruit. Just for an extra pop of flavor.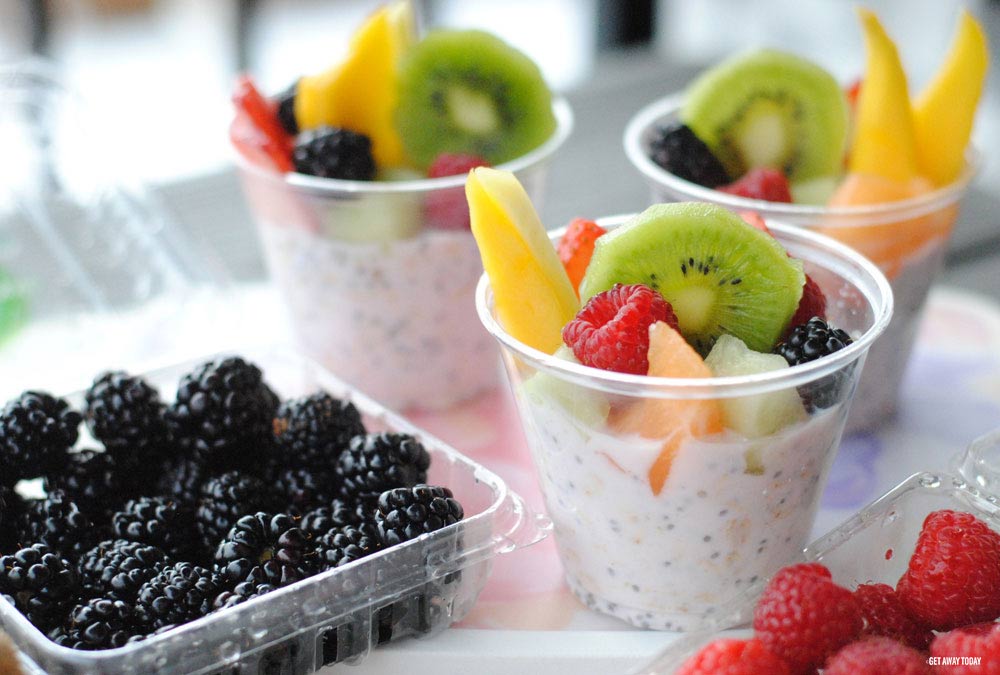 Find the Rising Moons Overnight Oats at Galaxy's Edge at Disneyland. The new Star Wars Land is such an amazing place to visit. You can find out all of the details on the rides and attractions, entertainment, meet and greet opportunities, drone building, food offerings and more on our Packed With Fun blog! Our agents are also experts on the Galaxy's Edge experience. And when you are there, make sure to try the healthy Disneyland breakfast as well! It will fuel your body for a fun day at the happiest place in the galaxy!