This is the best Disney Dole Whip Recipe for making the popular Disneyland and Walt Disney World treat at home. Follow these simple steps to create a perfect copycat Disney Dole Whip.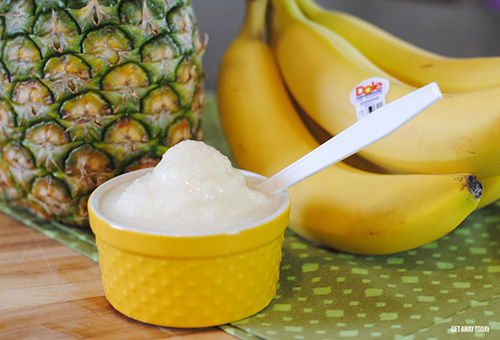 The Dole Whip is hands-down the most popular dessert at the Disney Parks. In fact, on average, 1.3 million Dole Whips are sold annually at the Disney Parks and Resorts. You can purchase Dole Whip t-shirts, posters, phone cases and even Dole Whip Mickey Ears! The Dole Whip has its own YouTube channel and has been used as a hashtag on Instagram almost 100,000 times. For many, the Dole Whip is one of the biggest attractions at Disneyland or Walt Disney World. It's easy to see that this tropical frozen treat has become a major Disney icon.
Disney Dole Whip Recipe
What makes it so special? It is different for everyone! My favorite thing about the Dole Whip is the perfect blend of island flavors. It makes you feel like you are vacationing in paradise. And, if you are lucky enough to be at a Disney Park, then you practically are!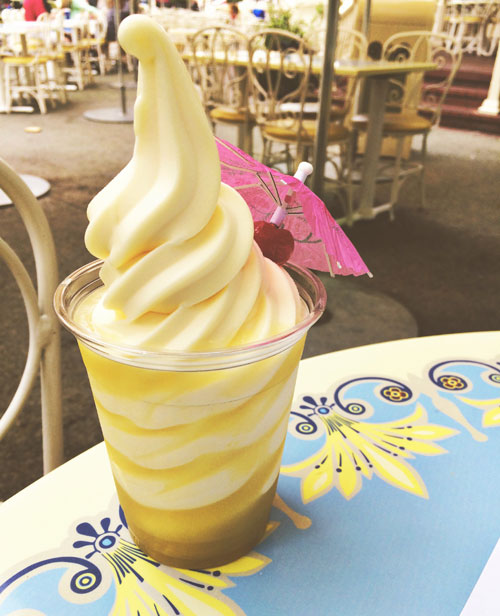 Have you ever tried a Disney Dole Whip? Did you love it? What makes it so tasty? Let us know! In the meantime, give this Disney Dole Whip Recipe a try and see if it measures up to the real thing. The ingredients are non-dairy and vegan, so everyone can give it a try.
It is amazing how many Disney Dole Whip Recipes are available online. The variety of flavors and techniques is surprising considering how few ingredients are actually needed for the Disneyland version of the treat. I kept things simple so that it would be authentic. I hope it creates a few moments of paradise in your kitchen. Get ready to "do the Whip."
Disney Dole Whip Recipe (Copycat Version):
1 Cup Cold Coconut Milk
12 Crushed Pineapple Frozen Ice Cubes
1 Frozen Banana
1/2 tsp Vanilla Extract
Copycat Dole Whip Instructions
The very first thing you need to do is get the pineapple freezing! Open a can of crushed pineapple that has been canned in real pineapple juice. Scoop the crushed pineapple into the little sections of an ice cube tray. You will need about 12 pineapple ice cubes. Place the tray into the freezer and let the pineapple freeze completely. It will take about 5 hours.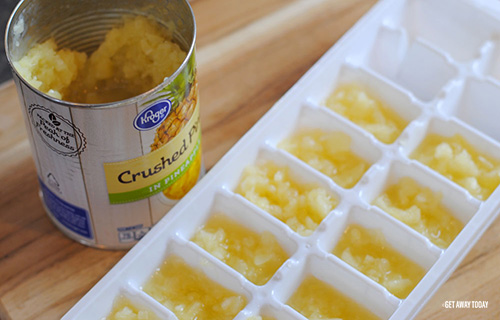 Peel a ripe banana and place it into a plastic freezer bag before putting it in the freezer. You will want it to be nice and firm, so it should be ready to use in about 5 hours as well.
When your first two ingredients are frozen, you can start whipping up your treat. Put two cups of cold coconut milk into a blender. You will need a nice strong blender to make the Dole Whip smooth and creamy. A food processor will also work.
Add the 12 pineapple ice cubes and the frozen banana.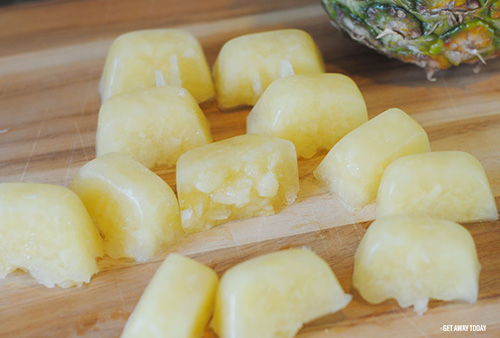 Blend them together. You may need to stop the blender a few times ands scrape the edges down. You want the Dole Whip to be smooth and all of the ingredients to be completely incorporated. Don't leave any lumps of frozen fruit bits.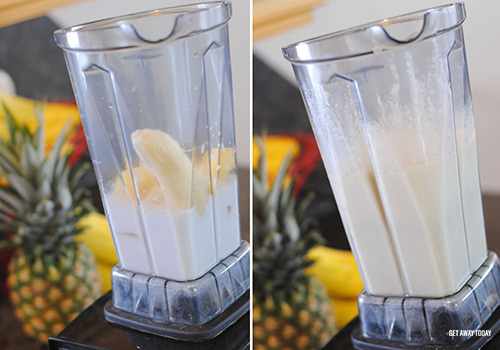 Immediately scoop the icy treat into a serving dish and enjoy!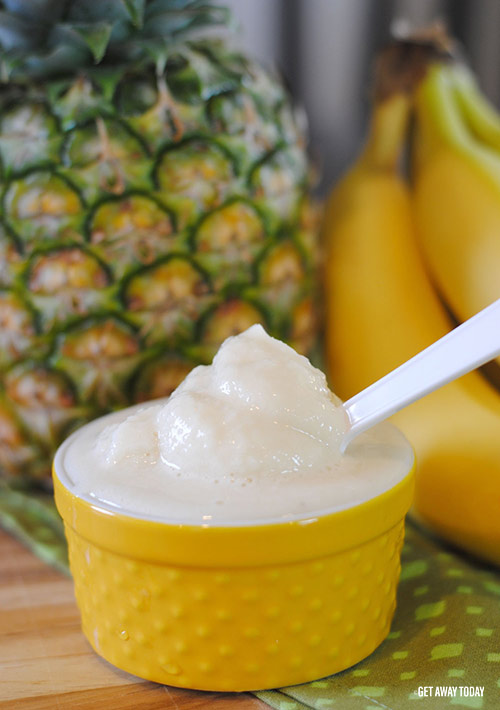 You can drizzle some coconut pineapple nectar over the top to create a Dole Whip Float. It adds a punch of flavor and will send you straight to Dole Whip heaven.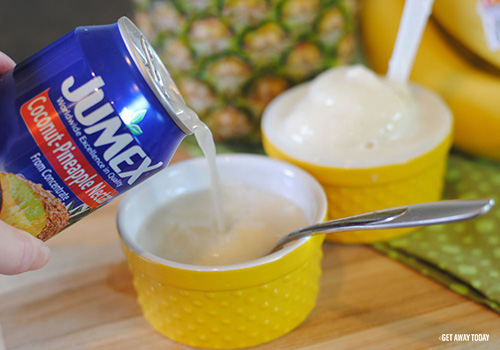 I hope you enjoy this Disney Dole Whip Recipe. If you are looking for the real thing, here is a little heads up on where to find them at the Disney Parks. Dole Whips are sold at Disneyland just outside the Enchanted Tiki Room at The Tiki Juice bar in Adventureland. You can purchase a Dole Whip at Aloha Isle in the Magic Kingdom. It is located in Adventureland next to the Magic Carpets of Aladdin. If you happen to be heading to Aulani, A Disney Resort and Spa in Hawaii, you can relax by the oceanside pool and enjoy a Dole Whip from the Lava Shack. I can't think of anything I'd rather do.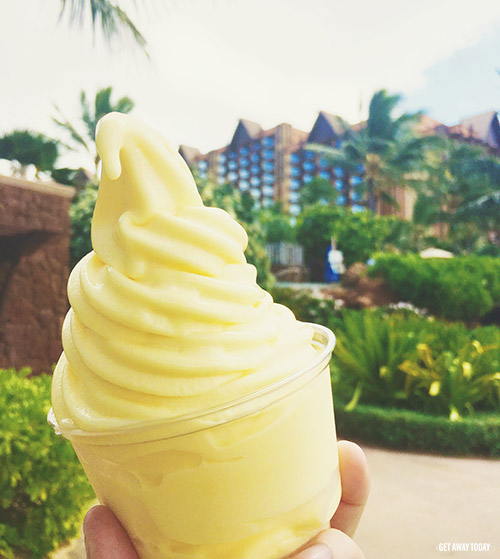 Book any of our
Disneyland packages
online or by giving our agents a call at 855-GET-AWAY. Then sip on your homemade Dole Whip and get excited, because you'll be comparing it to the real thing soon!