San Diego has so much to offer year-round that it doesn't really need anything extra to make it a top vacation destination. However, with that said, San Diego almost always has something extra going on making it that much more appealing to vacationers. As your
San Diego vacation
experts, we thought we'd share just some of the exciting events and festivities taking place at one of our favorite places:
June 2: Rock 'n' Roll Marathon
San Diego's Rock 'n' Roll Marathon is unlike any other. Runners start at Balboa Park, then wind through 26.2 miles of San Diego waterfront and landmarks lined with cheer squads and live music before ending with a huge concert celebration outside of SeaWorld.
Photo credit: blog.sandiego.org

June 2 - Sept. 29: Old Globe Theatre's Summer Shakespeare Festival
Each summer theatre aficionados flock to San Diego to attend shows written by Shakespeare and other playwrights. This summer's festival will present The Merchant of Venice, Rosencrantz and Guildenstern are Dead, A Midsummer Night's Dream, The Rainmaker and Double Indemnity.
June 22 - 23: La Jolla Festival of the Arts and Food Faire
Nearly 200 artist exhibits, live music and delicious foods take over the University of California's San Diego campus located in La Jolla. For two fun-filled days in June, you'll see, hear, smell and taste some of the best Southern California has to offer.
July 17 - Sept. 4: Del Mar Racing Season
Visitors and locals head to the track during the Del Mar Racing Season to watch some of the world's most beautiful thoroughbred horses race five days a week. The Del Mar Thoroughbred Club features exciting events throughout the entire season including a thrilling Opening Day, a Gourmet Food Truck Festival, the Wienerschnitzel Wiener Dog Nationals and the Summer Concert Series which features free live music every Friday after the races.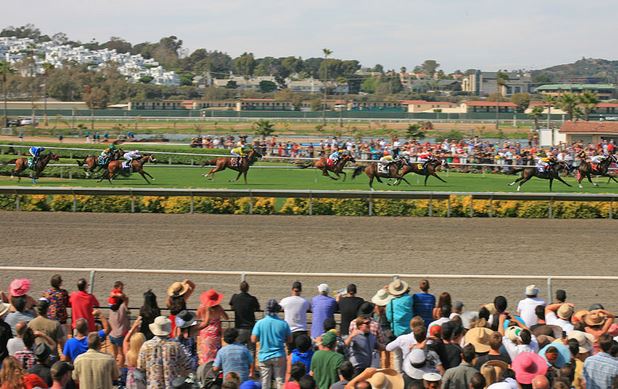 Photo credit: blog.sandiego.org
July 18 - 21: Comic-Con International
If you think San Diego is being invaded, you're probably visiting during Comic-Con. This once intimate convention has grown to one of the largest (if not the largest) convention the city sees all year. Fans of fantasy, sci-fi, comic book super heroes and beyond converge upon San Diego for four days of film festivals, games, parties, exhibits, celebrity meet-n-greets, screenings, panels and more. If you're planning on visiting San Diego during these dates, be aware you may run into anyone from Darth Vader to Thor roaming the streets. Also, Comic-Con always sells out and that means hotel rooms go quickly. If you're planning a trip to San Diego during these dates and haven't secured your room yet, you'll want to do it now!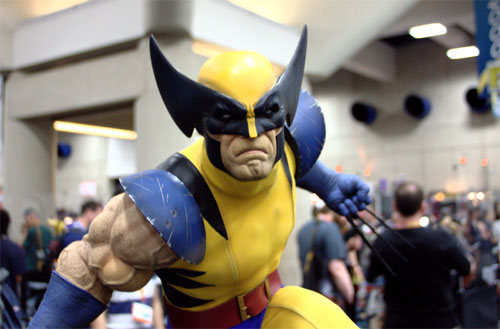 Photo credit: blog.sandiego.org

Aug. 30 - Sept. 2: Festival of Sail
The largest tall ship festival on the west coast sails into San Diego over Labor Day Weekend. Here you'll have the opportunity to watch a cannon battle, take a pirate bay cruise, and visit over 100 arts and crafts vendors all along San Diego's Embarcadero.
Sept. - Mid-Oct.: Annual Julian Fall Apple Harvest
It's all apples, apples, apples at the Julian Fall Apple Harvest. This charming town tucked away in the mountains just 45 minutes northeast of San Diego pays homage to its apple's namesake with a whole season of fresh apple pies and cider. The Apple Days Festival taking place October 5 and 6 offers more fun with displays, music and dancing, games, demonstrations and more.
October: San Diego Kids Free Month!
October is a very special month in San Diego - it's the month where kids get in free to San Diego's most popular attractions and museums (like the San Diego Zoo and Safari Park to name a couple), plus get special kids free offers at restaurants! Specific Kids Free Specials are normally released closer to the fall, but you'll want to book your hotel for October now. The best rates (like our free night specials) tend to go quickly. Just know that Kids Free Month makes October the most affordable time to visit San Diego and you won't regret booking early.
Oct. 4 - 6: MCAS Miramar Air Show
The best pilots in the world land in San Diego at the award-winning, world-class air show held annually at the Marine Corps Air Station. Here spectators are awed by the famous Blue Angels in flight and can explore over 100 planes on display on the runway. It's an experience you won't soon forget.
Photo credit: blog.sandiego.org
Nov. 20 - 24: San Diego Bay Wine & Food Festival
The region's largest food and wine festival can be found throughout Downtown San Diego for the 10th year in a row. Over 200 wineries, breweries and spirits and 70 of San Diego's top chefs and restaurants will be presenting the best of the best. Special dining events, tasting events, cooking demonstrations, live music and celebrity chef cookbook signings are some of the offerings available at this true foodie festival.
Dec. 6 - 7: Balboa Park December Nights
The Balboa Park December Nights Festival is one of the most festive ways to kick-off the holiday season. Sparkling garlands and twinkling lights flood Balboa Park and for two nights only, the park museums offer free admission from 5-9pm. The International Cottages of the House of the Pacific Relations serve holiday specialties from around the globe and holiday music can be heard at every turn.
Of course, this only is a sampling of what San Diego has to offer. San Diego is beautiful and comfortable year-round, but we hope this glimpse into some of the seasonal events will give you an idea of when you'd like to go. Whenever you decide to take your
San Diego vacation
, Get Away Today would love to help! Book online, or feel free to call any of our reservation specialists at 855-GET-AWAY.

Check out these other great blog articles:
San Diego Day at Get Away Today
Some of our Favorite San Diego Hotels
Top 10 Things to Do in San Diego
(as seen on Or So She Says)