UPDATED MARCH 2019 Our Star Wars Vacation Announcement with a free printable map will make your Disney vacation surprise out of this world. Let your family find out the fun way that you're going to experience
Star Wars Land Disneyland
, which opens May 31, 2019, in person on a Disney vacation. In fact, make the announcement Christmas morning as a gift to your family for an extra memorable day.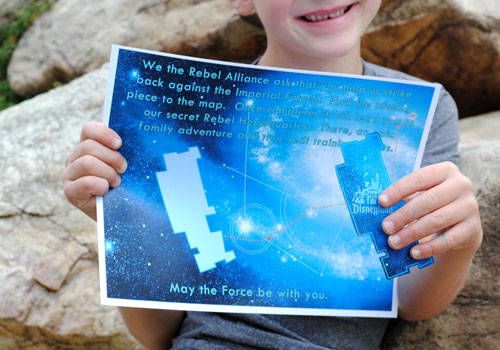 When you wish upon a star, chances are you are wishing for a Disney vacation! Now that Disney is creating an entire land dedicated to Star Wars in both Disneyland and Disney World, you can even wish upon the Death Star and expect a little bit of magic to happen. The Star Wars saga continues in theaters this winter with Rogue One, where we'll see rebels fighting evil and playing their odds against the dark Imperial Forces. Their secret mission is to steal the plans to the powerful and deadly Death Star. It is bound to be an exciting adventure!
Give your family their own rebel mission to complete with this fun Star Wars Vacation Announcement. Without the help of a trusty droid, your kids will have to find the missing piece to a galaxy map that will lead them to an epic vacation destination. It is well known that Disney has the best coordinates in the galaxy. I hope your little Jedi trainees enjoy their secret rebel mission and are excited to find that their Star Wars Vacation Announcement map leads them to the Happiest Place on Earth!
This Star Wars Vacation Announcement is so easy to use. Print the two parts to the free printable here: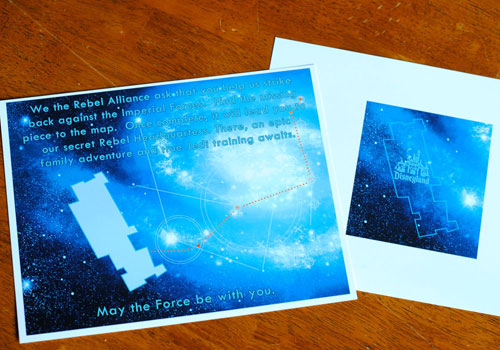 The rebel mission page should be printed on cardstock using color ink. You do not need to alter it in any way. The second printable has the missing piece to the Star Wars galaxy map. Print it on cardstock as well. You will need to cut the "missing piece" out by following the bright blue outline.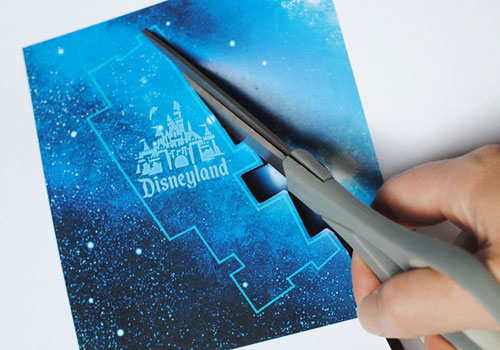 Once it has been cut, the fun begins. You can see that the cut piece fits in the shaded area on the rebel mission map.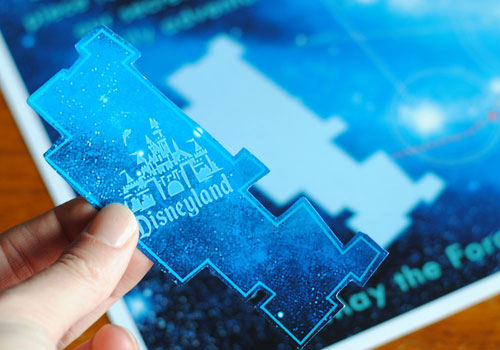 Hide the Disney map piece and then give the rebel mission paper to your children. Read the mission commands together.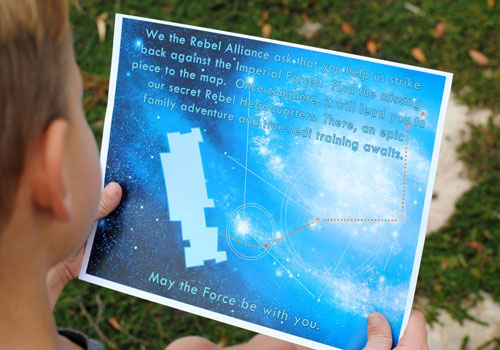 Your little Jedis will have to use the Force to find it! You can play "hot and cold" or give them clues to help them on their mission. Make it an adventure! Once the Disney vacation part of the map is found, the Star Wars Vacation announcement will be made!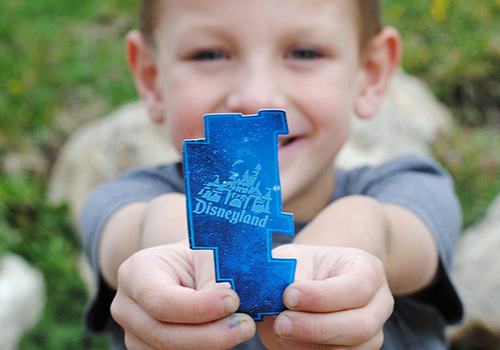 Let your kids attach the missing piece to make the galaxy coordinates complete. You can hang the completed mission paper up on your fridge or anywhere your family will regularly see it to keep them excited about your upcoming Disney vacation.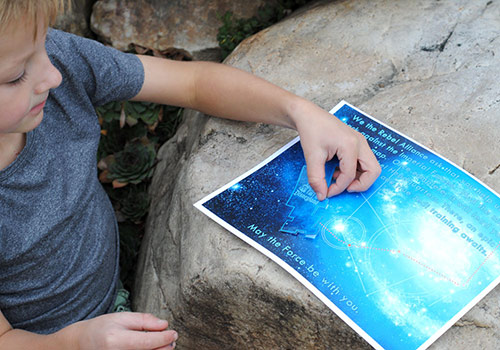 While you plan your Star Wars vacation announcement at Disney, be sure to look into the unique Jedi Training that is offered to little Jedis between the ages of 4 and 12 years old. Participants get the chance to learn how to properly wield a lightsaber and are taught how to utilize the Force. The Tomorrowland Terrace Stage is transformed into a Jedi Temple for the special training session. The show takes an exciting turn when the trainees are forced to put their new found skills to the test against Darth Vader, Darth Maul and the Seventh Sister Inquisitor! Find out how your kids can be part of the show in our article,
How to be chosen for Jedi Training: Trials of the Temple
.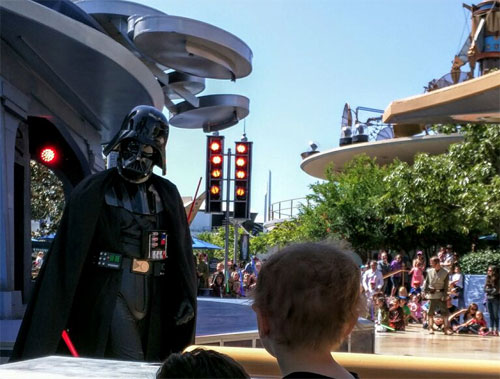 My family was able to watch the show when we were at Disneyland a few weeks ago. My kids were literally on the edge of their seats when Darth Vader suddenly appeared on the stage through a puff of smoke. He knows how to make an entrance! It is fun to watch and even more fun to be a part of the action!
Of course, you can always blast off on Star Tours. With nearly 50 possible combinations, you're almost guaranteed a different experience each time you ride. Also, Hyperspace Mountain returned today after a temporary Halloween makeover. You can meet some of your favorite Star Wars characters at the Star Wars Launch Bay and find specialty Star Wars food items throughout Tomorrowland. There's never any guarantee how long these immersive Star Wars experiences will be around, so we recommend booking your vacation at light speed!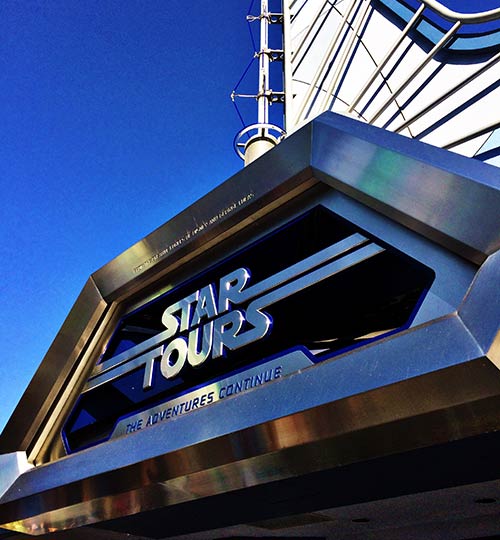 I hope you have fun revealing your Disney vacation with this fun and easy Star Wars vacation announcement. Be sure to book any of our
Disneyland packages
online or call our Disney experts at 855-GET-AWAY.

Check out more vacation gift giving ideas: