Universal Studios Hollywood is the perfect place to kick off a week in Southern California and that's exactly where our team started! This past Sunday marked the first day of our annual familiarization - or FAM - for short trip. While the FAM trip is always fun for us, it's also fun to you. This year promises to be our biggest yet with over 40 giveaways!
Each day between now and October 28, 2017, we'll be giving away a number of 2-night hotel stays, theme park tickets and merchandise. You can enter as many of the giveaways as you wish. Enter one, or enter them all! Either way, be sure to follow along all week.
In addition to our giveaways, we're experiencing our favorite hotels and attractions firsthand. That means gaining lots of updated knowledge to share with you when we return. We're sharing live footage on our Instagram stories and regular live videos on our Facebook page as well. And then, when the day is done, we'll update our blog with a full recap of the day (or days if it's the weekend) before.
With that said, here's a recap of our first day of the 2017 FAM Trip. Enjoy!
On Sunday, our team started the day bright and early flying into Long Beach. This is one of our favorite airports. Not only is it close to Disneyland, but it's so easy to get in and out of. Car rentals and shuttle pick-ups (Karmel Shuttle is our favorite - read more about it here) are on-site. There are hardly ever long security lines, and they have great food and beverage options.
From there our team headed up to Universal Studios Hollywood. We LOVE this theme park. It's hard to say what we loved the very most, but the Wizarding World of Harry Potter was at the top of that list. It's magical any time of year, but the warm Butterbeer and Pumpkin Pasties are extra magical this fall. Because we visited on a warmer day, we mostly opted for the frozen Butterbeer and sparking pumpkin juice. Both were huge hits.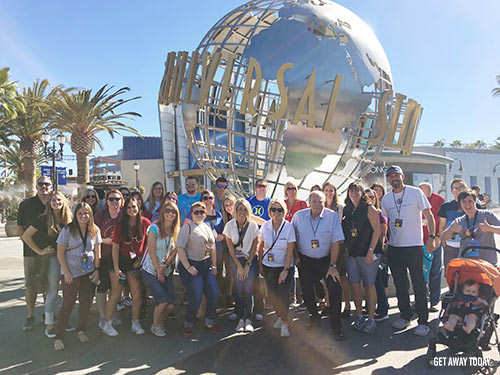 If you are thinking of visiting Universal Studios Hollywood, you should make this your first stop of the day. See if a wand chooses you at Ollivanders, climb aboard Flight of the Hippogriff and wander through Hogwarts before experiencing Harry Potter and the Forbidden Journey. You'll also want to sample some of the sweets from Honeydukes and buy a novelty item or two at Zonko's Joke Shop.
The Studio Tour was incredible as always, and all of our staff had a blast. If you haven't experienced the Studio Tour before, you are missing out! The attraction takes you through actual movie sets and can include a celebrity sighting or two. Plus, you'll get an up-close look at the worlds of King Kong and Fast & Furious.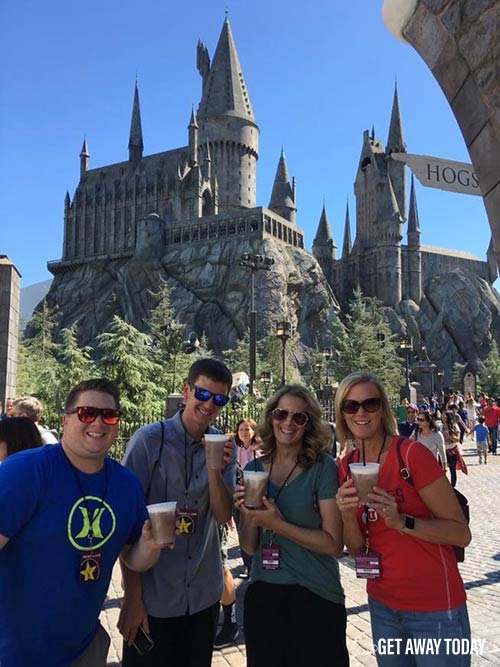 In addition to the Wizarding World of Harry Potter and Studio, our staff had a blast on the lower lot. We got to experience Revenge of the Mummy, Transformers The Ride, Jurassic Park The Ride, and even came face to face with the most realistic raptor we have ever seen! If you can't tell from what we were able to get done, we all loved having our Front of the Line passes. Not only were we able to Ride all of the attractions, we had preferred seating at the shows. Between our staff, we were able to watch Water World, the Special Effects Show and Animal Actors. We are always blown away by the shows at Universal Studios Hollywood.
After a full day of fun at Universal Studios Hollywood, we took our bus down to Anaheim to begin our Disney fun. But more on that in tomorrow's article.
We also announced some pretty incredible giveaways. If you missed them on our Facebook or Instagram pages, you can find them here:
Universal Studios Minion Prize Pack
2-night stay at the Hyatt House Anaheim
2-night stay a time the Residence Inn Anaheim Convention Center
2-night stay at the Springhill Suites Anaheim Resort Convention Center
2-night stay at the Portofino Inn & Suites
We hope you had fun learning about our adventures so far. And even more so, we hope you enter and win one of our giveaways. Be sure to follow along on our Facebook page as the giveaways go live. Follow our Instastories for live updates on each day's activities and so much more!
And if you are thinking of planning your trip to Disneyland, this is a great week. You can book online and save an extra $20 on any 2-night or longer Southern California vacation package. Just use promo code: FAM2017 when you book by October 29, 2017.