No matter when you head to San Diego in 2018, there's something fun happening! Check out our guide to all the excitement and adventure you can find in San Diego in 2018.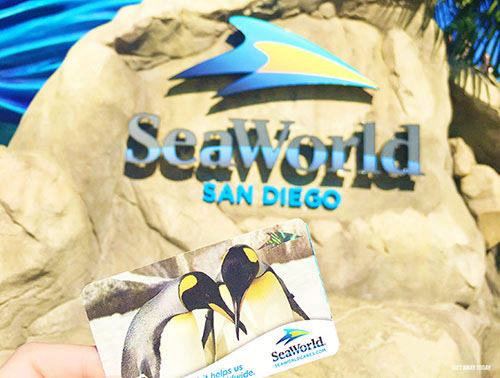 San Diego is a very popular vacation destination, and for good reason. Whether you're visiting with your family, friends or as a couple, we know you'll enjoy your getaway to sunny San Diego. If you're just beginning to plan your trip to San Diego in 2018, you may be wondering when you should go. Well, that depends on two things: when you CAN go and what you want to see. There's never a bad time to go to the warm sunshine county, but you may want to plan your trip around certain events.
To help, we've put together a guide of everything you can find happening in San Diego in 2018. We know there will likely be more events announced as the year goes on, so make sure to check back – we'll update this with any new San Diego happenings you won't want to miss. Now, get your calendar out and get ready to plan your trip to San Diego in 2018!
Spring Happenings at San Diego in 2018
March 1st – May 13th: Carlsbad Flower Fields. Said to be one of Mother Nature's most beautiful displays, the Flower Fields at Carlsbad are always a popular stop in the spring. You'll see more than fifty acres of gorgeous flowers in bloom when you visit the rolling hills between March and May. For more information on the stunning spectacular, visit the Flower Fields website.
March 10th – April 15th: Butterfly Jungle at San Diego Zoo Safari Park. One of the best indicators that spring has arrived has to be the abundance of butterflies. When you visit San Diego Zoo Safari Park this spring, you'll be able to experience the Butterfly Jungle, an annual springtime event celebrating the fluttering beauties. From March 10th through April 15th, your San Diego Zoo Safari Park ticket includes admission into the large rain forest greenhouse, where hundreds of butterflies roam freely. It's a sight to behold!
Spring 2018: Sea at Night in LEGOLAND California's SEA LIFE Aquarium. For the first spring ever, you can visit SEA LIFE Aquarium's brand-new exhibit: Sea at Night. Sea at Night lets guests move about a virtual bioluminescent tide under the night stars. You don't even have to wait for the sun to set, since this virtual exhibit can be experienced at any time of day during LEGOLAND California's operating hours.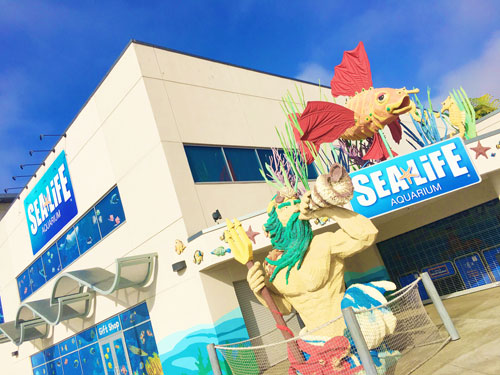 March 16th – 18th: NCAA Men's Basketball 1st and 2nd Rounds. Want to be there to cheer your favorite team on into the next round during March Madness? Then make sure to plan your 2018 San Diego trip over the third weekend in March, when the first and second rounds of the event will be happening at the Viejas Arena. Make sure to purchase your tickets in advance if you're planning on attending this popular event.
March 17th – April 15th: SeaWorld San Diego's Seven Seas Food Festival. The annual celebration is returning, with even more cuisine and entertainment to delight guests. On top of the gourmet offerings and live musical performances, you'll also enjoy craft beers and wines, as well as a focus on international street food traditions. New for 2018, SeaWorld is focusing on daring flavors from around the world. Have the courage to try some of the most exotic ingredients found? Then stop by the Seven Seas Food Festival at SeaWorld San Diego in 2018.
April 17th – May 6th: Del Mar National Horse Show. If you love all things equestrian, you'll want to head to San Diego this spring. That's because the annual Del Mar National Horse Show is held at the Del Mar Fairgrounds between April 17th and May 6th. The event hosts more than 1,500 horses, each trying to strut their best stuff and win the competition for Western, Dressage or Hunter/Jumper. For more information, and tickets, click here.
April 27th: LEGOLAND Castle Hotel Grand Opening. Do your little ones dream of staying in a castle? Maybe even a LEGO castle? If they do, this might be the most exciting thing happening in San Diego in 2018 for you. The LEGOLAND California Resort will be debuting their brand-new hotel on April 27th and it just happens to be modeled after a giant LEGO castle. Knights, princesses, wizards and even dragons are welcome to stay in this medieval abode for their next LEGOLAND vacation. Keep an eye out on our social media for more information – we'll make sure to update as soon as we have these rooms available at our discounted rates.
May 5th: New Sesame Street Party Parade at SeaWorld. This is another 2018 San Diego event perfect for families with younger children! A new Sesame Street parade will be debuting at SeaWorld on May 5th. Performances will happen every weekend throughout May and June, making it a great time for families to visit sunny San Diego.
May 28th: Memorial Day. While crowds may be larger during Memorial Day weekend in San Diego, there are plenty events that make it worthwhile. You can see a Fireworks Spectacular Show at SeaWorld, honor our heroes at the USS Midway Museum or even visit one of the multiple parades or rodeos happening throughout San Diego.
Summer Happenings at San Diego in 2018
June 1st – June 24th: Mainly Mozart Festival. Like we mentioned, there really is something for everyone in San Diego. If you or any of your traveling companions are classical musical fans, you might want to consider visiting during the Mainly Mozart Festival at Balboa Theatre. This year is the third year the event has taken place and is part of a six-year exploration of Mozart's life. For more information and tickets, visit the Mainly Mozart website.
June 2nd, 3rd, 9th & 10th: LEGO Star Wars Days. Dun dun dun dun dun, dun dun dun dun. If that music has your heart racing and your mind ready for an adventure, you definitely want to visit San Diego during the LEGO Star Wars Days. For the second year, LEGOLAND California will be holding a celebration of all things Star Wars. While we're still waiting for information, you can be sure there will be galactic activities and awesome appearances that everyone will enjoy.
June 16th – September 3rd: SeaWorld's Electric Ocean and Electric Eel debut. SeaWorld San Diego knows how to have fun, evident in their Electric Ocean nighttime celebration. On select nights throughout the summer, you can be amazed with eight electrifying experiences, including two shows and a hopping dance club. This is the perfect start to the summer at SeaWorld, especially since the park will be debuting their new rollercoaster, the Electric Eel. No official opening date has been released, but we can't wait to ride what will be the tallest and fastest ride in California park history!
Summer 2018: San Diego Zoo Safari Park Walkabout Australia. The San Diego Zoo Safari Park will also be debuting a new attraction this summer. The new land will be called Walkabout Australia and gives the guests an opportunity to literally walkabout their favorite Australian animals. Kangaroos, wombats, kookaburras and cassowaries are just a few of the enchanting creatures you'll be able to meet. It's a wild time to visit San Diego in 2018!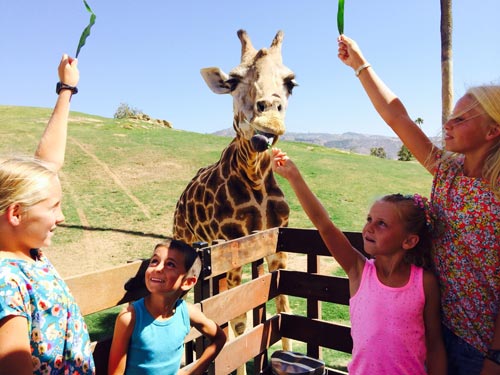 Summer 2018: LEGOLAND California LEGO CITY: Deep Sea Adventure. The new submarine ride is set to open in LEGOLAND this summer and we can't wait! The project is said to be the largest investment LEGOLAND has ever taken on, which promises a great attraction. When it opens, you'll be able to board a real submarine that will submerge to reveal an underwater adventure unlike any other. Make sure to check back, as we'll update as soon as we have the official opening date.
4th of July. Ready for a trip full of dazzling firework displays and all the fun you can imagine? You'll want to visit over 4th of July on your 2018 San Diego trip then. Both SeaWorld and LEGOLAND hold firework shows for the big night. Plus, there are an array of festivals and even more firework shows held throughout San Diego. We can't think of anywhere better to spend your 4th of July than on a beach or at a park in San Diego!
Fall Happenings at San Diego in 2018
September 22nd – October 28th. Halloween Spooktacular at SeaWorld San Diego. Visit SeaWorld San Diego in the fall for the chance to celebrate some not-so-spooky Halloween fun. Silly shows, Halloween activities and even trick-or-treating will be available at the park throughout the event. Just remember to help SeaWorld protect the seas by bringing a reusable bag. If you don't have one or forget, you can purchase one for only 99 cents, while giving back to their conservation fund. That's one boo-tiful win-win!
October 1st – October 31st: Kids Free in San Diego. This is probably one of the most popular times for families with children to visit San Diego in 2018. Why? Because kids can get in free to most major San Diego museums and attractions during the month of October. While it hasn't quite been announced for 2018, we would be surprised if San Diego stopped this popular event.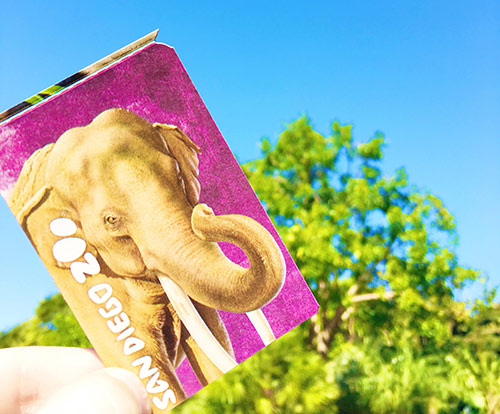 September 29th, October 6th, 13th, 20th & 27th: Brick-or-Treat Party Nights at LEGOLAND. Ever wanted to explore LEGOLAND California after dark? Then fall of San Diego 2018 is your chance! LEGOLAND offers Brick-or-Treat Party Nights on select nights during the fall. You'll need to purchase a separate ticket for the event, but it includes exclusive entertainment, meet-n-greets, costume contests, trick-or-treating and even more. This is one Halloween party your entire family will be raving about!
Winter Happenings at San Diego in 2018
November 17th – January 5th: Christmas Celebration at SeaWorld San Diego. The holidays at San Diego are a mesmerizing time to visit, especially if you go to SeaWorld. During their Christmas Celebration, you can meet Rudolph the Red-Nosed Reindeer and Santa Clause! The festive entertainment and giant Christmas tree are just icing on the cake of this wonderful time.
November 17th – January 1st: Holidays at LEGOLAND. LEGOLAND California also celebrates the holidays each winter, with live entertainment, Santa's elves, a LEGO Santa and the world's largest LEGO Christmas tree. The festivities even extend to the LEGOLAND Hotel, making it the perfect time to plan a LEGO-themed getaway.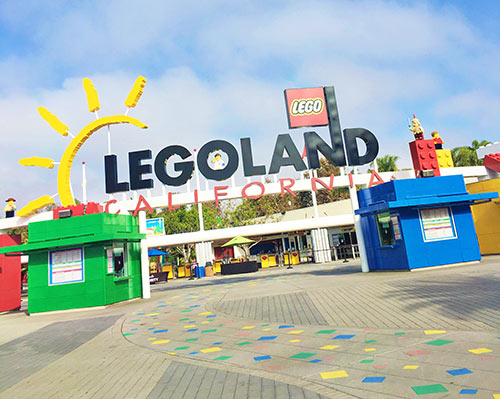 And more! Since we're still early in the year, it's likely even more San Diego fun will be announced. So make sure to check back as we'll continue to update the article with everything we think could be helpful when planning your trip to San Diego in 2018.
What are you most excited to do or see during your 2018 San Diego trip? Let us know in the comments below!
And don't forget, you'll get the best price and best service when you book with Get Away Today. From discount San Diego attraction tickets and reduced hotel rates to expert tips and tricks, we've got you covered. Start planning the best San Diego vacation ever right now – book online or give our agents a call at 855-GET-AWAY.

Check out more helpful articles for planning your 2018 Southern California vacation: