Search
Featured Posts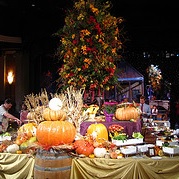 posted by Kimberly Fidler

Happy Thanksgiving from all of us at Get Away Today! Today we'll be accepting new reservations online and will have Customer Service available from 10 a.m.- 5 p.m. MST for guests who need assistance who are either currently on vacation or leaving for vacation within 72 hours.

On Friday we'll be available 8 a.m.-7 p.m. MST for Reservations and Customer Service and we'll be back to our regular weekend hours on Saturday (9 a.m. - 5 p.m.), November 26, 2011. As always, you can book your reservation anytime at www.getawaytoday.com.

This time of year we always reflect on the people and things we're thankful for. Here is a brief list of some of the things we're most thankful for:
YOU! We realize we wouldn't be who or where we are today with the support of our guests who trust us to make their vacation dreams come true. We thank you for your business over the last 21 years and appreciate the opportunity to be your travel experts. We also appreciate when you tell your family and friends about us!
Great employees. At Get Away Today we work together as a team and truly care about each other and every person we help in person, online, and over the phone. We hope it shows.
Incredible school and credit union partners who allow us to be part of their fund raising efforts. So far we've been able to donate over $2.7 million to benefit kids!
Amazing travel partners. We continually bring you the best prices and service on hotels, attractions, cruises, and more. We're able to do that because of the strong partnerships we've formed over the years. We couldn't offer the same service and low package prices without the support of our travel partners.
On behalf of everyone at Get Away Today, we wish you the Happiest of Thanksgivings! Show your family that you're thankful for them, by spending time with them on a vacation that is guaranteed to create memories that will last a lifetime.