Building a snowman is so much fun. Building a Snow Mickey is even better! But what to do if there's no snow? We came up with an all-weather Mickey Snowman treat for our friends in Arizona, California, Hawaii and all of those other areas that don't get regular snowfall.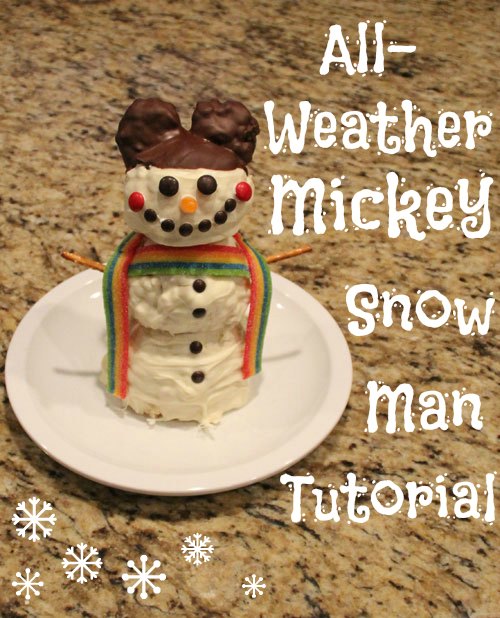 Here's what you'll need: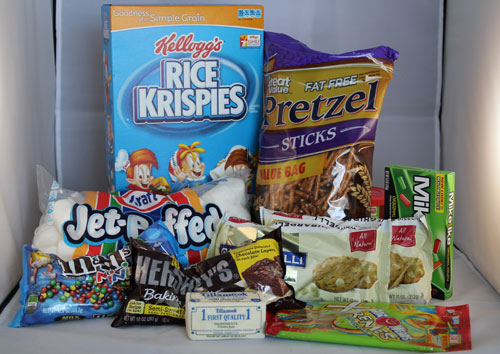 Rice Krispies Cereal (6 cups)
Regular Marshmallows (40)
Butter (3 Tbls)
Pam spray
M&M minis and regular size (brown and red)
Mike and Ikes (just one orange!)
Bright colored candy tape
Pretzel sticks
White chocolate chips
Dark or milk chocolate chips
Toothpicks

To start, you'll make your Rice Krispy Treats. I followed the original recipe exactly as it's been for years. I started by melting my butter and marshmallows on the stove.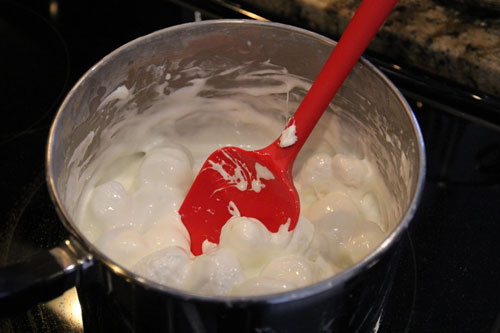 When it got melty enough, I poured the hot mixture over six cups of dry Rice Krispies and stirred it all together with a non-stick spatula.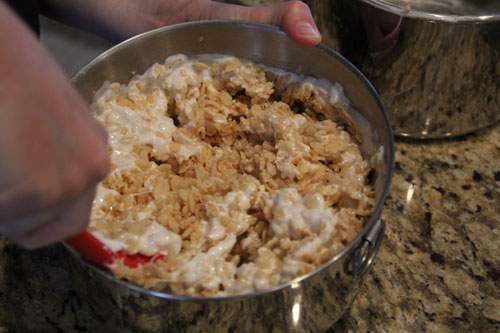 Next, I formed balls for the base of my snow Mickey. You'll want to spray your hands with cooking spray before touching the mixture because it is STICKY. It's also helpful to wait a minute or two for the marshmallow mixture to cool off a little bit.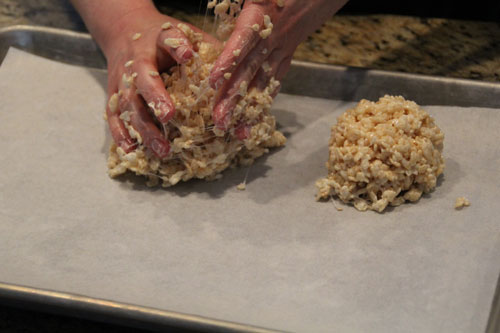 You'll want one large ball for the base, one medium ball for the middle, and one slightly smaller ball for the head. You'll also need two small-ish circles to use for your Mickey ears. You may need to use toothpicks to hold these in place. The largest ball should be flat on the bottom so it will stand up when you're done.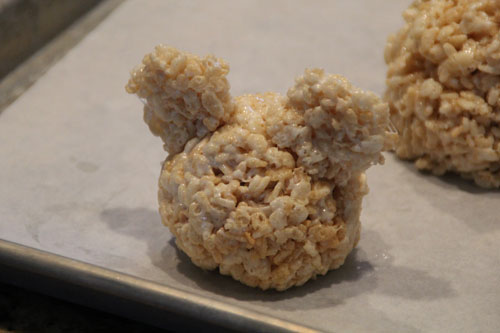 Once your balls are formed to your liking, you'll want to cool them down. If you have space in your fridge or freezer that will help speed the process. In the meantime, you will want to clean your bowls and pan from the marshmallow and butter mix immediately. Trust me, you'll be glad you're not dealing with the mess later.

Once you're done with your dishes, you can gather your candy decorations. You'll need to sort out one orange Mike and Ike for the carrot nose, approximately 10 brown M&M minis, two brown M&Ms, two red M&Ms and your candy tape.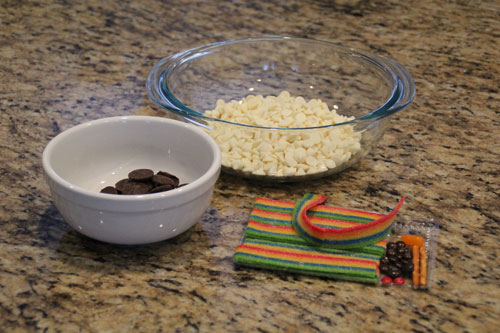 When everything is gathered and your rice crispy treats have cooled enough, you'll melt your white chocolate chips and dip the three balls. You can use a spoon to spread the white chocolate if you need to. Make it as smooth as possible. You can dip the Mickey ears, or leave them as is for dipping later.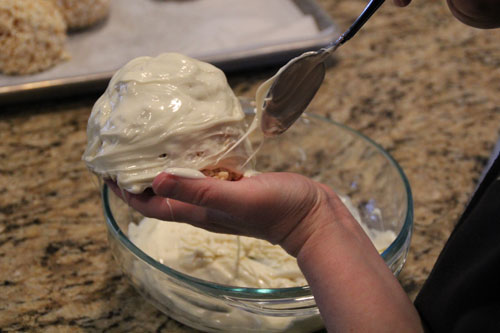 While waiting for your white chocolate "snow" to cool, you can attach the bottom cereal balls using toothpicks and begin decorating your body. Press four brown M&M minis into your snow man's body for the buttons and stick your pretzel sticks in to make snow man arms.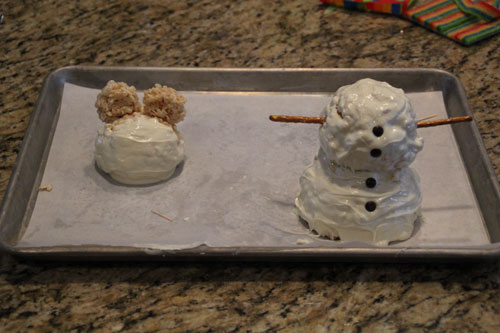 Once the white chocolate has cooled enough, you will melt your milk or dark chocolate chips and dip your Mickey ears.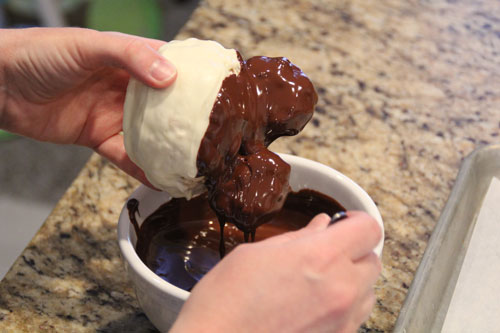 Now it's time to decorate your Mickey face. Use two regular, brown M&Ms for the eyes, six brown M&M minis for a mouth, two red M&Ms for cheeks and one orange Mike & Ike for a carrot nose. If your white chocolate is too hard, you can re-melt any left over white chocolate chips and use that to "glue" your candy. Since you'll probably have extra chocolate, you can dip your pretzel sticks if you want some extra treats!




Next you'll make your "scarf" by taking any type of tape candy. I used Airheads Extreme because that's what my grocery store had.The strips weren't as long as I needed, so I just pinched the ends together. The sugar was sticky enough that it worked like a charm.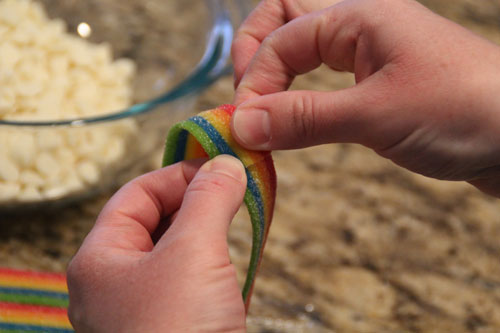 And finally, I added the scarf and attached Mickey's head to the body with some toothpicks. And there he is! The recipe I made one full Mickey and two good sized Rice Krispy Treat balls. You could tweak the sizes a little bit and make two full Mickeys (or a Minnie), or make one large Mickey. No matter what you decide, there is plenty of the tasty treat(s) to go around!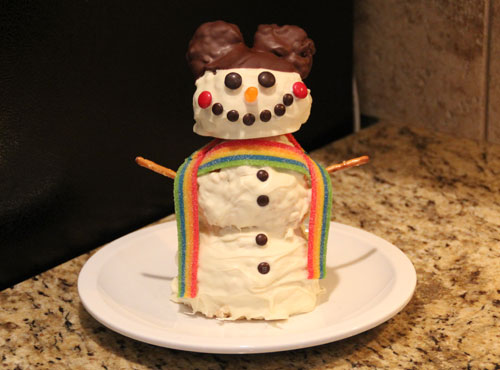 When you're done building your own Mickey Snow Man, you can start making memories by planning your Disneyland vacation! Let us help you build your perfect vacation package online or by calling our Disney Experts at 855-GET-AWAY.


Check out these other great articles:

Mickey Snowman Vacation Surprise
Do It Yourself Disney Savings Jar
Disneyland Vacation Countdown Chain