Make your own Cars Land Candy Corn Pie just like they serve at Flo's V8 Café in Disney California Adventure Park. These cute little Halloween Time pies are easy to make and oh-so-cute!
One of my favorite things about the Disneyland Resort is the festive food. For each season and event, Disney foodies create the most adorable themed eats and treats. I recently sampled some of the new desserts being served for Halloween Time. Cars Land was stocked with delicious offerings like Pumpkin Spice Churros, Pumpkin Spice Shakes, Spoke-y Cone Macarons and Candy Cone Pies. Doesn't that menu lineup just scream Halloween? It is so much fun!
The Cars Land Candy Cone Pies are served at Flo's V8 Cafe. Part of the draw to these little pies is the fact that they are tiny and adorable. I had no idea what size the pie was when I ordered it, so it was a bit of a shock when I received it. I will let you in on the secret in advance, so you are prepared...they are child sized. Do not plan on sharing it with anyone. And really, they are so creamy and tasty, you won't want to share anyway! My kids thought it was the cutest little pie on the planet. But, not so cute that they didn't eat every last bite. Sorry little pie!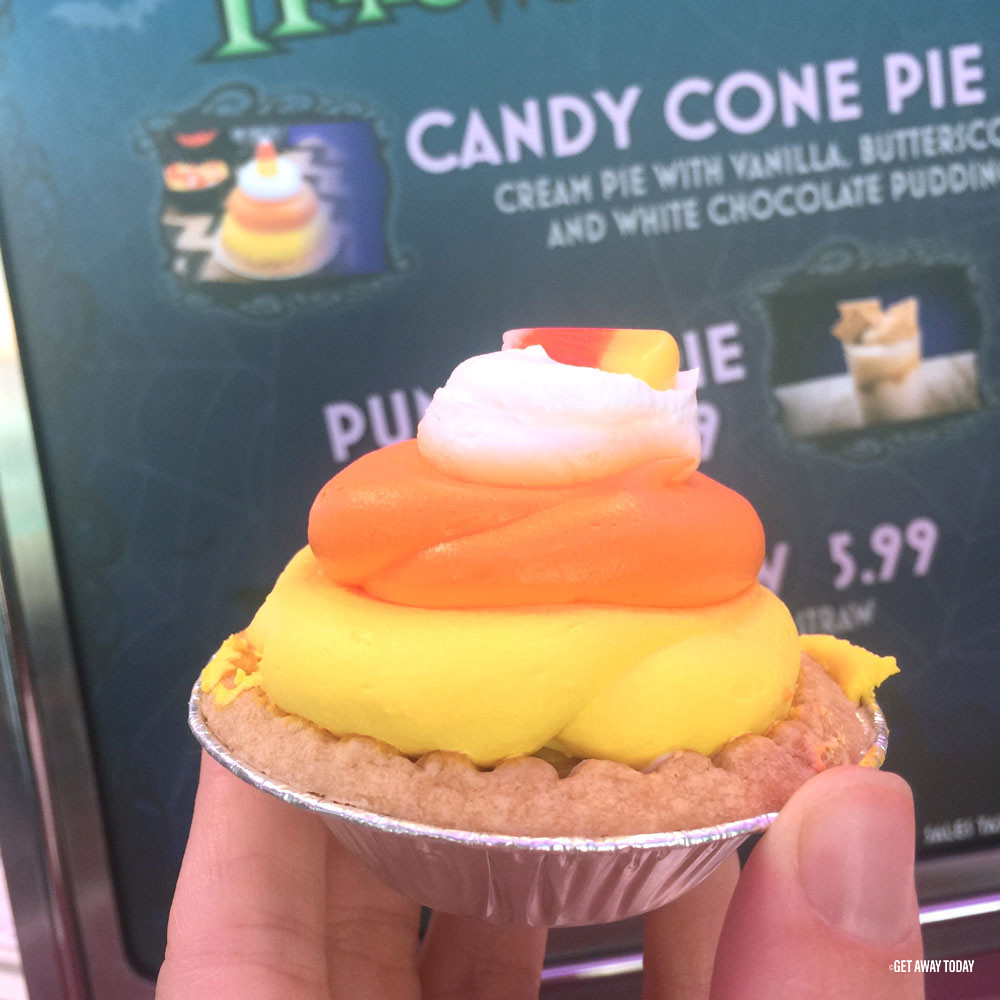 Whip up your own Cars Land Candy Cone Pie in a matter of minutes with just a few simple ingredients and a little bit of Disney magic. Wouldn't they be cute for a school party or a Halloween gathering with friends? Try it and it see!
This recipe incorporates all three layers of cream filling flavors, including butterscotch, vanilla, and white chocolate.
Copycat Cars Land Candy Cone Pie Recipe
Cars Land Candy Cone Pie Ingredients:
1 Package Butterscotch Instant Jello Pudding
1 Package White Chocolate Instant Jello Pudding
1 Package Vanilla Instant Jello Pudding
4 cups of Heavy Whipping Cream (substituted to replace the milk in the pudding recipe)
Orange Food Coloring
Yellow Food Coloring
Mini Graham Cracker Pie Crust
Candy Corn Candy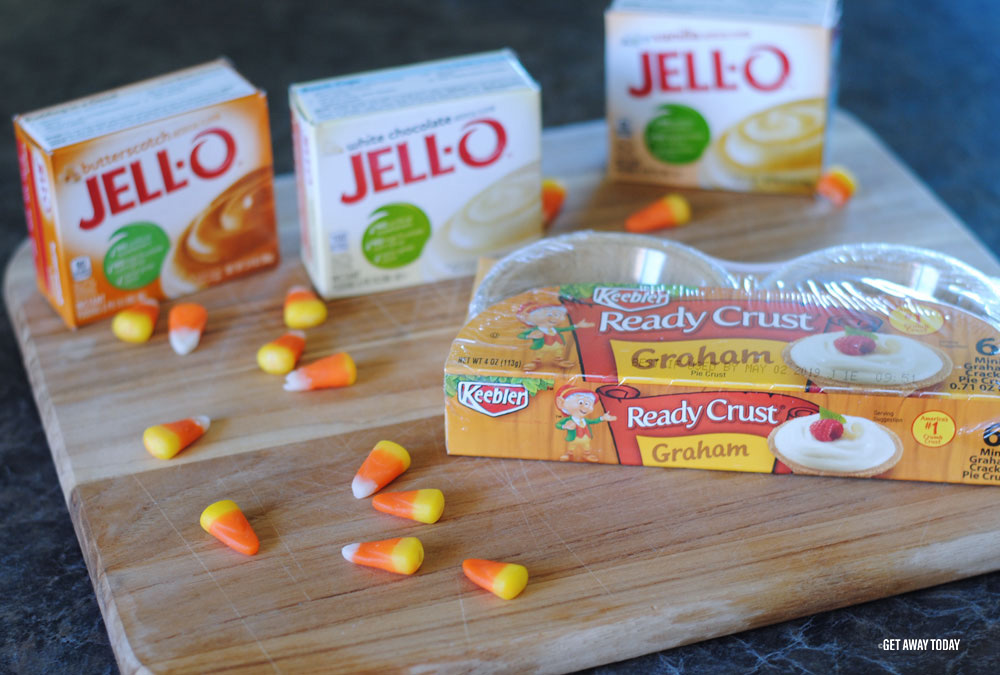 Cars Land Candy Cone Pie Instructions:
Open the mini pie crusts and set them out individually on the counter. The pack comes with six crusts.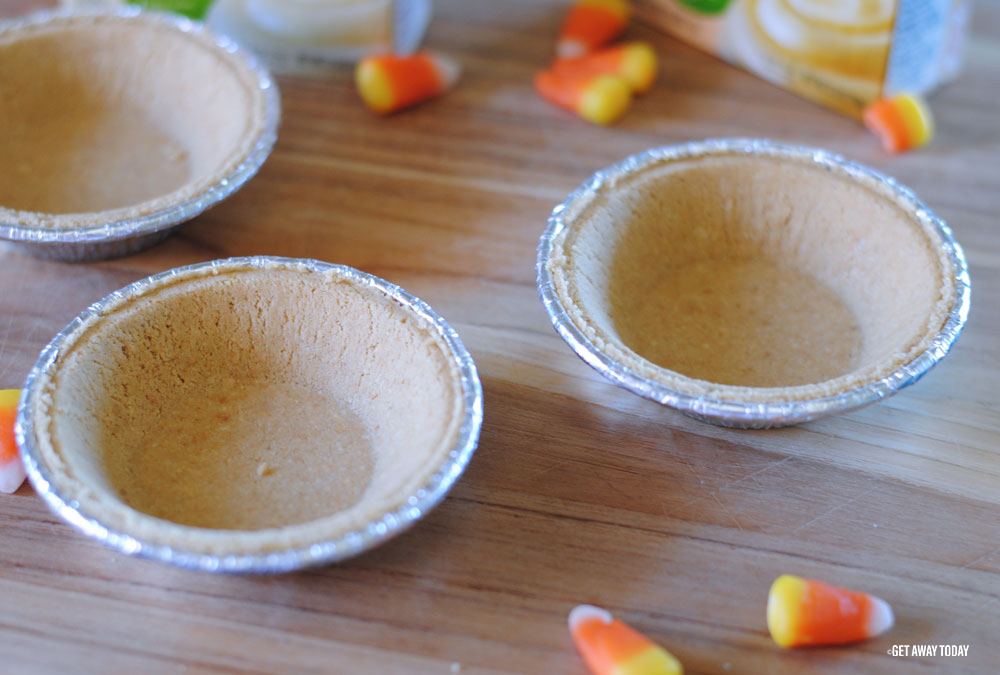 In a medium bowl add 2 cups of whipping cream, the package of vanilla instant pudding and about 1/8 tsp of yellow food coloring. You can choose how bright you want the pudding to be. I didn't add quite as much food coloring as the Disney bakers. I think you can start to taste the food coloring if you use too much and I didn't want it to overpower the taste of the pudding.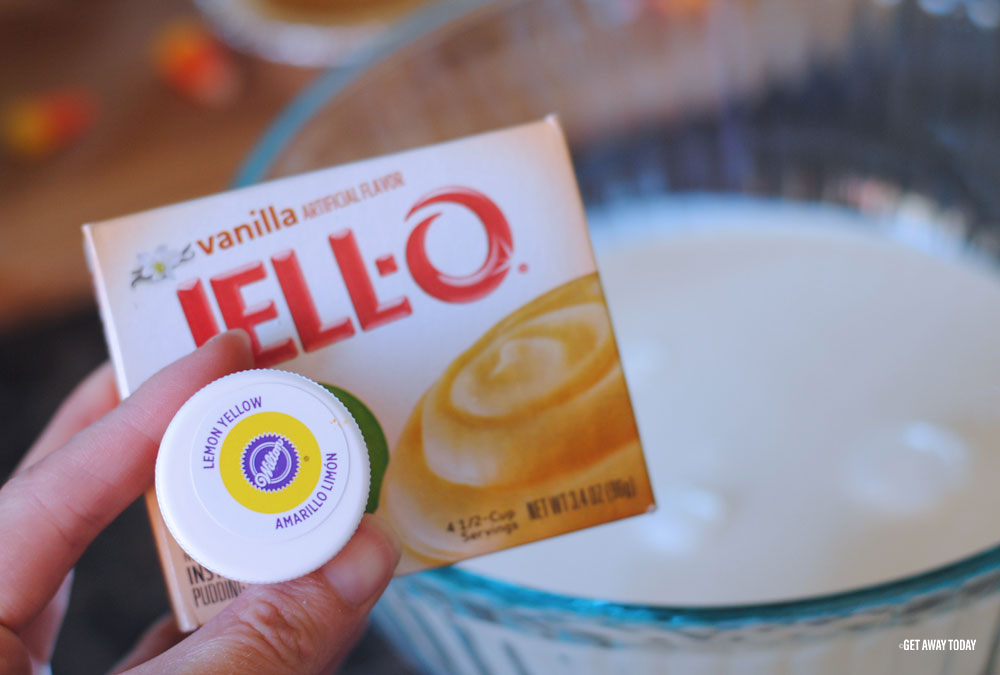 Mix it all together until the pudding is nice and firm. It should hold its form - kind of like frosting. But, don't make it into butter.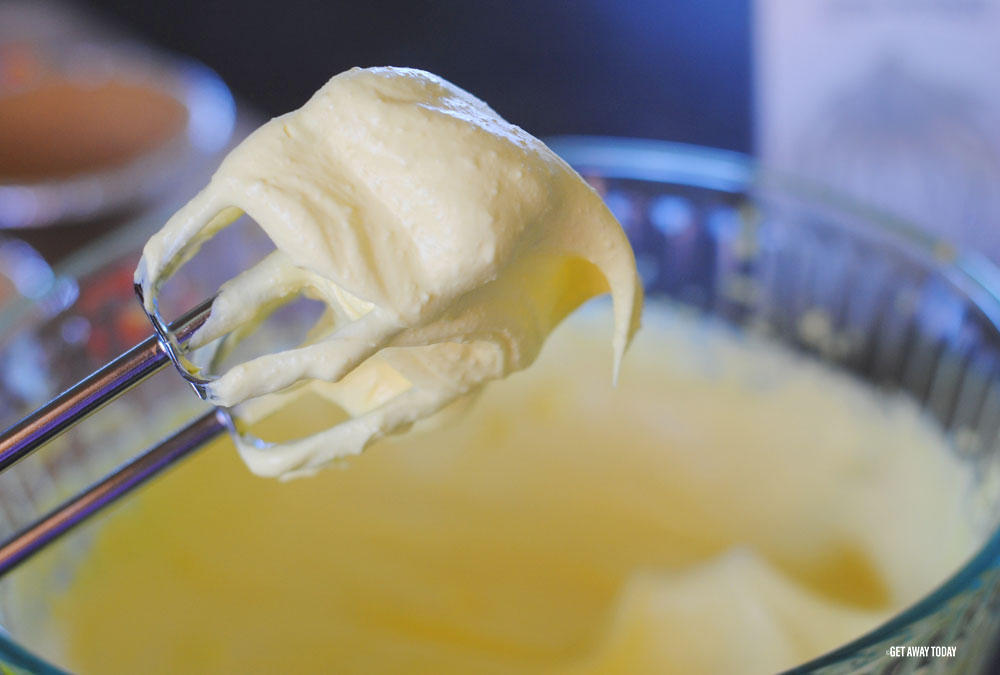 Fit a piping bag with a large round frosting tip. Scoop the filling into the bag.
Pipe the vanilla pudding into the little pie crusts. Use a large circular motion to fill the crust and continue to make a small mound above the top of the crust. You want to be able to see the yellow layer in the finished pie.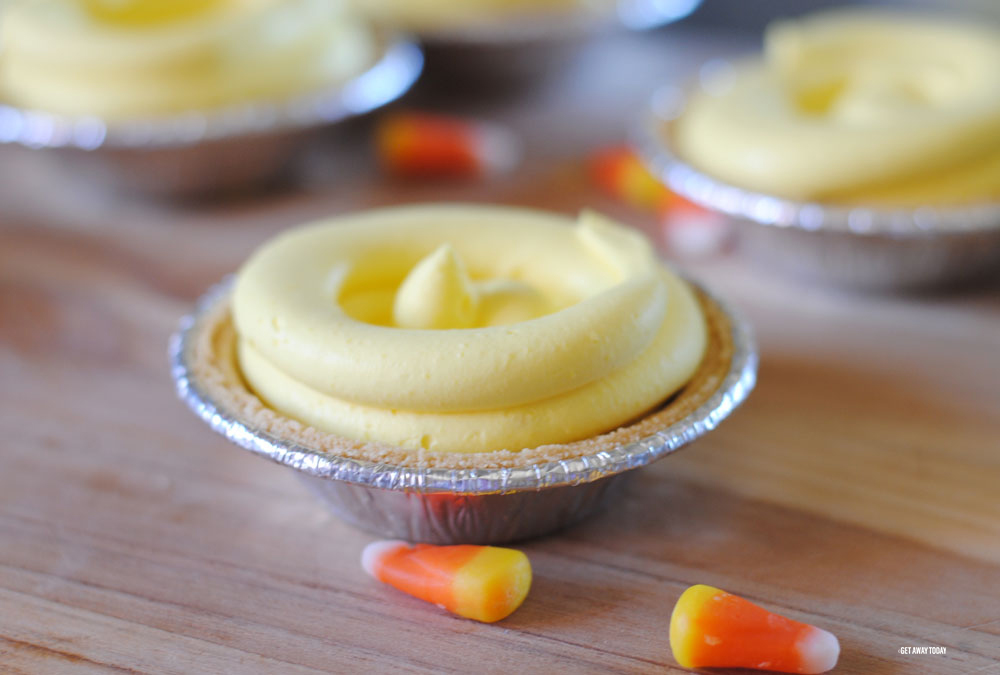 Make the orange layer next. Add half of the bag of butterscotch instant pudding to a bowl with one cup of whipped cream and about 1/8 tsp orange food dye. Or, a mix of red and yellow drops if you don't have orange.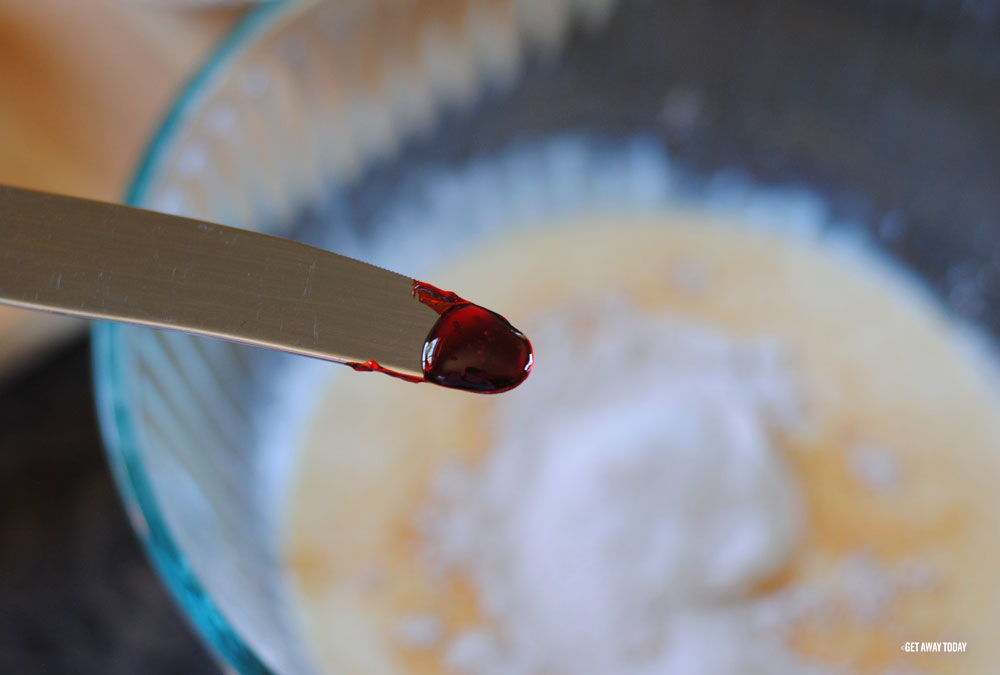 Mix them together with your beaters until they form a nice thick pudding.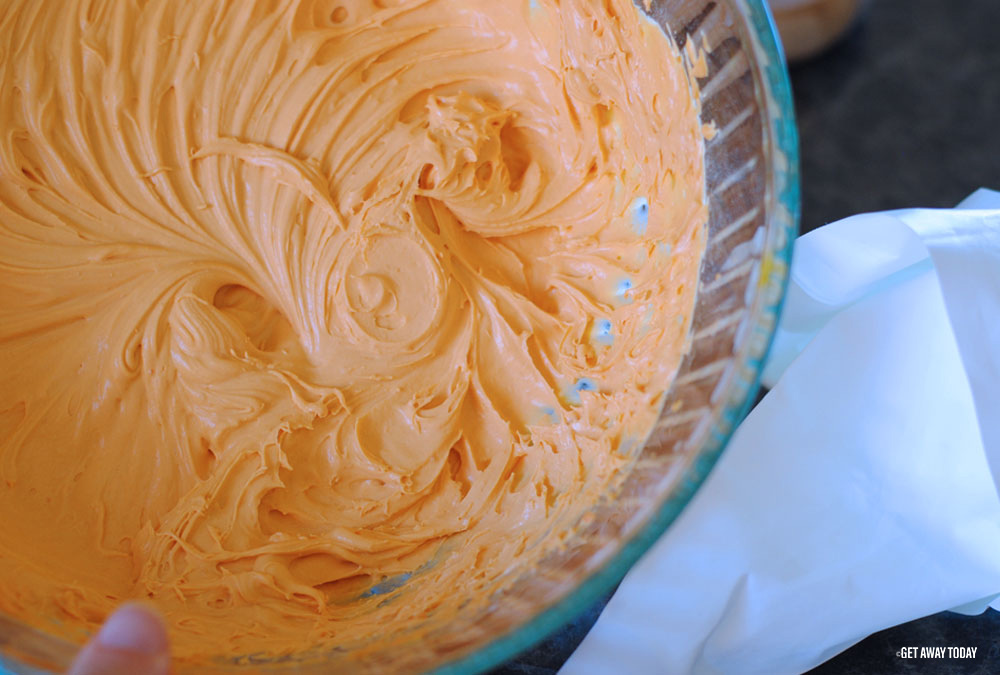 Pipe it onto the yellow pudding layer in the same fashion. It should hold its shape nicely.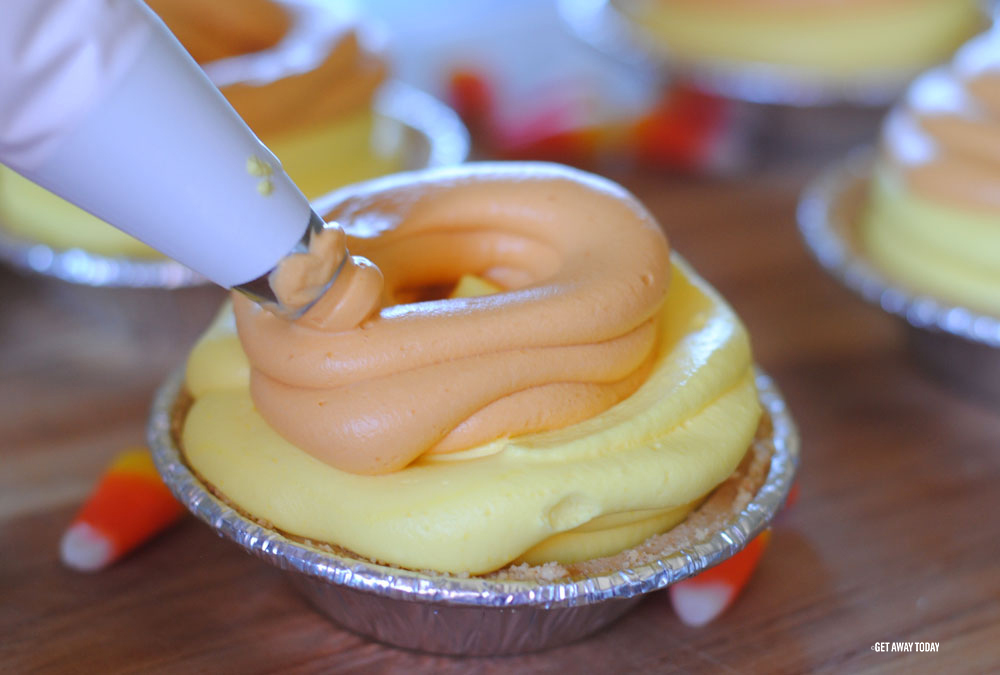 Make the white chocolate pudding by combining half of the white chocolate pudding mix and one cup of cream. No food coloring necessary for this layer! It should be nice and white.
Beat them until the pudding is firm. Put it into a piping bag and make the final layer of pudding on your Cars Land Candy Cone Pie! You want it to come to a nice little point at the top.
Place a single candy corn treat on the center. It is like the cherry on top of the milkshake.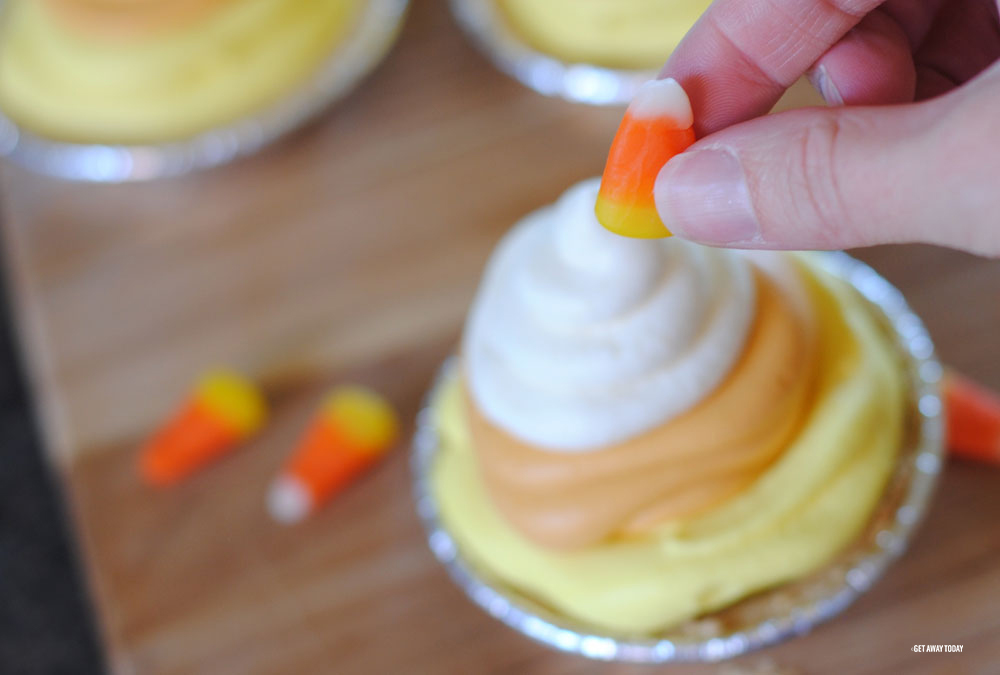 Aren't these Cars Land Candy Cone Pies just the cutest little thing that you ever did see?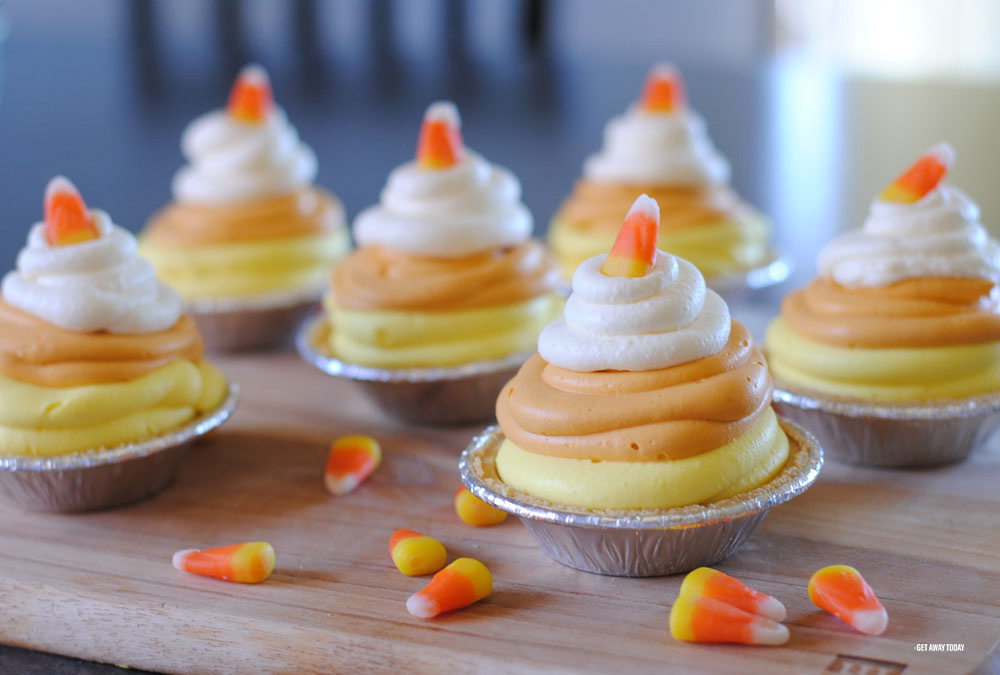 The three pudding flavors combine nicely. The whipped cream makes the pudding really rich and smooth like a mousse. I like the graham cracker crust too. It is my favorite. Savor it on a spoon and enjoy the magic of Halloween Time Disney at home!
What is your favorite Halloween Time treat that is served at the Disneyland Resort? There are so many great ones to choose between it is so hard to decide. The Cars Land Candy Cone Pie might win the award for the cutest, though. What do you think?
It's not too late to plan a spooktacular Halloween Time vacation to the Disneyland Resort! There are still plenty of hotels available this October and our exclusive discount Disneyland tickets will help you save even more. You'll want to scream – from excitement, not fright. Book any of our Disneyland packages online or give our agents a call at 855-GET-AWAY.