Make your own Disneyland Pumpkin Spice Shake with this easy recipe that is the perfect balance of pumpkin, spice and creamy vanilla. This copycat recipe is based on the delicious shake served during Halloween Time at Flo's V8 Café in Cars Land at Disney California Adventure Park.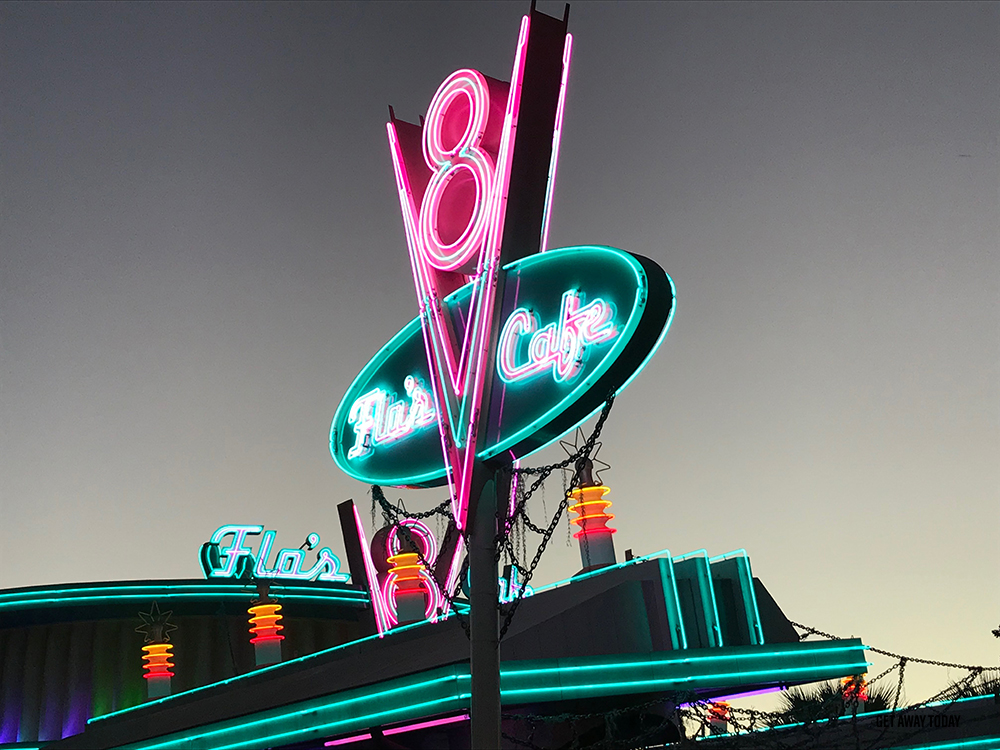 I think pumpkin might be my favorite season. We can call it a season, right? Pumpkin decorations, activities and (best of all) pumpkin food really define fall. It is seriously the best. And, like expected, Disneyland does it complete and total justice. Just when I thought I couldn't love anything more than the pumpkin spice churros from the Cozy Cone Motel, I recently discovered the Pumpkin Spice Shake at Flo's V8 Café. It has now topped the charts for my favorite pumpkin item at Disneyland. And maybe in the world. It is that good.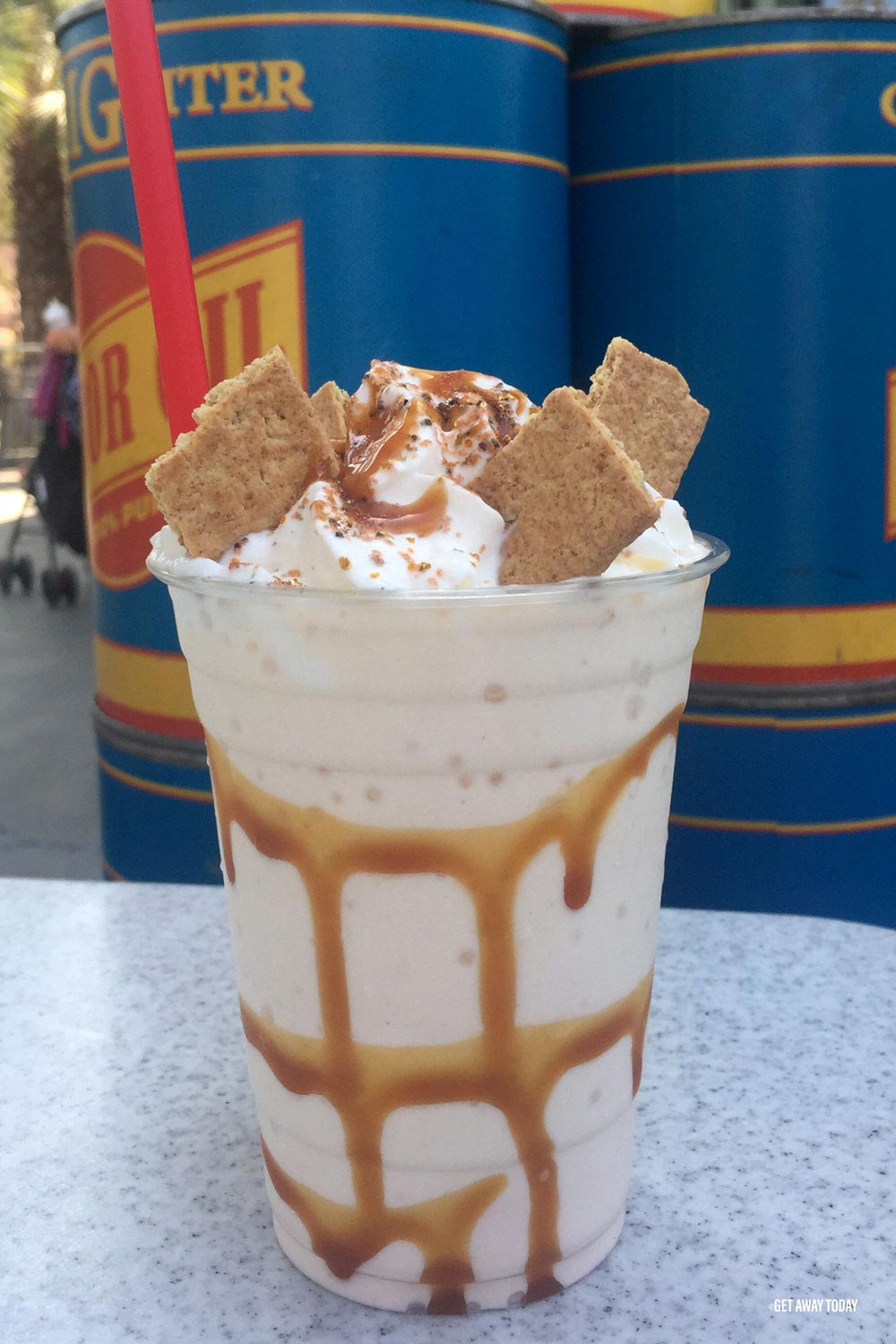 My family visited Cars Land on the opening day of Halloween Time this year. It was awesome. I had a chance to talk to the cooks behind the scenes at Flo's V8 Cafe to ask about what they were serving up for the special Halloween Time event. Everyone I talked to gushed about the Disneyland Pumpkin Spice Shake. They said they had been working on it for weeks to get the recipe just right. They wanted to create the perfect balance of sweet...but not too sweet. They also wanted it to have a hint of pumpkin and spice and not be too overpowering. The employee who made my shake told me they even made adjustments to the recipe the night before and he was excited to see what I thought.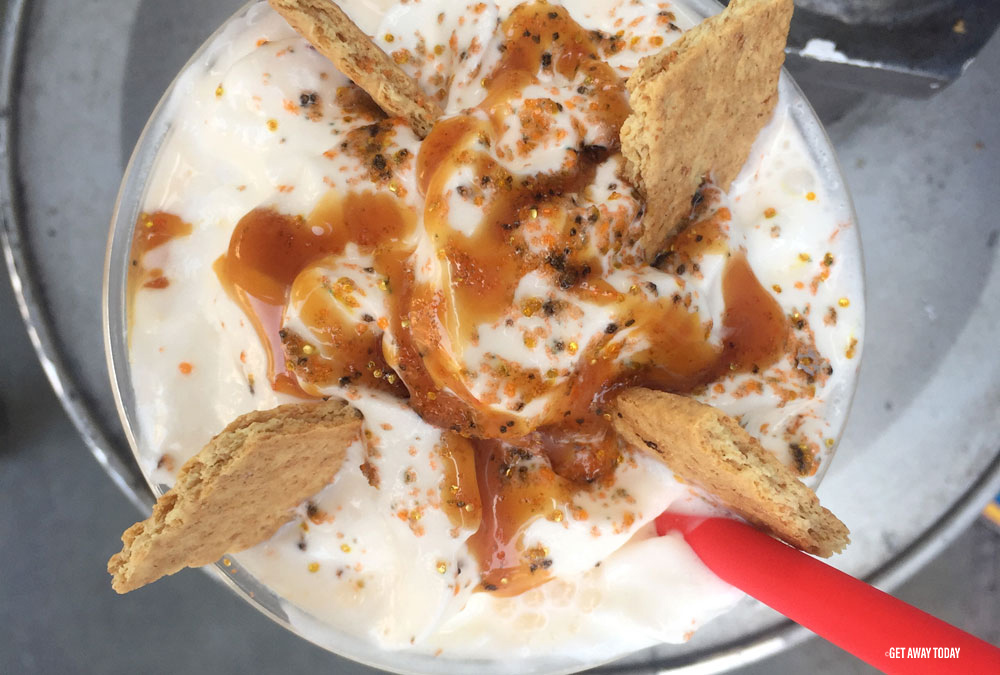 I thought it was incredible!
I had to make a copycat recipe, so you could all try it too. The cooks at Flo's V8 Cafe have absolutely perfected the pumpkin milkshake. Here is my own recipe for making yours at home.
Disneyland Pumpkin Spice Shake Copycat Recipe:
Disneyland Pumpkin Spice Shake Ingredients:
5 scoops premium vanilla ice cream
3 T pumpkin puree
1 T brown sugar
3/4 tsp pumpkin pie spice
1/3 cup whole milk
whipping cream topping
1/4 cup caramel topping
1 package graham crackers
Disneyland Pumpkin Spice Shake Sprinkle Ingredients:
1/2 tsp pumpkin pie spice
1/2 tsp cinnamon
1/3 tsp yellow sugar sprinkles
1/3 tsp red sugar sprinkles
1/3 tsp black sugar sprinkles
1/3 tsp orange sugar sprinkles
Start by putting together the cute sprinkle toppings. Presentation is so important. This is one category of baking that Disney always knocks out of the park. If it looks tasty, it tastes better.
In a small bowl, combine the ingredients for the sprinkle seasonings. I used pumpkin pie spice, cinnamon and colored sugar sprinkles. The sugar sprinkles give it a little bit of color. You can use what you have in the cupboard. I used fall colors. Set them aside.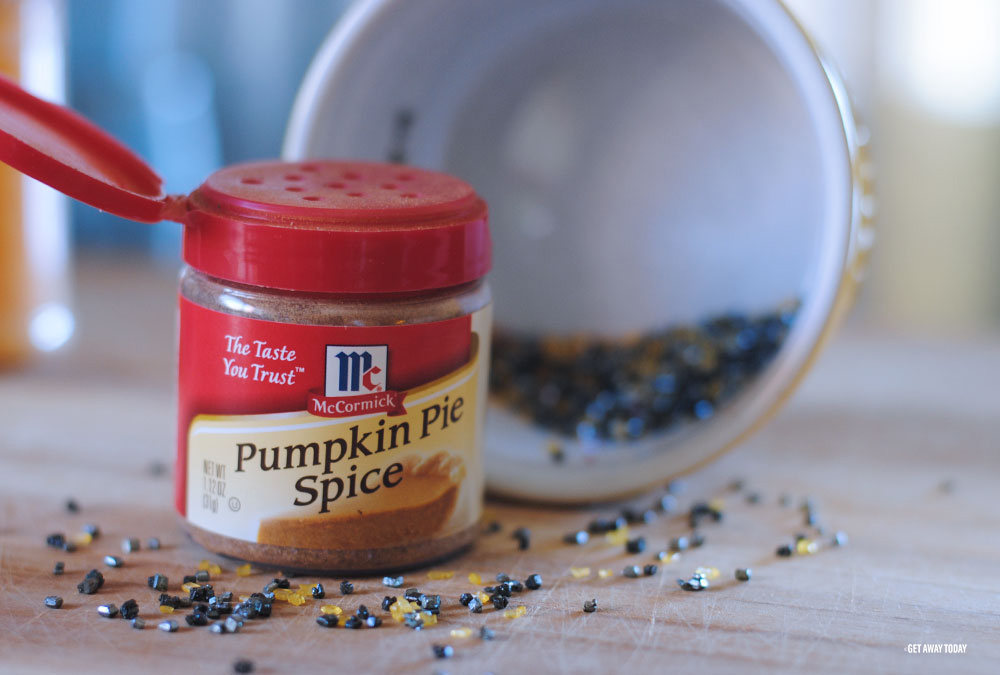 The base of the Disneyland Pumpkin Spice Shake is vanilla ice cream. You have to be selective when you buy ice cream for milkshakes. Some cheap brands whip a lot of air into their product. When you put it in the milkshake, the ice cream blends into a smaller portion than a more quality ice cream. So, splurge on the good stuff!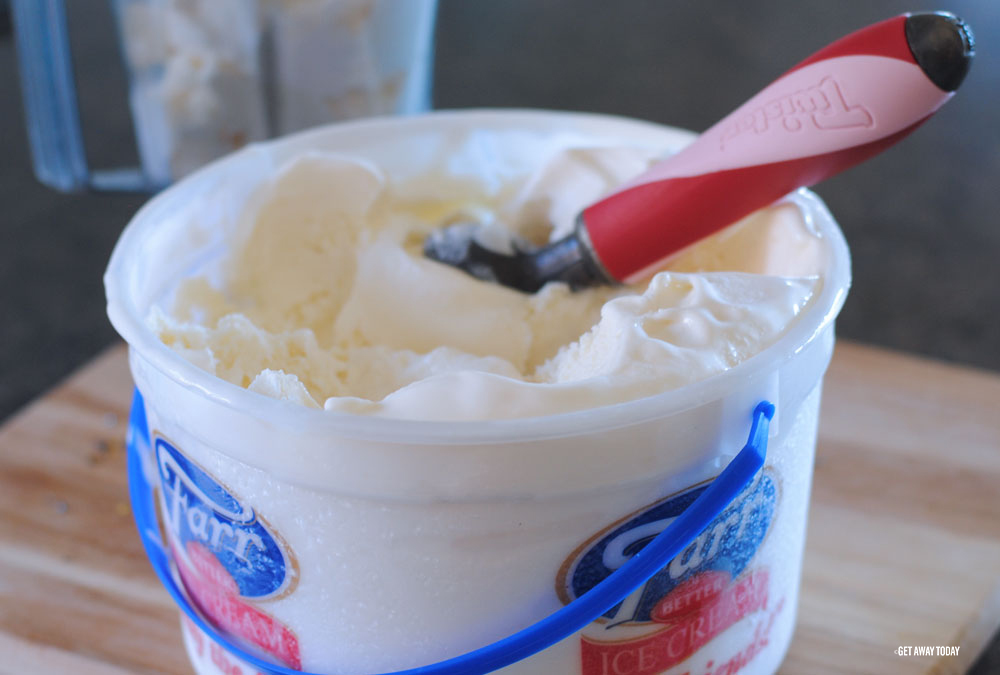 Scoop five balls of ice cream into your blender. Then add the pumpkin puree, brown sugar and pumpkin pie spice. I used regular canned pumpkin puree. Not the pumpkin pie filling. Don't go crazy with the puree. Stick to three tablespoons.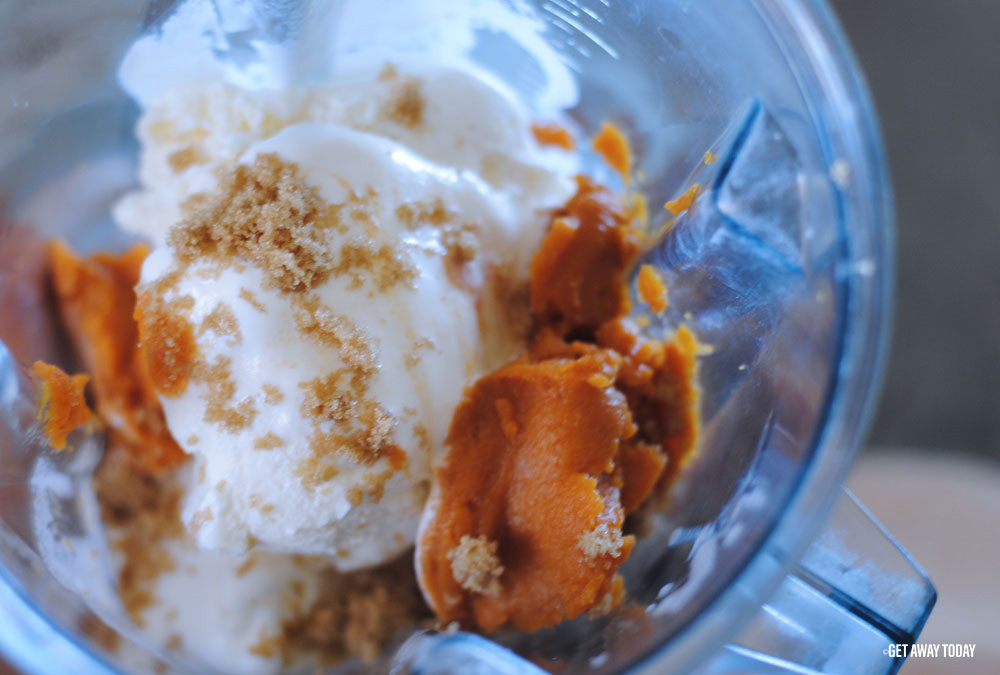 Add about 1/3 cup milk. The creamier the milk, the better! Blend it all together. Use your blender stick to help push the ice cream down the blender towards the blade. Make sure it is all combined and creamy.
Drizzle caramel along the sides of the serving glass and along the bottom as well.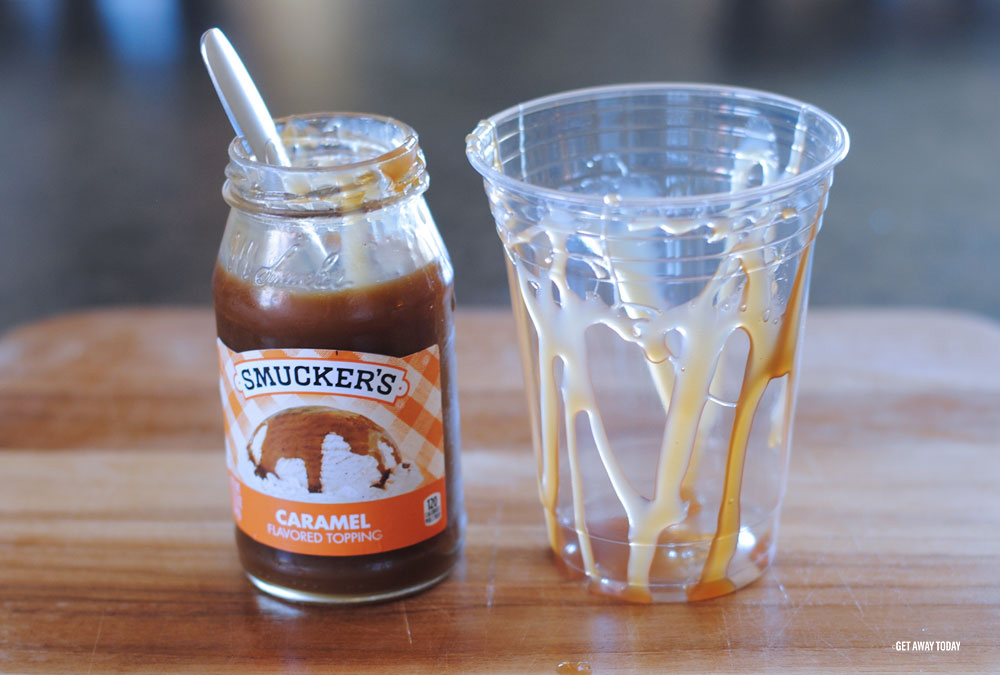 Then, fill the cup about 3/4 of the way to the top with the pumpkin milkshake.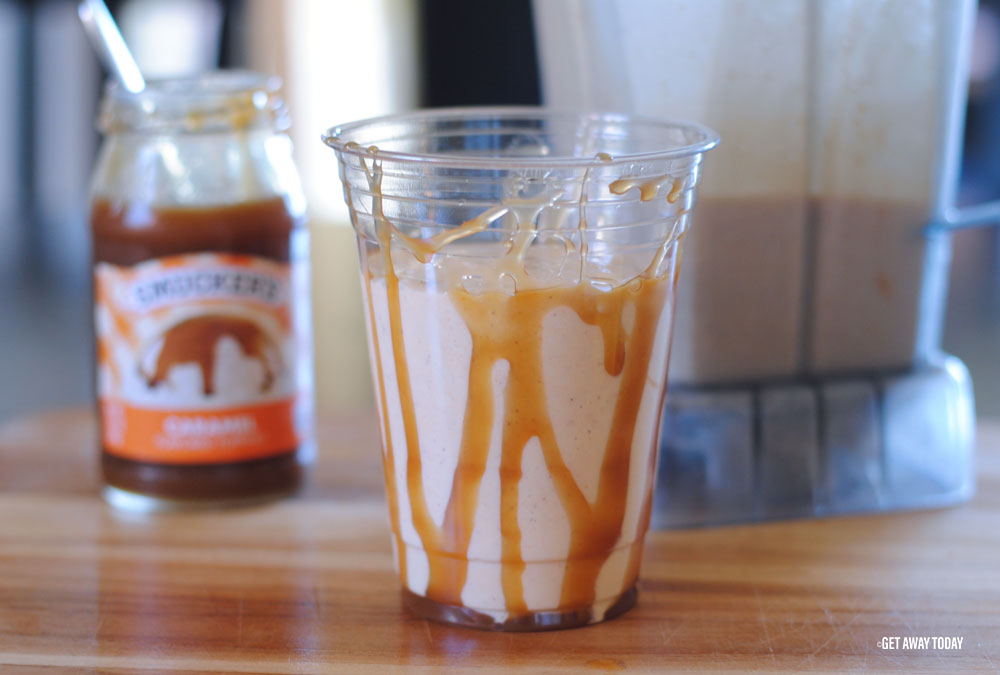 Top things off with a serving of whipped cream. Sprinkle the sugar and seasonings blend onto the top of your Disneyland Pumpkin Spice Shake.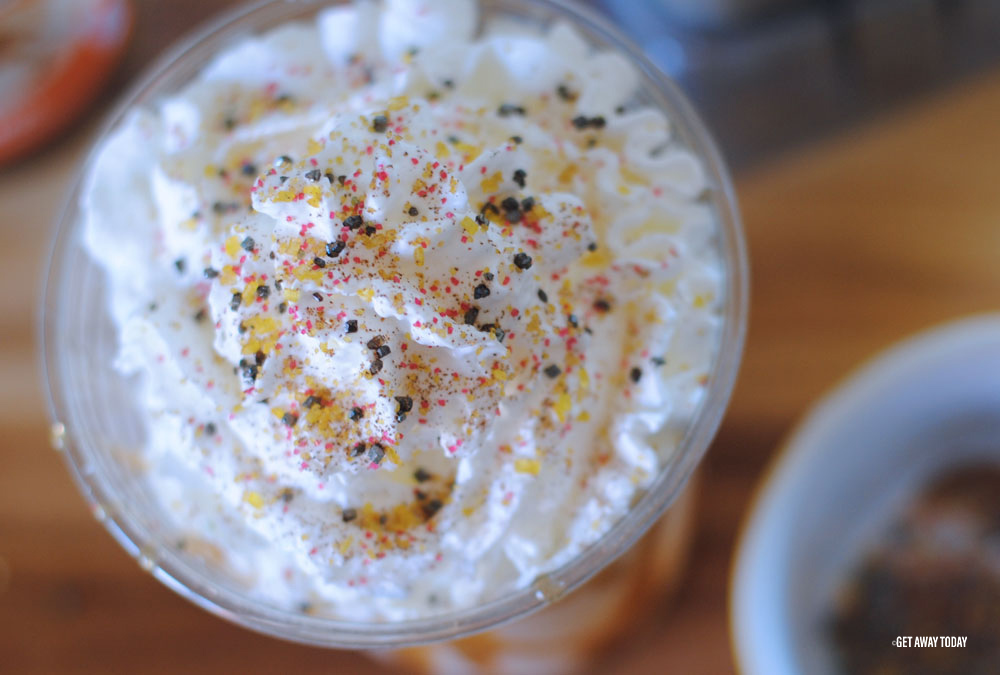 Poke in a straw and add a few graham crackers. Drizzle on a bit of caramel. The graham crackers are a perfect tool for scooping up the milkshake. They even remind me of a pie crust.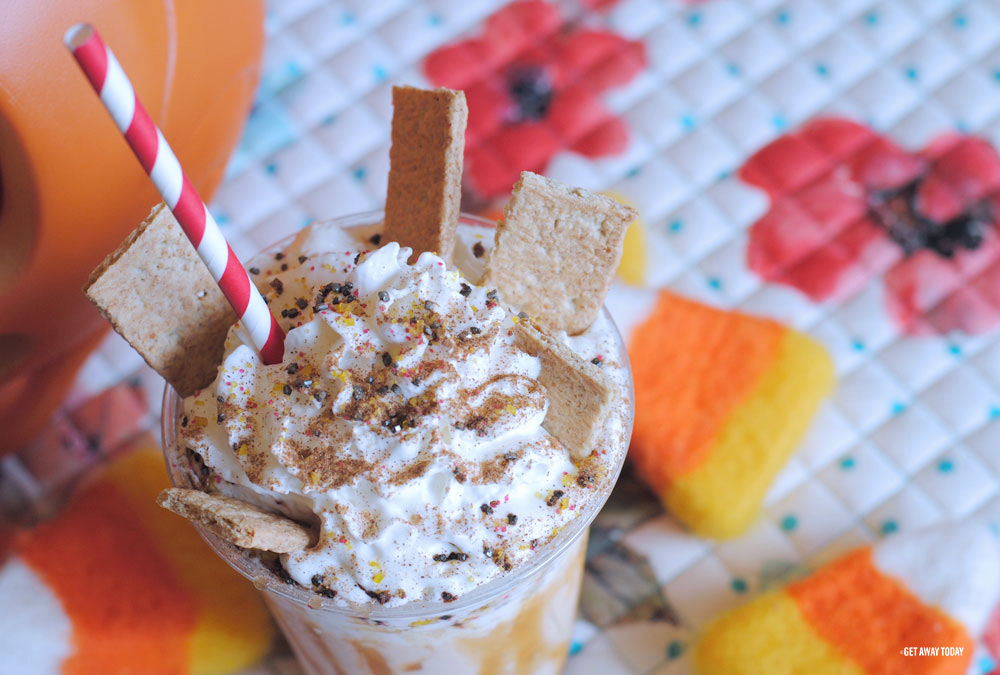 If you even kind of like the flavor of pumpkin, you are going to want to try to make your own Disneyland Pumpkin Spice Shake. It will make your fall a very happy time. Make sure to stop by Flo's V8 Cafe while you are at the Disneyland Resort to try an original Pumpkin Spice Shake, too.
To save on your Halloween Time vacation, book with Get Away Today. Our discount Disneyland tickets, packages and expert tips will have you on your way to the Happiest Place on Earth in no time. Plus, you'll be able to enjoy the Disneyland Pumpkin Spice Shake as long as you visit before October 31st. Book any of our Disneyland packages online or give our travel agents a call at 855-GET-AWAY.