Get Away Today is full of amazing people that help make your vacation dreams come true in so many different ways. And this employee spotlight is no different!
We love the chance to share a little bit about our amazing employees, and today we are talking with our lovley Rachel! Rachel brings so much fun, excitement and energy to everything she does here. She is not only a friend to everyone in the office, but every client, company and person she works with. All of this and more make her such a joy to have here at Get Away Today. We hope you can get a glimpse into how awesome Rachel is from this small peek: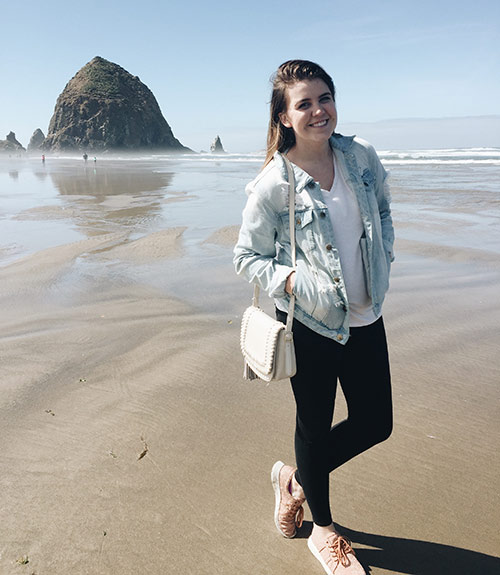 How long have you worked for Get Away Today and what is a brief job description of your current position?
I recently hit my two year mark here at Get Away Today and it has been the best two years! I am in the Client Relations department. In my position, I have the awesome opportunity to work with a lot of our partners to help our guests find the best prices on their vacations. No two days are ever the same at the office and I love that every day brings something new.
What is your favorite thing about working for Get Away Today?
This is such a tough question! I get to work with some of my best friends to help people's vacation dreams come true, what could be better than that? Traveling is such a big part of my life, and being able to do all things travel every day is amazing. I love what Get Away Today stands for, we want our guests to have the best time on their vacations and I get to be a part of that. I feel so lucky every single day to work for such an incredible company.

What is one of your most memorable vacations?
It's so hard to pick just one, but I went on a cruise with my family last January and it was so incredible. We hit Nassau, Bahamas, El Puerto, Puerto Plata, Dominican Republic and Grand Turk. It was so amazing to see the culture of each destination and experience it with the ones I love. When we were in the Dominican Republic, we were eating a traditional meal that they had prepared for us on our excursion and I just remember how lucky I felt to be there such remarkable things with the people I love most!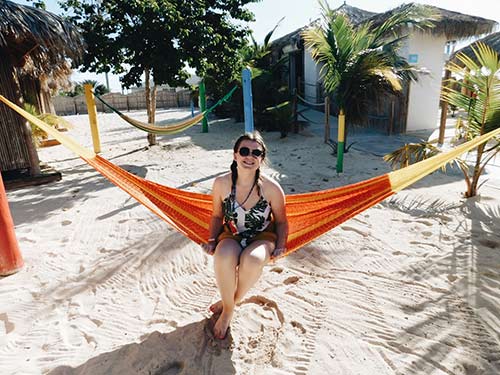 What are your personal three top vacation destinations?
1. Southern California:
I LOVE Southern California with my whole heart. I try to make it down there twice a year if possible! Just recently I went with my three best friends to celebrate two of their birthdays and to just have a girls' trip. We went to Knott's Berry Farm, Universal Studios Hollywood and (of course) Disneyland! It was so much fun, we didn't ever want to leave.
2. Eastern Caribbean Cruise:
Grand Turk and the Dominican Republic are tied for #2, so why not keep them both? When I went to the Dominican Republic, we got to jump off waterfalls, zip line in the jungle and see and hold some exotic animals. It was such an incredible and cultural experience. The people were unbelievably nice and took such great care of us. Then the next day being able to lay on the beach all day and kayak in the warm water in the middle of January was something that everyone should do. It was the best cruise!
3. Bear Lake:
I grew up going camping every summer, and it has become one of my favorite things to do! Bear Lake, Utah is my favorite spot to camp, but anywhere I can set up a tent is a win in my book. It is so nice to disconnect for a few days and hang out in the mountains. Luckily, my family goes pretty often and my friends love to go too, so it gives me plenty of opportunities to go during the summer.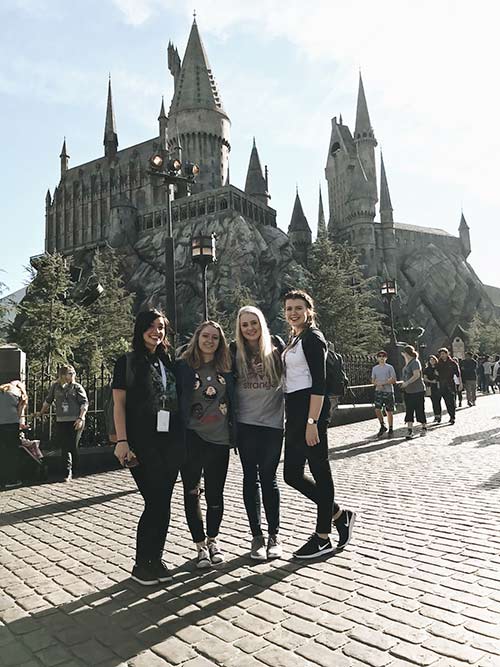 What is your favorite Disneyland memory?
My favorite Disneyland memory has to be this last trip I took with my friends. We went the week before Christmas so the Holidays were in full swing and we just had a blast! We were celebrating two of my friends' birthdays and we surprised them with a breakfast at Ariel's Grotto which was a first for all of us. We were "that group" and had matching shirts every day and we ate ALL the yummy food; the whole trip was just amazing! We had the time of our lives and it was a trip I will never forget.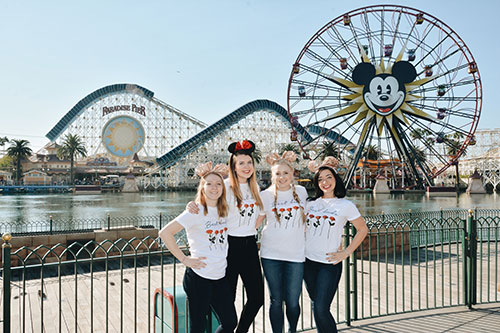 What is one of your most memorable experiences with a guest or partner?
In my position, I get to work with some of our VIP guests who win vacations through our partners. I remember working with the sweetest gal and she felt so lucky that she won this amazing vacation. I went on to learn that she had suffered a miscarriage and winning this trip was a tender mercy that she needed in her life. It was so amazing to see what a great difference a trip to Disneyland can make in someone's life and it made me even that much more excited to continue to help others get to see their vacation dreams come true!
It is pretty easy to see why Rachel is the best and why we love working with her! We hope you enjoyed getting to know her as much as we have. Rachel's contagious happiness and work ethic makes every day here at Get Away Today so much fun.
When it is time for you to experience some of these magical vacations, we would love to help. Book your vacation getaway online or call our travel experts at 855-GET-AWAY.

Check out these other great Employee Spotlights: